Here is a complete walkthrough of the steps to choose a Tech Stack to build a chat platform and the list of Chat Service Providers who are already ruling the market
Today Messaging applications have certainly changed the way we communicate. In recent years, the popularity of several messaging apps have grabbed the interest of so many entrepreneurs and enthusiastic developers to think over how to build chat apps of their own.
If you're the one planning to create chat app, then we have a plethora of relevant information for you that have been collected via our software developers experience from our global clients.
Not only that, this article also covers the features and monetization criteria alongside easy-to-understand technical instructions as to how to build a messaging app.
Is Market Research Needed Before Planning To Build a Customizable Messaging App?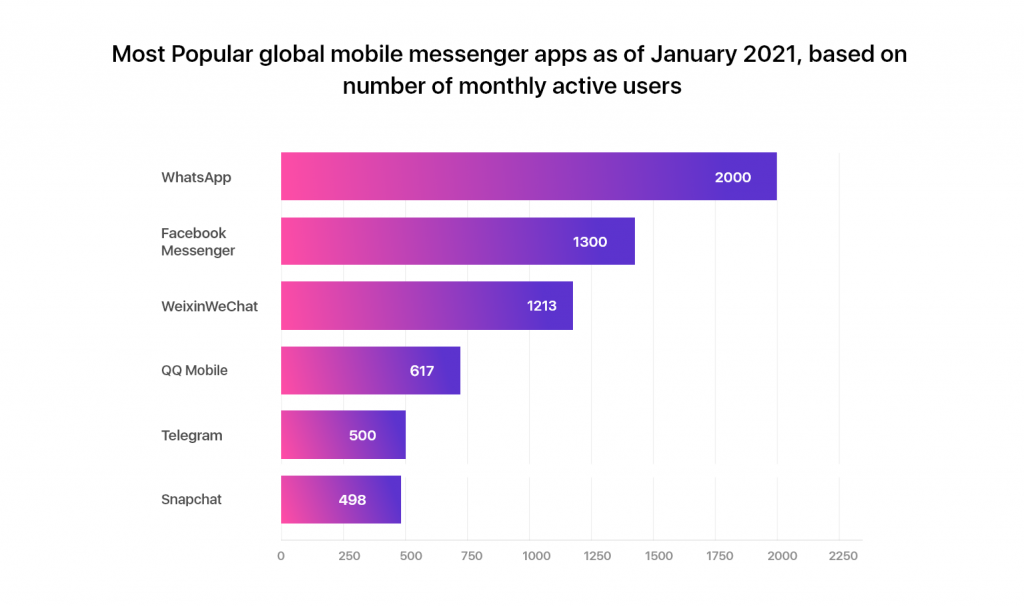 Yes, If you ever want to develop a web chat application, it is integral to first understand the current market situation – As to how many people use these app for chat and why? How much time do people usually spend on these web chatapps? And who are the competitors?
Well, all these seem to be simple questions but their answers can have a great impact. So, once you have gathered all this data, it becomes much easier for you to make an informed decision for the future to build a customized chat application.
According to Facebook ,globally there are 1.3 billion messenger users which is then forecasted to 2.4 billion users by 2021. This has led the messenger marketing to 70% when compared to email marketing. However, the usage of these chat app platforms generally differs as per the industry, as every other industry demands different features, which we can have a look at in our next section.
How does chat app work?
A chat application works by maintaining a connection between the user's device and the server. For example, when a user types and sends a message, the chat client transmits the message to the server, and then the server relays it to the intended recipient. This is exactly how a chat app works.
Whenever you are planning to develop a customizable chat app for mobile devices or websites, it would be a brilliant approach to go with industrial demands. Yes! If you know what industry your app is targeting, then you can directly have the custom features as per those specific industrial needs. This can eventually save money while at the same time giving an appropriate success to your business's growth ratio too.
Let's have a look at some of the industries.
1. E-commerce & Marketing Industry
As the online shopping e-commerce and marketing industry has been revolutionized much quicker in the recent era with the usage of web chat app platforms. The integration of this real time messaging solution into your existing app, has played a major role in connecting the buyer and sellers at the same level with utmost clarity on their queries related to payment reminders, transaction, and onboarding to their customers, and much more.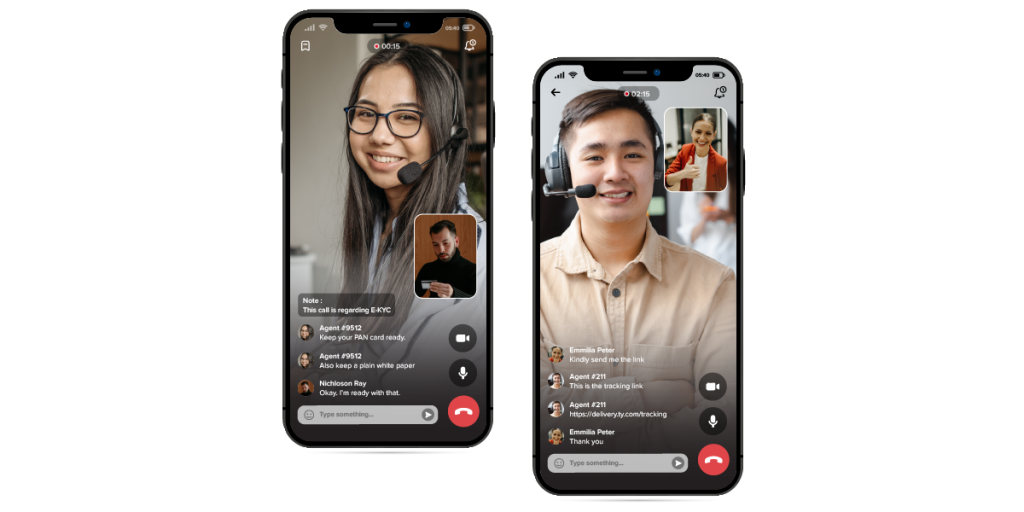 Looking To Build A Customizable Secure In-App Chat Experience?
Offering proactive and quick interaction space with other bank employees in the banking sector via online chat platform without investing in back-office functions. These secure messaging apps make the communication more effective, productive, and smooth among colleagues, the same way when it comes to the financial service sector. All this is performed inclined with on-premises or on-cloud infrastructure installation collaborating high-end GDPR-compliant and leak-proof security to be fearless from hackers.
Recommended Reading: Conversational Banking | How To Build A Fintech App?
3. Digitized Healthcare
Digital healthcare app connects the doctor and patient with cost-effective, voice and video-calling real time chat platform, where the patient can set an appointment, consult the doctor, share medical documents – diagnostic reports, X-rays, etc. Moreover, the usage of this healthcare app has made a great impact on patient's expenses by reducing their traveling.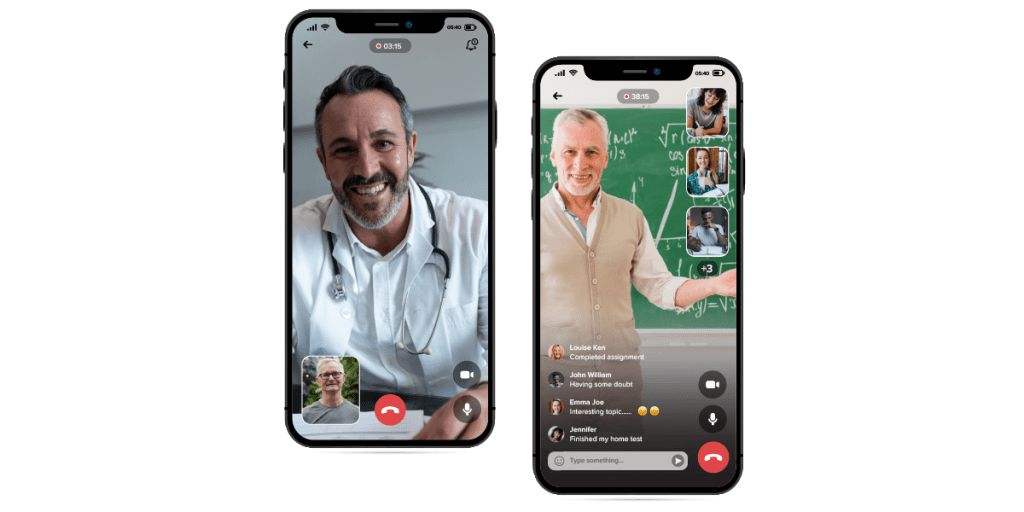 4. E-learning Industry
Rising connectivity with video call API or online video calling app has changed the traditional routines and showed a new light for learning with online and internet. Today the education system is using the best team chat app to connect the teacher and student with a real time mode of communication via chat, voice, and video. This involves thousands of students and teachers under a single roof of a virtual classroom where they can coordinate and share the study materials ensuring high-end encryption.
5. Social & Dating
Chat has become an integral part of social and dating apps these days. The features that enable users to communicate with friends or their potential partners have driven huge attention among the younger generation, elevating engagement within the apps. In particular, when it comes to dating apps, online chats have helped users to get to know a person before committing to meet or take the relationship forward.
6. Telecommunication
With chat in a telecommunication app, users can ask questions directly to businesses, make inquiries, or resolve issues. This can skyrocket customer satisfaction and attract more new users. Similarly, with the rise of remote work around the world after Covid-19, chat has made it easy for users to connect with other employees and businesses around the world. They can also seamlessly share photos, videos, and documents, and stay connected regardless of physical distance.
Now, let's have a look at some of the best chat platform API providers for mobile and web apps for further better clarity.
Comparison Of The 9 Best Chat Service Providers Of 2024
Since the market is filled with so many best picks to consider, sometimes finding a unique real-time chat solution can be a big deal. So, here we've broken down eight of the best online chat solutions providers for you to have a better understanding of what they like, their offers, compatible platforms, and much more.
The #1 & Developer-friendly SaaS & Self-hosted Chat SDK!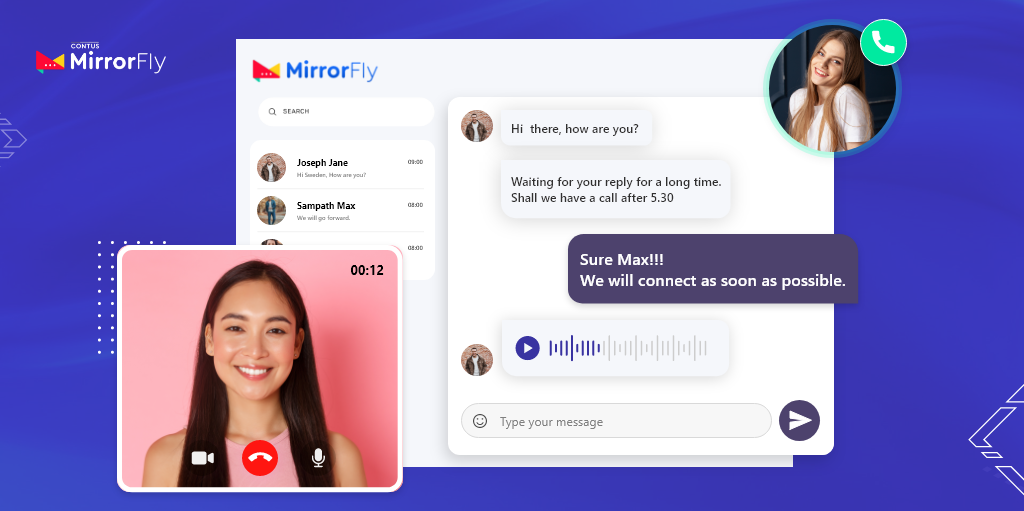 Founded in 2008, MirrorFly has marked its all-time presence in all modes of communication – chat, voice, and video. It uses both SaaS and SaaP based models to connect people and businesses across the world in real time. Thus, its messaging APIs and SDKs complement all kinds of enterprise's needs.
MirrorFly mainly targets connecting people and businesses across the world in real time through multiple It is a developer-friendly platform that eradicates all the complexities by fixing its APIs into any third-party device easily. It has made its availability with a variety of pricing models – self-hosted (one-time license cost) and on-cloud (monthly subscription), to choose from as per your business needs. As a result, today it has reached the place where it has been recognized as the best chat API and SDK provider for iOS, Android and web apps.
MirrorFly's In-App Communication Features
1-to-1 Chat & Group Chats
Highly-Scalable Infrastructure
Video Conferencing & Recording
Video and Voice Calling
SIP/VoIP Calling
150+ Chat Features
Supportive Platforms :
Android, iOS and Web Apps
Why Choose MirrorFly Chat API & SDK?
MirrorFly is the most powerful and developer friendly API and SDK providers with chat, voice and video features that are mostly looked up for
Over 150 + chat features that can be integrated effortlessly into any existing or pre-built device
Support 1M+ concurrent users
White label chat solution facilitated with ready-made platform
Self hosted infrastructure with on-cloud/on-premises option
Pricing is available as both self-hosted (One-time-license cost) and On-cloud (monthly subscription)
Enables high-end security with HIPAA, GDPR, AES-256, and much more.
2. TroopMessanger
Team Collaboration and Instant Messaging App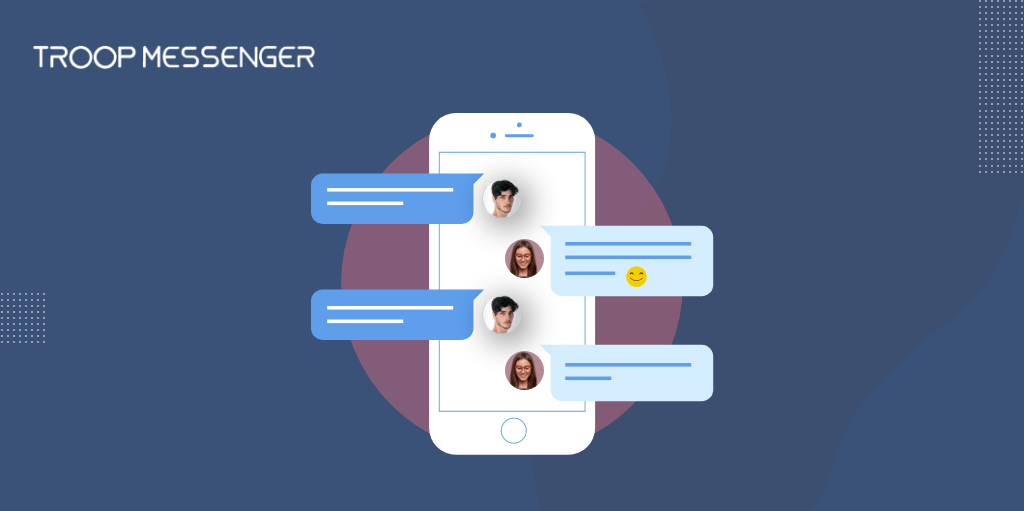 Troop Messenger is a stand-alone platform with instant messaging that provides its service for all kinds of businesses in the form of on-premise chat, SaaS or real-time messaging API and SDK.
It is a user-friendly official chat solution that contains contemporary features for any business needs and necessities. Moreover, it synchronizes the conversations and files across all the platforms parallelly where its array of commands allows you to have instant messages interaction with one-on-one or group conversation.
It provides super proven security protocols for secure data of messages, calls, video and files with the customization app of your chat UI as per your business requirements.
Troop Messenger Chat Platform Features
One on one Messaging

Audio Messaging

Bulk Messaging option to communicate with multiple users at once

Secure & Reliable

Recall, edit and delete

Live location tracking
Supportive Platforms :
iOS, Android and Web Apps
Modern Day Messaging & Call SDK provider for Web and Mobile Apps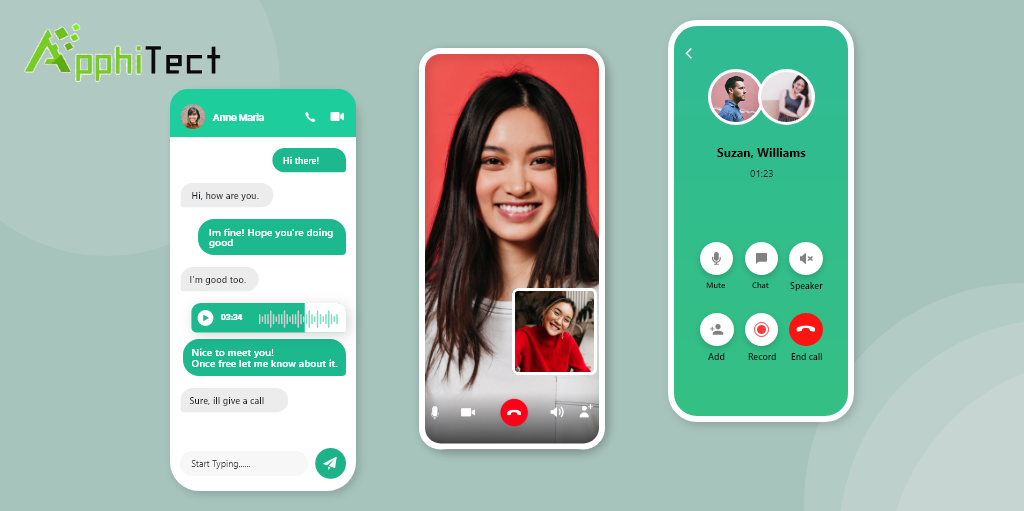 Apphitect is a leading instant messaging API provider with offline messaging facility that provides several features like personal-chats, social interaction type, etc. Apphitect is a UAE-based real-time communication API and SDK provider founded in 2008.
It provides custom chat app experience to their users with enriched UX, voice and video call integration with native messaging SDK support, multimedia sharing, etc.
Apphitect Chat Platform Features
Geolocation tracking
Voice/video calling and recording
Voice/Video conferencing
VoIP/SIP calling
Screen Sharing
Presence indicator & social integrations
Supportive Platforms :
Android,iOS & Web Applications
Why Choose Apphitect Instant Messaging API & SDK?
Apphitect instant messaging APIs and SDKs are mostly preferred by developers for being fully customizable with over 150+ real time chat features with easy integration into any mobile and web app. Since it is a SaaP-based model it is made available at one-time license cost with a self hosting option of on-cloud/on-premises services enabling unlimited storage space. It provides a safe and secure end-to-end-encryption over conversation and data.
4. Sendbird
A Complete Chat Platform for Android,iOS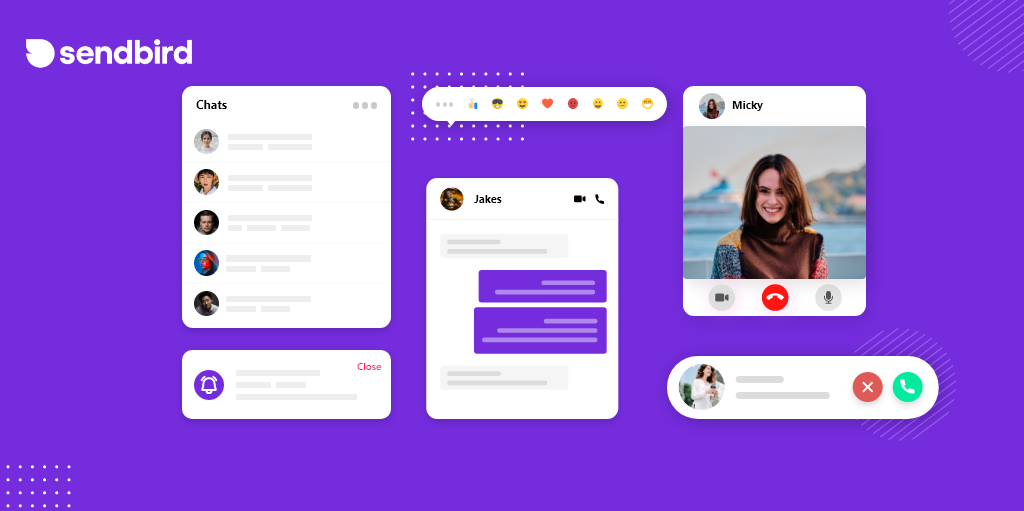 Sendbird is a leading chat platform for websites and mobile devices which was founded in 2012. It takes care of most of the operational complexities under the same roof, providing the rich chat service with voice and video calling experience.
Sendbird Chat Platform Features
Direct and group calling

Image filtering for better clarity

Chat moderation

Duto-reconnect across any device

Call recording and quality scoring to have a track of data
Supportive Platforms :
iOS, Android and Web Apps
Why Choose Sendbird Chat API?
Sendbird is mostly liked by the developer mainly for its interesting features that can be shared with encrypted files and autotranslations within the chat. It could be the choice for enterprises to have user support but when it comes to pricing, it may be a challenging one for small start-ups to rely on.
5. Getstream
Scalable Chat API provider for Any Apps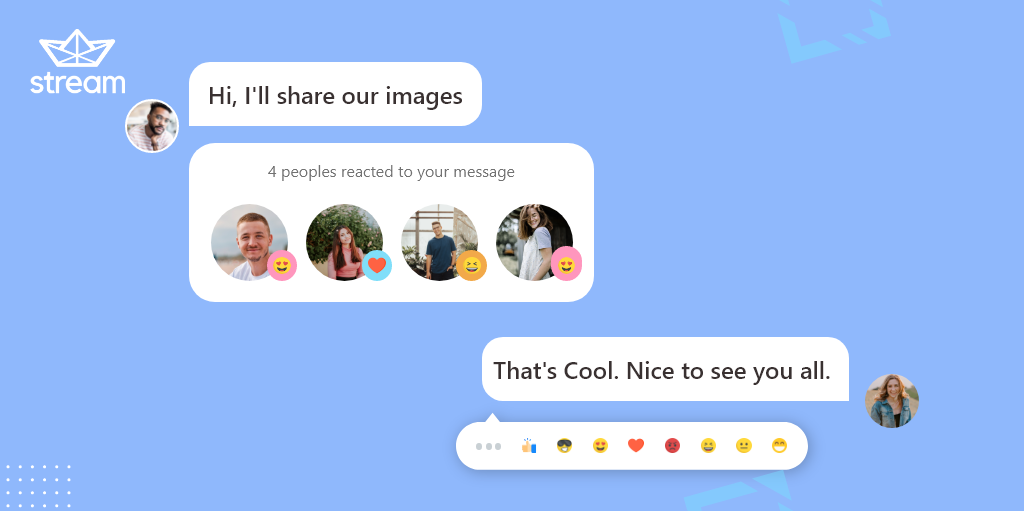 GetStream.io is an enterprise-grade chat and activity feed provider that builds a scalable and customized chat app in days. It was established in 2014 and has served over billions of end-users. It is one of the popular ones among other activity feeds that has supported Twitter, instagrans, Scaleforce, etc.
Getstream Chat Platform Features
Threaded conversations for emails, newsgroup and Internet forums

Spam and profanity protection for better chat experience

Edit and delete messages to avoid miscommunication

Direct and group chats to discuss about certain topic

E2E encryption via TLS for protective conversation

BGP + DNS routing to have a control on entire system
Supportive Platforms :
iOS, Android and Web Apps
Why Choose Getstream Messaging API?
GetStream.io is with a beefy messaging SDK that is available with numeros custom features and vast UI options that can be utilized to modify the chats. However, besides the broad spectrum of features it's the high price that can make someone closed off, mostly for the small and startup enterprises. Other than that it could be considered good.
6. Rocket.chat
Best Open-source Chat Platform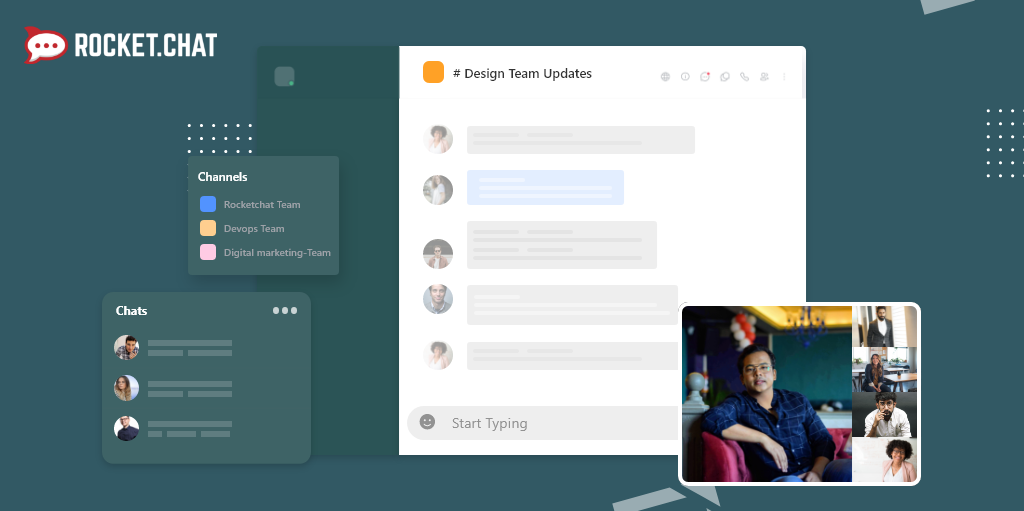 Rocket.chat is an open source team chat platform for websites and mobile devices that was established in 2015 provides a robust communication platform bringing infinite tools and people together. It unites all forms of communication under a single roof regardless of the user's device. It is an omnichannel platform that reduces the cost and increases the team performance by making use of several tools.
Rocket Online Chat Platform Features
Audio and video
Screen sharing
File sharing
Emojis
Live chat
SMS and CRM Integration
Supportive Platforms
Mobile and Web
Why Choose Rocket.chat API?
Rocket.chat is considered by most of the developers as its an open source with self hosting option. In addition it is easy to integrate with any 3rd party device. It provides complete control over the data and privacy issues.
7. Applozic
A Complete In-App Chat Platform for Mobile Apps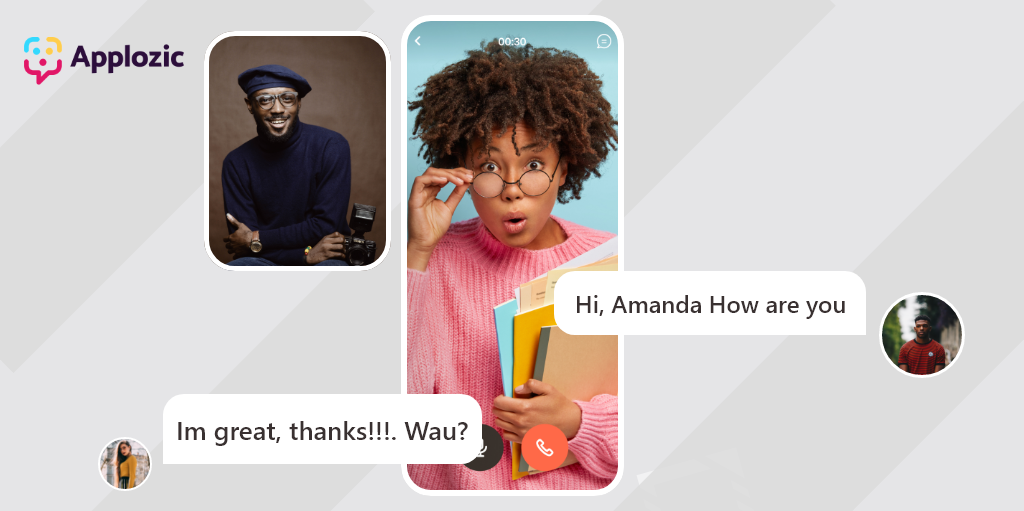 Applozic is a complete instant messaging SDK solution that empowers enterprise-grade in-app chat applications. It was established in 2019 as a real time messaging API and SDKs with chat, voice, and video to any web, mobile and conversational app.
Applozic Chat Platform Features
one-to-one and multiparty chat
Delivery and read receipts
Timestamps
Typing Indicators
Media sharing
Protect and monitors users
Supportive Platforms :
Why Choose Applozic Chat API & SDK?
Mostly developers go for applozic when it comes to complete chat platforms for website and mobile devices, where it is easy to integrate with affordable cost to scale the user engagement. However, this is despite its lacking opportunity over voice and video features where it does not compliment most essential needs of VoIP, email and SMS messages notifications, voice transcriptions, reactions, moderation features, etc.
8. PubNub
Real-time Communication Chat Platform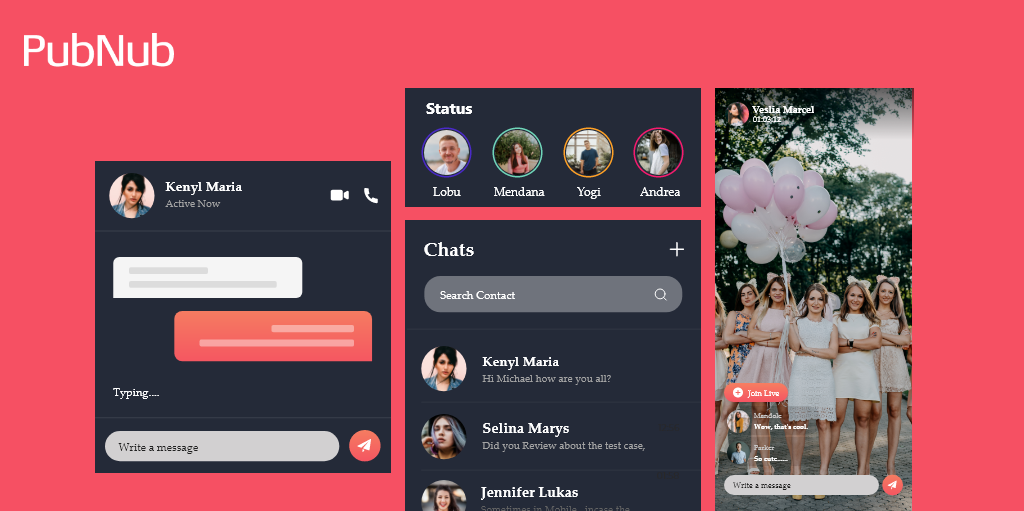 PubNub is one of the most popular real-time communication platforms which was established in 2010 that provides service for sending data between devices in real-time. It builds real-time features into mobile, web, AI/ML, IoT and Edge computing applications. It has highly reliable and secure chat APIs when it comes to one-to-one, group, and live event messaging with in-app alerts and notifications.
PubNub Chat Platform Features
Access controls/permissions
Device targeting
Proactive Chat
Reporting/Analytics
Canned Responses
Mobile alerts
Supportive Platforms :
Mobile & Web Applications
Why Choose PubNub Communication API & SDK?
PubNub is mostly liked by developers since they provide a real-time messaging-as-a-service wherein you will never have to manage your own server. Here, the users can manage multi-tenant space quite easily but with coding PubNub still lacks supporting the binary encoded messages where it only guarantees full data replication for their Pro pricing plans.
---
🌟 Also Read: Best 6 PubNub Alternatives & Competitors🌟
---
9. Smooch
A Complete Messaging Platform for Business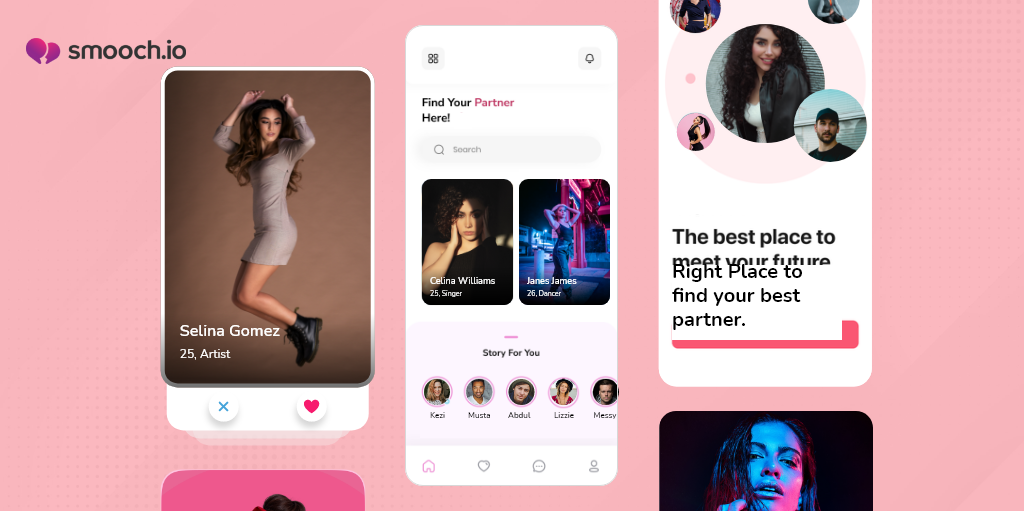 Smooch is the conversation SDK platform that allows you to build custom chat app features into applications and web pages. Smooch was founded in 2015 who's flexible SDK and REST APIs provides you a customized messaging tool to build your chat app development. It empowers and transforms every customer's interaction into a personalized conversational experience with their enriched APIs and SDKs no matter whether the interaction took place in real time or via a bot chat. To use Smooch's plugins on a webpage you need to utilize a few of its options that includes the script tag method, npm and browserify, and bower methods.
Smooch Chat Platform Features
Reporting/Analytics
Third Party Integration
Automated message formatting
Message translation override
Formatting support for complex use case
Canned messages
Supportive Platforms :
Mobile & Web Applications
Why Choose Smooch Messaging Platform ?
Smooch is mostly preferred by the developer as it is highly scalable and flexible enough to work with Objective C and swift on iOS. It can be easily alloted in AAR and JAR formats for developers by making use of Android Studio, Eclipse or Netbeans. Its REST API allows communication with backend tools.
However, the above data is based on my reviews and research, which might differ from your perspective. But, I have tried my best to get you the most of the genuine details.
Moving forward, let's have a look at the concept as to why these chat platforms are that necessary for any business.
Key Features That Make The Best Online Chat Platform
When it comes to functionalities, today's modern chat platform for websites possesses noteworthy functionalities that can be implemented into any mobile or web chat app as per the need of a business. Some of the essential features that are a perfect fit and must be integrated in a chat messaging platform are
1. Authorization
Every chat application development begins with an interface that questions user's authorization, forcing them to sign up with a phone number, email address or any other existing social media account. This allows the user to join this group chat platform and connect with a larger user engagement.
The regular manner of joining the group is simple but when the user wants to join the group via social media account, email or phone number it slightly differs. This is so as with these the user allows the app to have track of all the contact details that can be automatically reterved to its platform with direct interaction with the client-server API.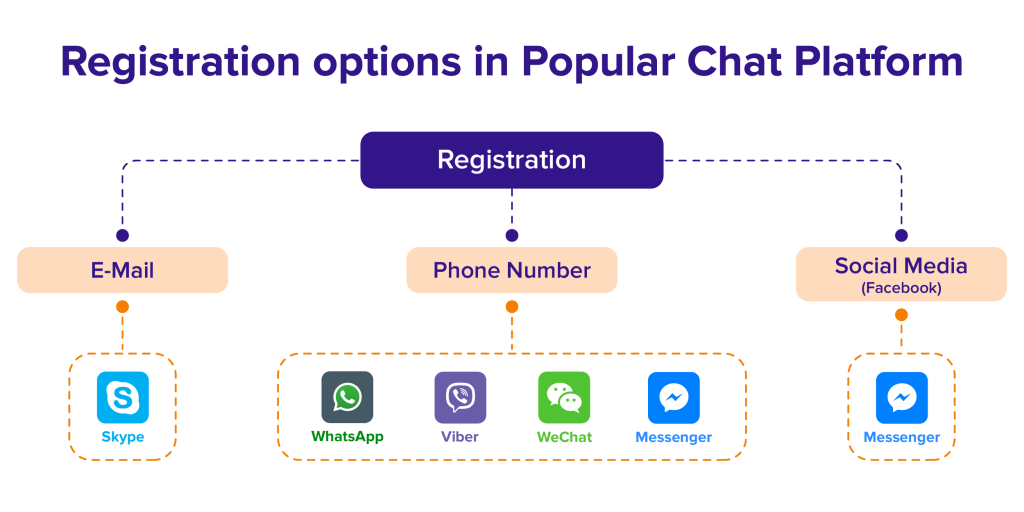 2. Importing Phone Contacts
Instead of updating the contacts manually, these developer-friendly chat platforms have been designed in such a way that can import all the details from your existing contact automatically. This feature will scan all the contacts of the contact book and send them across to the server, where the developers have already set an API comparing the user's contacts with records in the app's database.
Moreover, the app will only retain those contacts that match the existing one and only that will be marked on the client-side server. However, this scenario avoids the need of a contact book by storing the contact list in the white label chat software.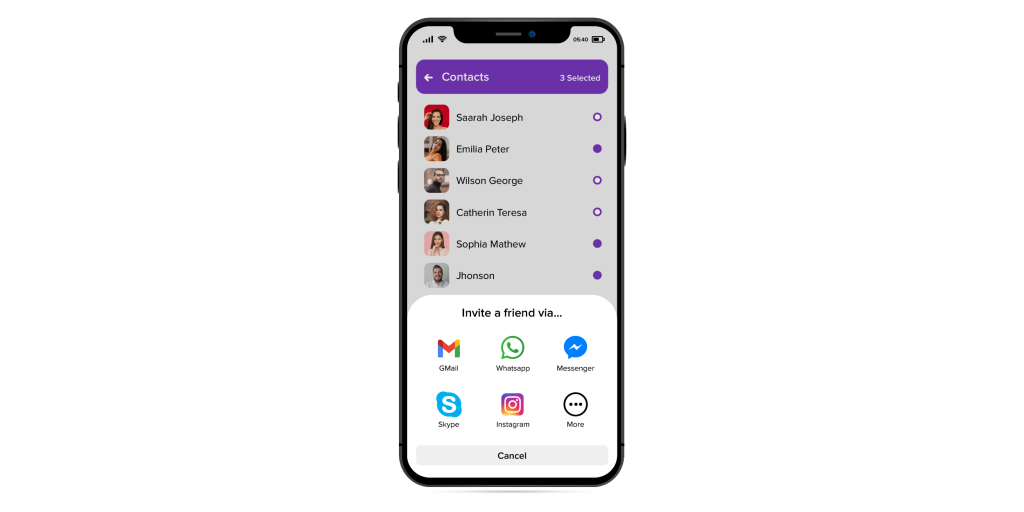 3. Instant Messaging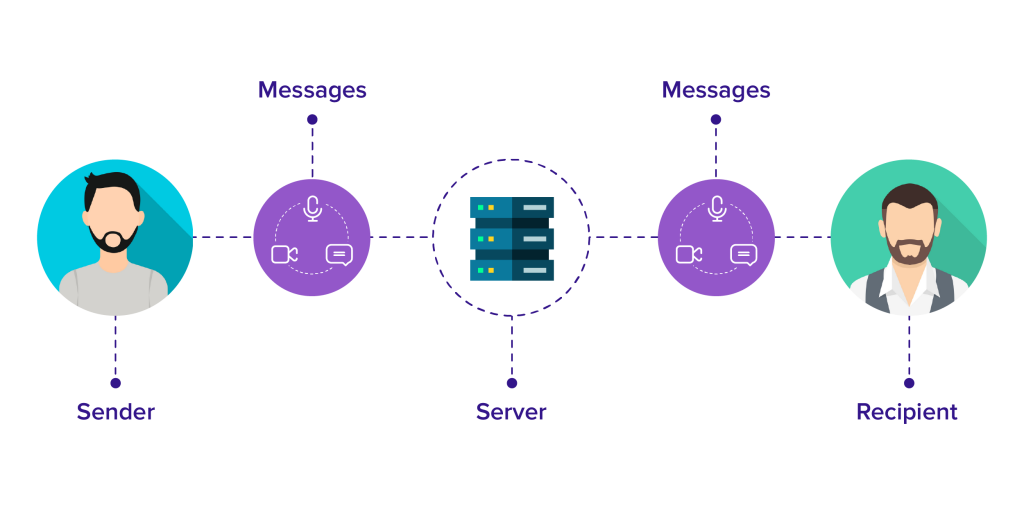 One among the core features that any messaging platform can have when planning on how to build a chat app for a website is instant messaging. This can be applied in many ways as the main difference lies between those ways in the data transmission. The process follows in the first case as the messages will be passed through the server and in the second one from user-to-user.
Generally, the messages will be stored on a server and all the interaction among the server and user will happen via the HTTPS protocol with SSL cryptography. But, when it is about user-to-user, the data will not be stored on the server, and the authentical will be performed by the central server. This is further followed by each message encryption and later delivered to the recipient via wireless mesh network.
4. File Sharing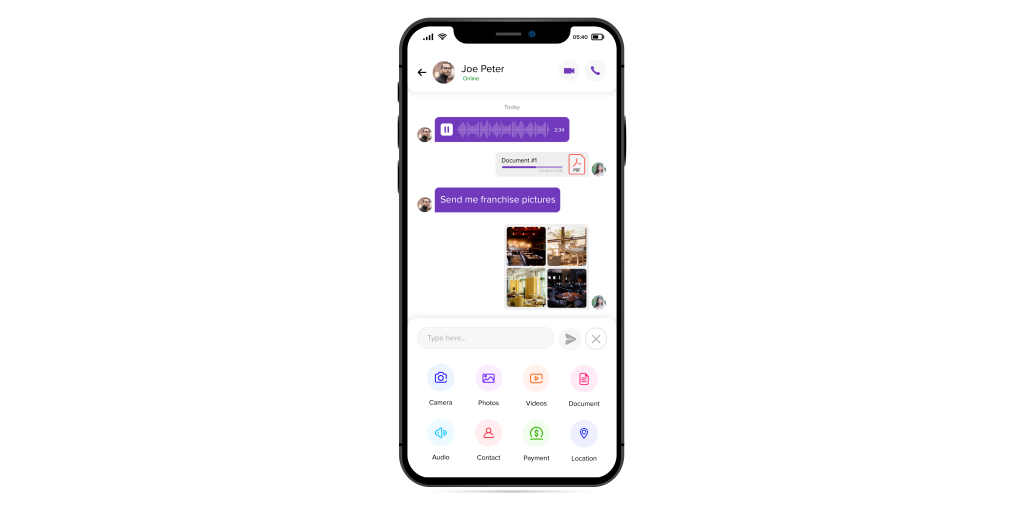 Whenever the developer thinks of building a chat app with video, file-sharing capability is one the main features to be considered. For this the developers mostly make use of specific supporting APIs along with passing the data to servers with the help of SOAP and RESTful APIs. This feature allows users to share their already existing document, videos, photos, etc. and also allows them to take photos and videos directly from the white label messaging app to let users capture the moment and share it immediately
5. Location Tracking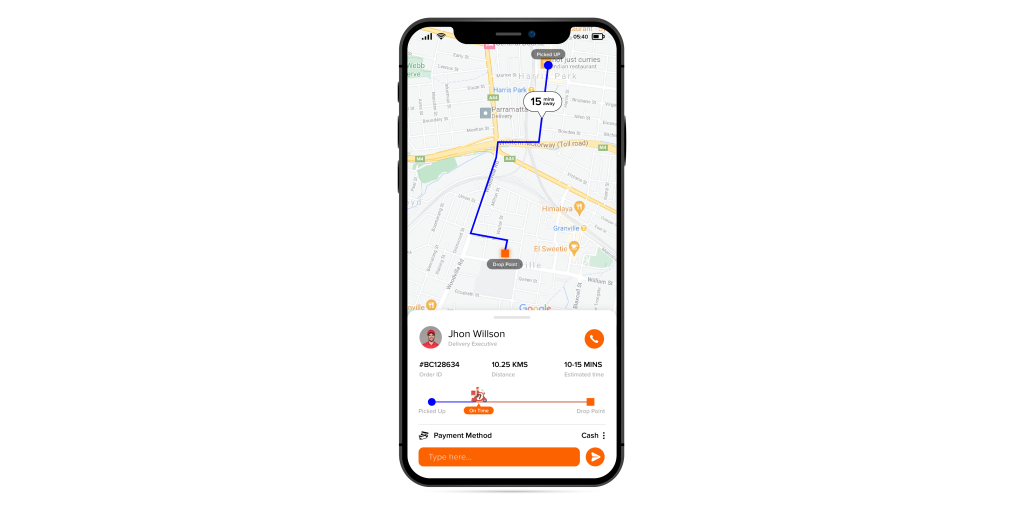 To create a chat app with geolocation tracking requires CLLocationManager Class for iOS and android.location package for android classes. It enables the users to share their location with other users to identify each other or just to show where they are or their store, office or parking is located. This online chat platform's location tracking also enables the route from the current location to the final destination point.
However, apart from these basic features there are some additional features too whose integration can enhance them to be the best chat platforms.
What Else Do You Need To Develop A Custom Web Chat App?
When there comes a need to build a chat platform, additional features are the unique ones that have the potential to make your messaging platform stand out from the crowd, certainly leaving a positive impact with high retention and user engagement rate.
1. In-App Voice Calling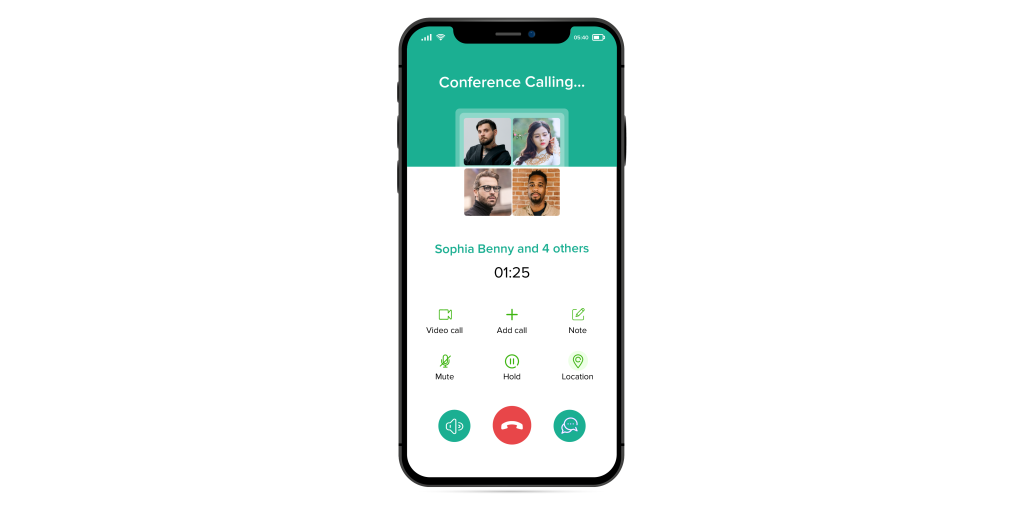 No doubt, the dramatic surge of voice calling apps has gained a lot of popularity where it enables the users to record voice messages or call other users in real-time at no cost i.e., this instant messaging platform supports the voice calling feature to experience the best fine tuned voice interaction.
2. In-App Video Calling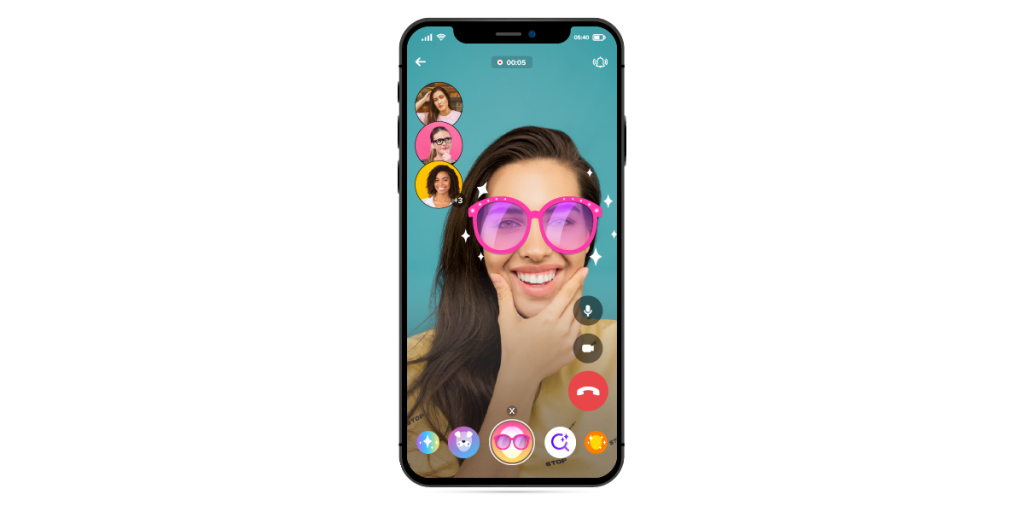 Rise in the demand for video calling is found to continue, which has enabled the user to perform video calling or record a video call in real-time enhancing the user engagement with high defined video quality. However, this feature is useful as it supports during the terrific period of distant socializing.
3. Channels
The purpose of this feature is to allow their users to create and join several communities inside a chat messaging platform. This is to build and engage like-minded people to discuss a variety of topics i.e., done via transmitting messages between the sender and the receiver.
4. VoIP and SIP Calling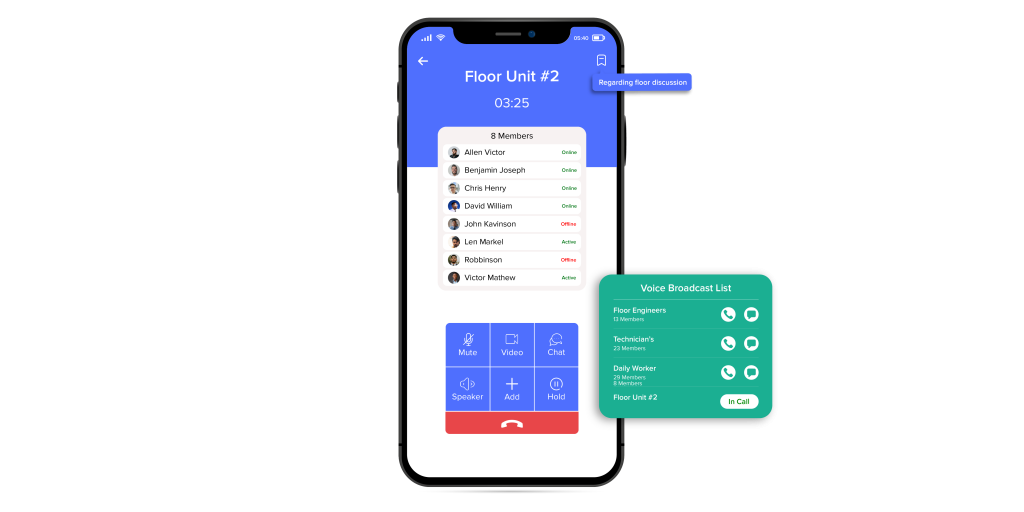 In digital communication, both SIP and VoIP move hand on hand enabling the agents, clients, and field workers to interact with one another by making or receiving calls from their web chat platform using broadband internet connection instead of regular phone line.
5. App to App Calling
Further rise in the technology has enabled this feature where the user can interact with other users by connecting two smartphones over real time VoIP calling. Here, the VoIP API permits to make unlimited number of high-defined voice calls globally with the support of internet connection.
6. App to Phone Calling
Leaving behind the traditional strategy in communication, app to phone call enables the user to make a call to any mobile GSM network and landline phone network from their voice calling application. Embedding the SIP trunk allows the users to get connected directly from app to phone.
7. Phone to App Calling
The SIP protocol never allows the drawbacks caused by power outages, thus, connecting the phone system to mobile applications with SIP network which is already connected with the data centers is safe. This feature allows conference calling from devices to applications connecting thousands of users from any platform like iOS, Android, and web app.
8. Live Broadcasting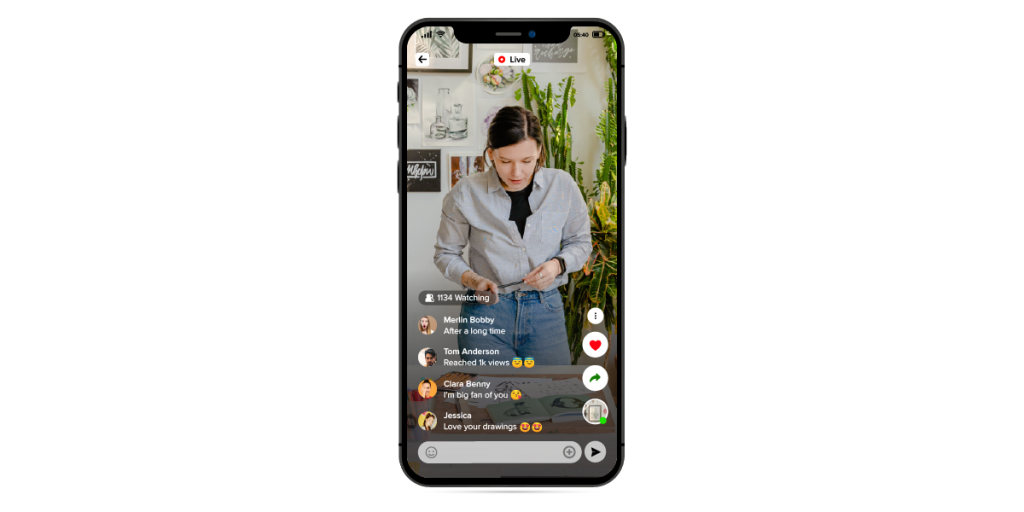 Live broadcasting feature allows the user to engage with an unlimited number of users within the instant messaging software where the users get connected via frequencies. It ensures the connectivity via video, voice, chat with high quality and low latency rate.
9. Video Conferencing
This feature enables the user to create a video conferencing call and have face-to-face interaction at a time with any number of participants ensuring crystal clear quality. Alongside, it also allows transmission of full-motion video images with high-quality audio that can add an addition to any session.
The above are some majorly considered additional features that can enhance your creative mind to build a real time chat application in android, ios and web. Now, let's see what else might be needed to give a complete finish to your chat platform.
How To Build A Chat App In 3 Easy Steps
Define your Requirements & Design UI: Create a checklist of the requirements that you need in your chat app. Either it's a simple one-on-one chat or a complex group chat with file-sharing features. It's all about how you present it. Design a simple and aesthetic UI with a proper user experience.
Develop the Frontend & Backend: Implement your pre-designed UI and UX in the development part now. The backend of your app will handle user authentication, storage, and other key functionalities. Choose the backend programming language based on your team's technical expertise and use WebRTC for real-time communication.
Test and Deploy: Test your app for smooth performance and debug any issues that arise during testing. Finally, deploy your app and make it available for users to download and use from sources such as the Play Store, App Store, etc.
You can either follow these steps to build your chat app, or you can easily integrate MirrorFly chat APIs and SDKs in less than 30 minutes.
Security Speaks Your Success To Create Chatting App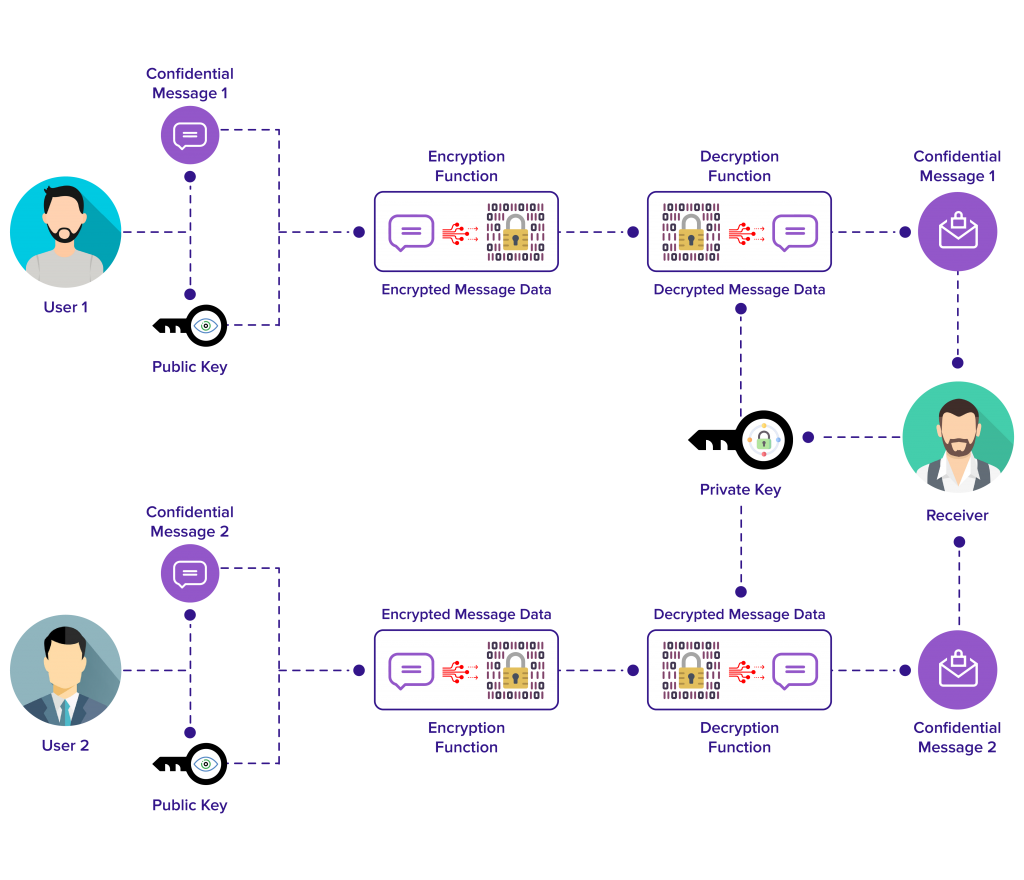 Whether you are planning to make an iOS chat app or a web chat platform, security is a major key element in both cases, or can say it is the most important element that qualifies any application to be a secure messaging platform. End-to-end encryption, multi-mode messaging and synchronization between different platforms are the main keys to have a check on while planning on how to build a chat app for Android or website.
Build Custom Mobile Chat App : Know About Multiple Technology Stacks
A tech stack plays a very important role when you are planning to build a whitelabel video chat app. These tech stacks are also known as solutions stack or a technology infrastructure. Each of the tools in a stack creates, analyzes, or ingests data, so that the video chat application can run efficiently when linked to one another.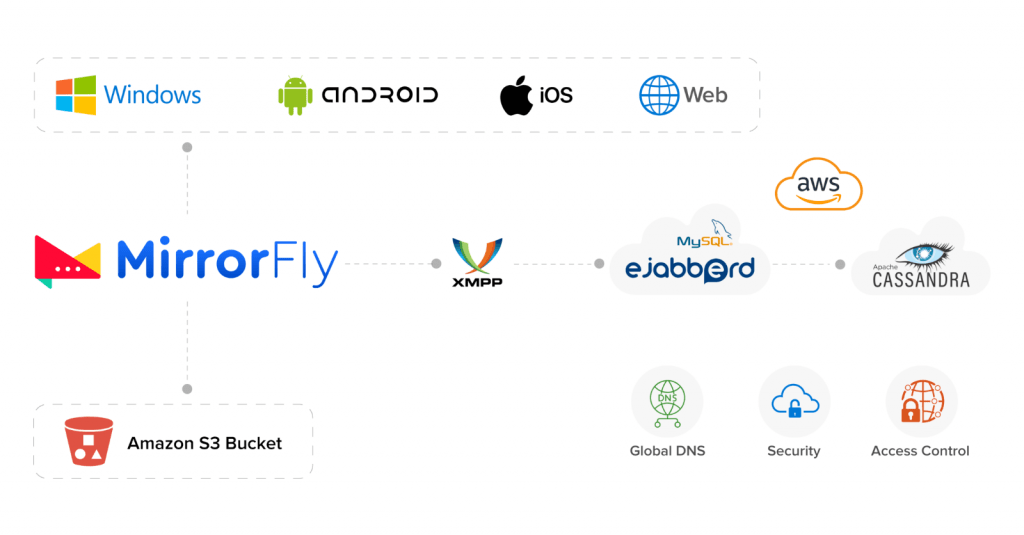 There are several tech stacks available in the market, but there are certain ones that suit all the devices such as iOS, Android, Web app and desktops. Even most of the top in-app chat providers make use of these
XMPP: It is an open XML technology meant for real-time communication that empowers a vast range of applications that includes instant messaging, presence and collaboration.
eJabberd: It is an XMPP server or a Jabber server and MQTT broker that is supported by the Erlang programming language. It acts as a SIP gateway to create real time services like massive chat, instant interaction, etc.
Apache Cassandra: It is an open-source NoSQL distributed database that is mainly known for its scalability and availability with no single point of failure. It has been designed to handle large amounts of data across many commodity servers.
AWS: It notifies Amazon Web Services which has been broadly adopted for providing on-demand cloud platforms to many businesses, governments, individuals, etc.
Global DNS: It is a name resolver and a Domain Name System service that is offered to Internet users globally.
VPC Security: It is a security feature that allows you to perform inbound and outbound filtering at the instance and subnet level.
Access Control: It is a fundamental data security component that tells who and all are allowed to access and use company's information and resources.
Amazon S3 Bucket: it is a public cloud storage resource that is available in Amazon Web Services(AWS), Simple Storage Service (S3).They are similar to file folders, that contain data and its descriptive metadata.
Now, let's see some more in depth information about these chat app technology stack.
Uncovered Technology Stack of Chat Platform
Well, when it comes to technology stacks, it may vary depending upon the project's complexity and requirement in terms of functionality. Mostly, when it comes to the programming language,to build android chat app using kotlin is preferred the most instead of other languages. But, still we will have a fine tune view over the topic.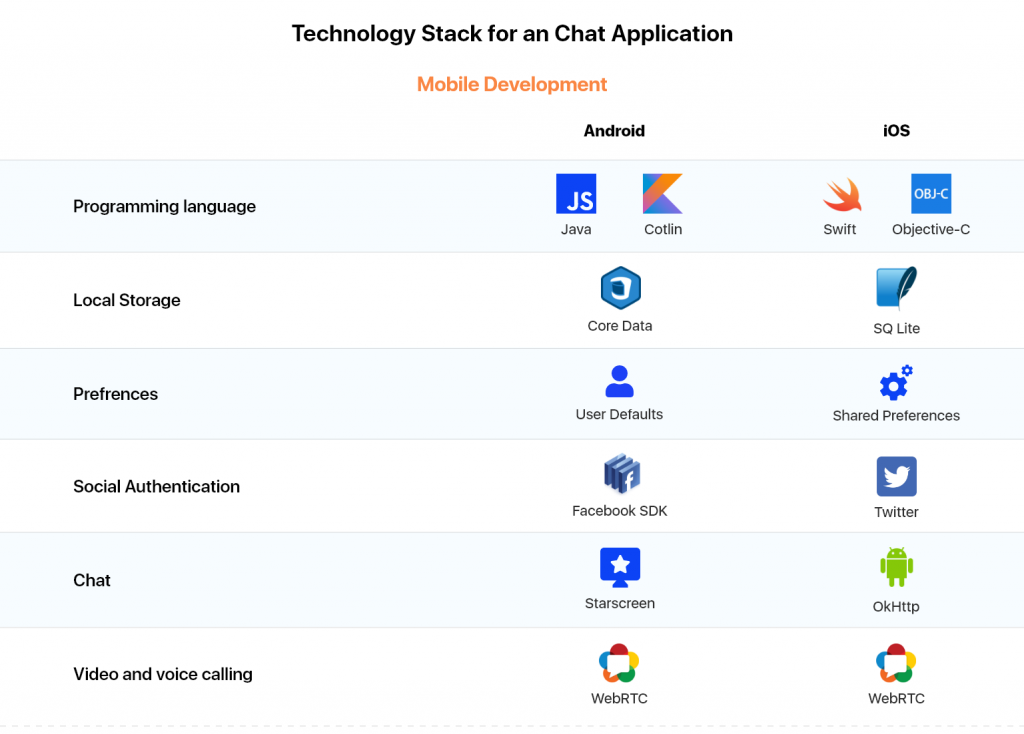 Let's have a look at the technology stacks that are used to build a real time chat application.
Android App
Programming language — Kotlin
Networking — Retrofit 2, OkHttp 3
Database — Room, Anko SQLite
JSON parsing — Gson, Jackson
Image caching — Glide
iOS App
Programming language — Swift
Networking — Alamofire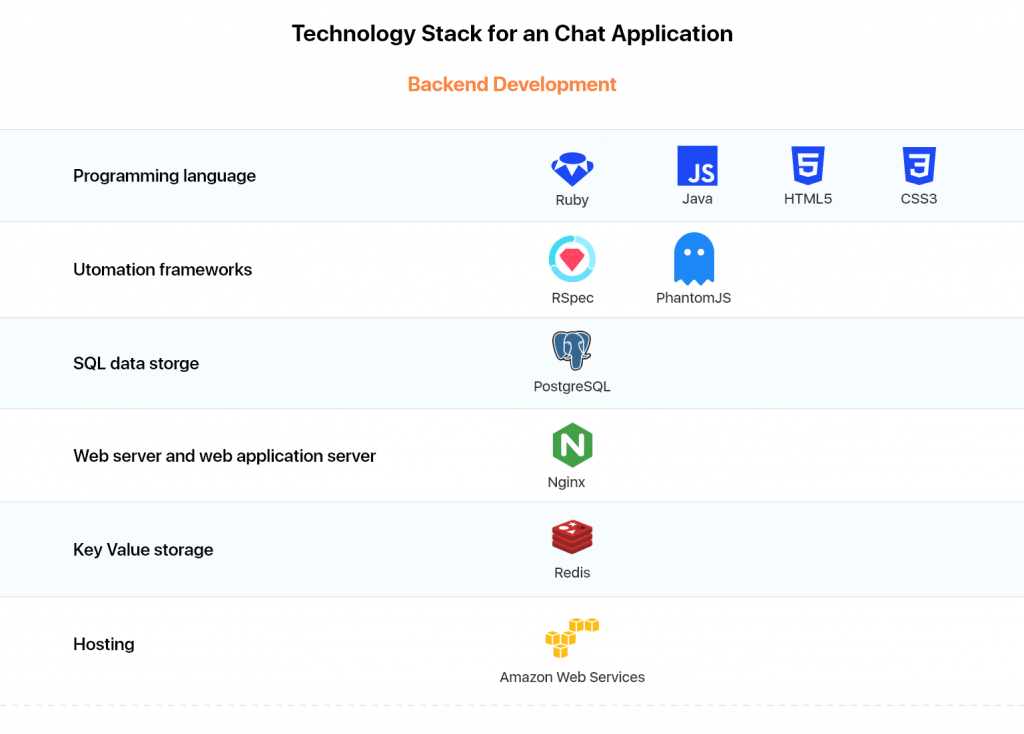 Back-end Web/ Mobile Chat App Development
Programming language — Swift
Networking — Alamofire
Third-party services
Storage — Amazon S3
Real-time Engine —Socket.io
Push Notifications for iOS — APNS
Push Notifications for Android
Once we are clear with the idea of what and all are the things needed to build a custom messaging app, now you might be thinking as to whether it's possible to make money with a chat app? Let's dive into that part too.
Top Monetization Models in Chat App You Must Know!
Absolutely, once you have created your online chat platform, the next thing is how to monetize it to keep your company on page forever and offer more features to users in the future.
There are certain ways that can be utilized to monetize your own chat app
1. Subscription Fees: You can add a subscription fee to your chat platform with which the user who wants to access your application can just pay a monthly subscription and utilize the premium features like making in-app calls, turning off ads, calling to ordinary phone numbers, etc.
2. In-app Purchases: You can allow your users to buy extra content like sticker packs, games, chatbots, themes etc. to enhance their chat platform app usage.
3. Sponsorship: This talks about advertisements that are the main source of chat apps. However, it does not mean that you have to overload your chat app platform with ads i.e., your ads insertion must make the user feel comfortable when using the application. Even the Ads that are being played must be annoying instead should be relevant to the users search.
Explore the Challenges While Building Chat Platforms
Now, when you have made a note of all the required features to build a custom messaging app, it is very important to have a record of challenges too, that you might face. So, let's have a look at some of them.
I. User engagement & Retention
Well, they are the two major metrics that decide the success of a chat app platform. If you want your app to be on the top, then there must be enough users to appeal to the target audience. So, it is always better to develop a user-friendly and technically advanced app.
II. Onboarding Experience
This can be explained well as the user's first impression could be the best impression. The more is the onboarding experience the less would be the abandonment rates.
III. Personalization
It is one of the best aspects of a compelling application as it provides a unique, relevant experience to users. This specifies that if the user is satisfied then will continue using the chat app platform.
IV. Incentives
It is one of the best aspects of a compelling application as it provides a unique, relevant experience to users. This specifies that if the user is satisfied then will continue using the chat app platform.
V. Regular Updates
Regularly updating the app with new features and personalized content helps to maintain user's attention and engagement. Thus, it's always better to have a track of analytics, user behavior, and considering feedback to establish the app.
With all this let's see whether MirrorFly could be the best choice to move with?
How Does MirrorFly Make Difference?
MirrorFly is one among the top rated real-time in-app chat SDK providers who have always been the first choice for developers, mostly for their very outstanding features that include
Complete ownership for sourcecodes
100% Customizable SDKs
Whitelabel solution
On-premises Hosting
Pricing – self-hosted (One time license cost) and On-cloud (pay-as-you-go)
High scalability
Voice/Video call Recording
SIP/VoIP Calling
Cross-platform Messaging
High-end security,and much more
The above are some, but there are more to be counted upon, this is so as CONTUS MirrorFly has targeted all modes of real time communication: voice, video, and messaging. Thus, it provides almost over 150+ features which are so flexible and reliable that can be easily integrated into any of your existing apps including mobile and web apps.
Moreover, it also supports in providing custom features depending upon the business needs that are industry specific.
Conclusion
However, the journey to build the best chat platform is not that easy as it seems to be, but at the same time this article has also shown you how it has been represented as the most wanted one as a future of communication with monetization.
Thus, if this article drives you to think,
"Do you need a chat platform with all these ever best features?
And you respond with a YES!
Then we are really glad to know about your decision to build a chat app by yourself. And we're pleased to guide you for more clarity with guidance.
Try Our Chat SDK & Test All Of Our In-App Chat Features
Get it now
Frequently Asked Questions
How much does it cost to build a chat app?
The cost to build an iOS, Android, or web chat app depends on factors like the size of the app, features to embed, complexity of the app, and the scalability measure. Therefore, if you search in the market for the overall cost of building a basic chat app, you may expect it to be somewhere between  $10,000 to $55,000.
What are the key features of a chat platform?
Some of the top features that developers must include in their chat app development are real-time messaging, group chats, file and multimedia sharing, push notifications, user profiles, read receipts, high-end privacy, 100% customizations, and multi-platform compatibility. 
Does Mirrorfly provide a customizable chat API for my messaging platform?
Yes. MirrorFly provides a fully customizable chat API solution to deliver messaging experiences that would not disappoint. Our SDKs lets you customize 150+ call and chat features and 100+ UI components so that you can personalize your messaging app the way you need. 
Is your white-label chat solution available for both iOS and Android apps?
Yes, MirrorFly's whitelabel chat solution is available for both iOS and Android apps. You can easily integrate our white label SDKs into your web & mobile apps and build a branded messaging app by adding your company logos, fonts, and themes.
What is the downtime when migrating to MirrorFly?
The amount of time required to migrate data to MirrorFly depends on multiple factors like the amount of data, security aspects, and complexity of the migration. However, we assure you that MirrorFly has dedicated resources and support that will make your transition as smooth as possible with zero downtime and no data loss. 
Do you provide support for migrating from my existing provider?
Yes, we do provide end-to-end expert's support and migration services that may help you transfer all your data from existing providers to MirrorFly very quickly and more efficiently. Furthermore, we also offer guided documentation and tutorials to help you get started with our services and features.
How to build Android chat app?
Building an Android chat app can be done in several ways. Here are a few steps to building one.
Step 1: Create a project in Android Studio.
Step 2: Add build dependencies to your project's library.
Step 3: Prepare the manifest
Step 4: Configure the app builder.
Step 5: Initialise the SDKs
Step 6: Register a user
Step 7: Connect to the chat server and send messages.
By following these protocols, you can build an Android chat app, or you can simply integrate chat APIs directly into your Android app from providers like MirrorFly, ApphiTect, Sendbird, etc.
Is it hard to make a chat app?
Making a chat app is possible in a few simple steps. But, as per the increased standards of real-time messaging by WhatsApp, Slack, etc., made with stunning UI and futuristic features, meeting their basic demand seems a little harder. But you can easily integrate chat APIs from top providers like MirrorFly, ApphiTect, etc. with wonderful UI and competitive features.