Skype. WhatsApp. Facebook Messenger. WeChat. Slack.
"Leaving the days behind in the cold with voice calling. It's time for video calling, the latest version in the era of communication."
Be it a one-on-one video call or a multi-participant video seminar, today's technology related to video chat API has empowered the entire digital world with real-time virtuality.
Yes! These integration tools have enhanced the existence of every application simply by adding to their APIs and SDKs. This has in turn eventually caught the attention of so many thriving developers who urge to know more about it.
This post is meant for you with all my research covering all the necessary details that a developer or a businessman looks out for. So, let's dive in and get to know more.
What is Video Chat API/SDK?
Video chat API is a real-time application program interface that provides access to both back-ends as well as server infrastructure. It can be easily integrated into real-time chat within any existing application for mobile and websites. This API provides support to the video communication application that involves a huge number of user engagement.
On the contrary, SDK is the software development kit that are used to create a completely new application that can be easily added to any Android, iOS, or web application. Whether it could be a live chat on video games or an instant messaging option over the web browser, chat SDK provides space for everything.
Ready to Build A Customizable Video Chat App!
How About Getting Started with Firebase to Build Video and Voice Chat Applications?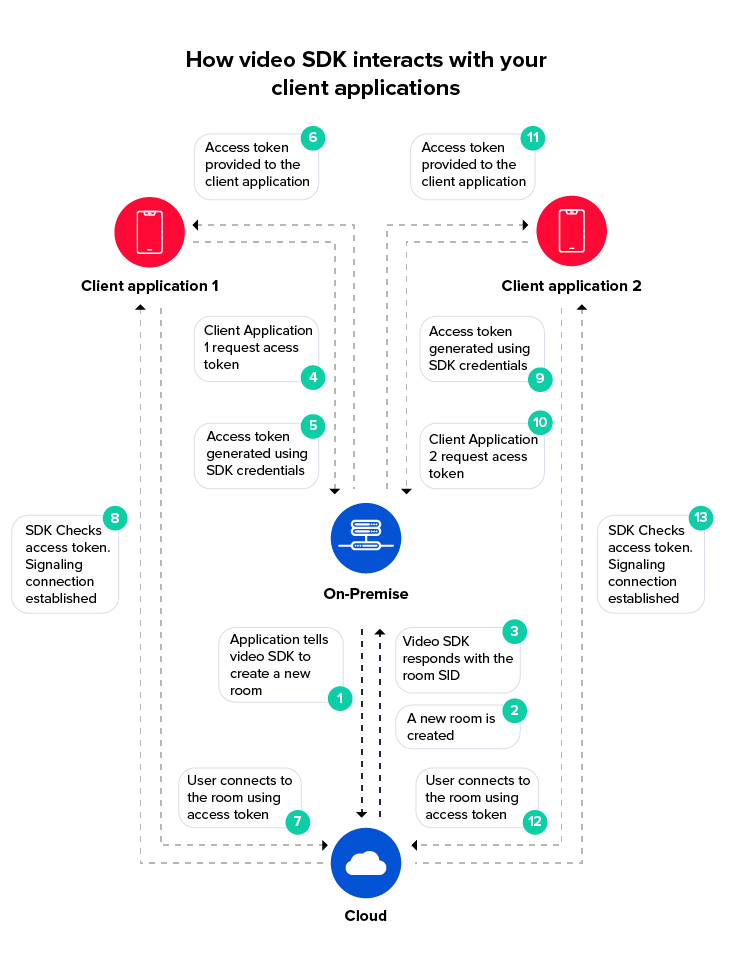 Since the above image shows a clear view concerning the interaction of these video call SDK for android or iOS with client application. Now, let's see how this video call integration process works further for android, iOS or web apps.
Firebase also stands a powerful API to build real time chat application that possesses video, voice call integration with built-in security and safety feature to safeguard the entire chat conversation taking place in the application. To utilize the work of a WebRTC signaling, Firebase plays as real-time cloud storage in making API calls to client's service that scales up to few numbers of users not exceeding 10. It requires instant payment for every usage of users across the platforms.
Now, let's see how these video chat APIs can be integrated into any video calling app despite the platform.
Fundamental Voice/Video Calling Features For Businesses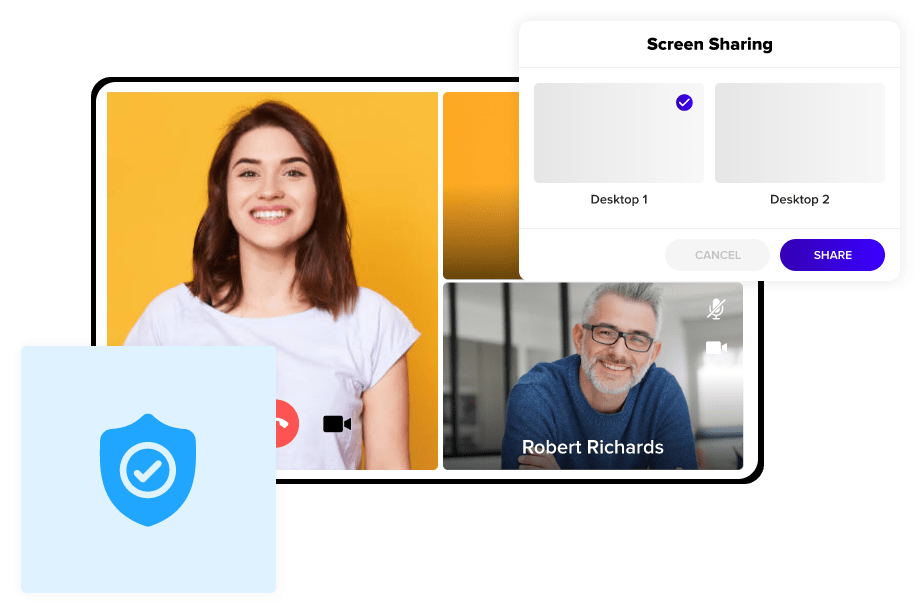 Video Conferencing –

Gets you to make unlimited HQ video conferencing from any application with the hosting up to 250+ participants despite geographical location.

Live Broadcasting –

This makes you to experience live events with high-defined video quality involving unlimited participants directly across the platform with low latency irrespective of bandwidth.

Video Recording –

Having a recorded version of a session stored in your space can let you to learn about the session in later future.

Screen Sharing –

You can share your desktop screen during the webinar/presentation with other participants and make the session more informative and engaging

Cross-Platform Support –

MirrorFly's Video call APIs and SDKs supports all kinds of platforms including iOS, Android, and web app to make calls from one device to another

SIP & VoIP Calls – MirrorFly ensures SIP capability to make voice calls to network carriers from mobile applications or browsers. It replaces the traditional carrier network calling in the most cost-effective manner.
One-on-One or Group Calling – MirrorFly video chat APIs facilitates group as well as a one-on-one video call with highly reliable and efficient quality calls across devices.
End-to-end Encryption –

You can have your users conversations and data encrypted at all levels until it reaches the receiver end for more secure communication.

Adaptive H264 Codec – This helps to provide quality video or voice continuously at very low bit rate without reducing the complexity of the video/audio.
Low Latency –

This enables you to consume much lower level of data and transfer it within a short interval of time.

Own Turn Server –

This acts as a medium to route the connection properly between the client and user with ensuring bandwidth usage.
Well, after having some idea about the basic features and functionalities of voice/video calling. Let's see how these APIs are integrated into any video calling app
How to Integrate APIs into your Video Calling App (Android and iOS)
To Integrate any IOS Or Android Video Conferencing API, you must check for the availability of the following said components,
Step 1: Credential to Video Call SDK Account
To use the SDK and its related services that need to be integrated into your existing apps, you must have credentials. Thus, it's better to have a check on credentials.
Step 2: Server Application
Since it runs at your application server, it utilizes the third-party account credentials to give access to the video services.
Step 3: Client Application
The client application can be executed over the mobile as well as on a web app. Moreover, it uses third-party SDKs to publish, capture, subscribe and execute the real time communication data.
Furthermore, Let's have a look at the steps needed to implement video call integration in android or web application,
Step 4: Create a Room
First, the server Application informs the video call SDK to create a meeting room.
Once done, before creating a new room the SDK validates the provided data credentials.
This is followed by the video SDK responding with the Room SID that can be used later with API requests.
Step 5: The client gets access to the Tokens
To get into the meeting room, it is necessary for the clients to obtain access tokens. This is so as it ensures that the client application has control of who is the authorized participant to join the video meeting room.
The First client requests an access token from the application server by making use of HTTP requests from the client app.
The application server utilizes the video SDK account credentials to produce a secure access token. This in turn gets the client with an access token.
Well, the web video conferencing integration process further takes on certain challenges. Let's have a brief understanding about that in the next section.
Looking to Integrate Video Call Solution Using Our APIs!
Challenges Every Enterprise Encounters While Integrating Video Chat Solution
Whenever you are planning for a video call integration in android, you must take care of many things including lighting, sound quality, speed bandwidth and more.
Of course, all this can make a better impact on your applications capabilities but this will also make a way to some challenges depending upon the industry. So, let's dive deep into the challenges.
1. Long Delivery Times
When it comes to building a video call application from scratch, it consumes a lot of time as well as money, of course making a space to stress. But with ready-made APIs you can get everything at one place.
Yes! You can integrate the ready to use video chat features into your existing app effortlessly and make a start from multi-end testing right from deployment to code quality check at your convenience.
2. Operational Complexity
Right from the deployment to managing the entire infrastructure of the application from scratch is quite complex and requires a handful of skills from techies. The developed infrastructure has to meet the expectation of the solutions' performance. On holding these complexities, focusing more the development process will meet the expectations.
3. Cross-device Security
Well, where the above are some of the major factors to be noted on with challenges. There are many use cases that get the support of MirrorFly to spread their wings across.
Well, so far we have learned the must-have features of video chat APIs and how to integrate them into any video calling app. Now, it's time to talk about the real stuff- the best video call APIs to build an ideal video chat app.
5 Best Video Calling APIs and SDKs in 2023
Must say that there are thousands of video calling SDKs and APIs canned in the market. Finding which API provider would suit your business needs would be difficult. So, below we have curated the top five SDK providers. Beware, those listed below are of no particular order.
MirrorFly is one of the most trusted in-app communication providers of video chat SDKs that helps developers to build engaging video calling experiences across web, Android, and iOS apps. Besides being packed with rich benefits like E2E encryption standards, high scalability, and quick integration capabilities, MirrorFly also offers SaaS and self-hosted video chat solutions to businesses.
Here's a quick walkthrough of the two solutions:
Cloud-based Video Chat SDKs
The cloud solution gives users free instant messaging SDK and subscription to top chat features like single and group video calls, call logs, muting, analytics, and others for a recurring monthly fee.
Notable Features:
Lifetime free chat SDKs
21-day free trial on video and voice calls
Dedicated cloud space
Multi-tenancy infrastructure
Self-hosted Video Call Solution
MirrorFly's self-hosted solution offers 100% customizable video calling SDKs to build your own white-label solution. Besides offering customizations on 150+ call and chat features for a one-time license cost, other benefits include.
Notable Features:
100% customizations
One-time license cost
White-label video chat solution
On-premise hosting
Hire dedicated development team
Twilio helps build memorable video experiences for its users. It enables them to customize video chats as per their requirements with layouts and virtual backgrounds using their feature-rich video calling APIs and SDKs. All of which are compatible across different platforms. Twilio also includes network quality API tools in their package to monitor network performance and bandwidth for crystal-clear video streaming.
Additionally, their video chat API delivers a robust, scalable, and reliable interface built atop a cloud-based infrastructure.
Also Read: Best Twilio Alternatives in 2023
Notable Features:
Screen Sharing

Cloud Recording

Workflow integration

End-to-end Encryption

Cross-platform performance

GDPR Compliance
Integrate Our APIs to Build the Exact Video Solution you Need!
Apphitect is one of the secure in-app communication SDK providers that offers 100% customizations on video, voice, and chat features to build interactive web and mobile chat apps. Plus, their platform being a complete self-hosted solution, allows businesses to take complete ownership of call and chat features and build white-label video chat apps at a one-time license cost. Further, their video APIs also offer end-to-end encryption, ultra-low latencies, and high scalability.
Notable features:
100% customization
One-time license cost
White-label chat solution
On-premise hosting
Customizable UI kits
Low latency
4. EnableX
EnableX is an engaging communication platform whose video chat SDKs give developers everything they need to build an exclusive video experience onto their apps. Their video call features are highly customizable holding a plethora of layout designs in their UI kits. What makes it even more unique is the limit of participants in group video calls, and they range up to 2000.
EnableX is powered by the Visual Builder tool thereby helping developers to build their UI with a few clicks, drags, and drops.
Notable Features:
Secure video calling

End-to-end encryption

Floor access control

Moderated entry

Room lock

Waiting lobby

End-to-end encryption with AES 512 standards
A sole feature of Agora's video chat SDK that exists nowhere else is the AR facial masks and sound effects which help to create a fun environment for users during video calls. Their APIs and SDKs include adaptive video resolution algorithms for a jitter-free video experience.
Plus, this algorithm aids in providing the best video quality even during challenging network conditions.
Notable Features:
AI-powered noise cancellation

AI-powered add-on services

Screen sharing

Video conferencing

Live streaming chat

Draw whiteboard

Voice Effects
Considering that you got a hold on MirrorFly's services and benefits, let us see how to integrate their APIs into different use cases. Starting right with:
Impact of MirrorFly Voice/Video Calling APIs in Variety of Industries
Since, MirrorFly has served a lot of industries with its supportive approach in the field of real-time communication. Let's have a check on some of the use cases that have been impacted with its positiveness,
1. MirrorFly Video Call Integration Into CRM Platforms
When it comes to CRM platforms, there is a time when the customer's conversations get hidden in long emails or scattered around in spreadsheets, that eventually creates inconsistent interactions with customers. But, integrating MirrorFly video call API into CRM, had improved the customer relationships taking the business to the next level of trust.
In brief,
Increases the interaction between your sales team and clients by offering virtual communication possibilities

Helps to nurture and increase the conversion rate of your leads into potential business deals

Supports to streamline the sales process by providing project demo via video call sessions
2. Virtual Communication In Telehealth Applications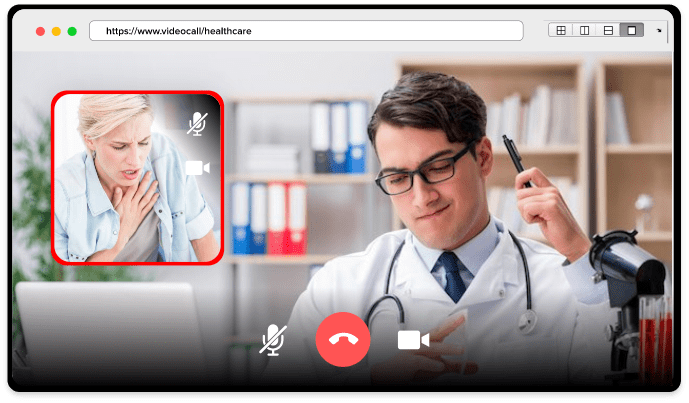 Every patient deserves access to the right care at the right time despite the remote area to ensure the best possible result.
Therefore, to have better and instant communication in case of emergencies, the concept of telehealth app has been introduced which connects the patient and the doctor.
Here, MirrorFly provides a secure mode of communication that happens with its integration of video calling APIs into existing web and mobile apps giving a way to a variety of benefits,
Supports to connect doctors and patients in real-time to avail treatment on emergencies

Gives access to the healthcare related treatments in the most impossible situations

Helps patients to reduce the travel cost to clinics where virtual interaction is way more equal compared to physical treatment
3. Teachers & Students Interactions Through Video Calls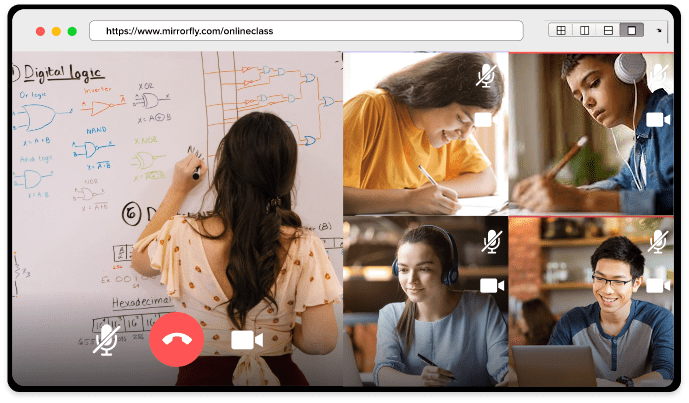 Today by adding video conferencing to the website, the teacher and students can have face-to-face communication directly with each other. This mode of communication has lead to many benefits,
Makes online education more interactive and effective

Enables educational professionals and trainers to host online courses with interactive tools including white board drawing, and more
4. Connecting Customers & Agents Via Real Estate Websites/Apps
Searching for a property in the desired location, is not that easy task. Of course, every one of us has experienced that as in those days, we have to roam around with these real estate people in search of a property.
But, now the real estate industry has revolutionized in digital terms where everything is possible with video conferencing technology.
This includes,
Real-estate professionals can run their businesses through video conferencing & video calling by enabling customers to visit the properties virtually.

Supports to deal with multiple customers across the states and districts simultaneously to close deals and contact.
5. Reducing Compliant Issues In Travel & Hospitality Sectors
In the earlier days, the traveling and hospitality industries made use of voice and text concepts to communicate with the customers to book a room or travel related stuff. Most of the time, it has brought the customers into the state of deception.
But, the integration of MirrorFly video chat APIs have created a great change in customer's perspective in approaching the concept. Let's have some of the benefits,
Enables you to connect with your customers during issues in real-time instead of emails and regular phone calls

Support team to connect with customers through the existing application resulting in more customer satisfaction leading to improvement in organization's performance
6. Real-time Interaction with On-demand Customers
Implementation of MirrorFly in-app video call APIs in on-demand services can eliminate the uncertainty issues that occur with online ordering. It has been found that almost 50% of the cancellation rate on orders has been reduced since you can share exact location here with images. Furthermore, benefits includes,
Increases the trustworthy customer satisfaction by offering instant response/solution to customers

Supports in standardizing the delivery process for the users to work with the platform further with more ease
7. Cabinet Meetings With Government Officials Across the States
MirrorFly video call API helps government officials to connect with other state ministers during natural disasters like COVID-19 to make decisions without any delay. Here, the meetings ensure a secure session with an end-to-end encryption protocol that prevents the breach of government information from unauthorized access.
After having a look at the impact of MirrorFly video chat APIs on a variety of industries, let's see why all these industries prefer MirrorFly over any other solution. Additionally, MirrorFly can be customized video chat API for several use cases. From a dedicated chat app within an office to a doctor-patient communication system for hospitals or even a help support system for banking or financial institutions, MirrorFly can be used to build any kind of real-time communication system.
Recommended Reading: Conversational Banking | How To Build A Fintech App?
How MirrorFly Can Make a Difference in Enhancing Your Video Call App?
Today where the market is filled with many video call API and SDK providers, there are some gems still around on which you can rely – mostly, for their uniqueness in capabilities.
One among them is CONTUS MirrorFly, a readymade chat solution that fulfills the needs of all kinds of businesses. MirrorFly's in-built video call APIs are available with simple source codes that are easy to understand and integrate into any third party device effortlessly. Let's have a look at these unique points in detail,
1) End-to-end Encryption
Whenever someone is planning to enhance their existing application, it's quite usual for them to check out for security features – a key factor behind. Thus, MirrorFly video call APIs ensure enterprise-grade security protocols to protect every part of an information starting from conversation data, file sharing, and more. Moreover, they provide a multi-layer security with many security options like OMEMO encryption, KDF chain, and more.
2) High-End Scalability
Scalability is the core for any real-time communication app as it directly deals with more user retention. With MirrorFly video call APIs you can connect over 1 billion + users across the globe around multiple platforms.
3) On-Cloud/On-premises Infrastructure
What if you get an open option for hosting? Sounds great – right! Well, the developer-friendly solution provides an open option for hosting with your cloud or their cloud, wherein you can store your user's all conversations and data depending upon your preference.
4) Easy to Implement into Any Third Party
To enhance any application, it is necessary that the selected solution must be able to adapt into any third-party device. With MirrorFly, you can relax as they provide a developer-friendly video call APIs and SDKs with guided documentation that support an easy integration process.
5) Open Choice with Pricing
It is a known fact that the development cost of any voice video calling app depends upon its complexity in features. So, having a note on customer's need MirrorFly gets you options in pricing with both – self-managed (one-time license cost) and on-cloud (monthly subscription), with which you can make a choice as per your business requirements.
From the above now you must have got some idea as to why MirrorFly could be the best choice to opt for. However, if my post finds you some insight on your interest with voice video calling application enhancement, it would be so grateful of you.
Well, if you got an idea to proceed further with enhancing your existing application then feel free to contact us for further guidance. We are waiting for you with our team to support you in all your needs.
All the Best!
Frequently Asked Questions (FAQs)
What is meant by API integration?
An API, also known as Application Programming Interface is an intermediary that allows two applications or software components to interact with one another using a set of requests and responses. They are truly an accessible way to extract and share data between applications. And these days, APIs are all around us, whenever you see a ridesharing app, or changing the temperature from your mobile, or use a payment app, there's an API.
Also Read: API Integration Tips to Developers – A Complete Guide
Why integrate a video on your platform?
Videos in particular keep people engaged in your website for a much longer time than any other communication medium like chat or email would do. They are also known to create that personal touch, strengthen the bond between peers, reduce the travel costs of patients and doctors, improve conversions and retention rates, boost productivity, and much more. 
And, it is because of these reasons that businesses today are shifting toward video chat API solutions to add video communications. 
How do I integrate video calls into my website?
To quickly and seamlessly integrate video calling features to your website, you must first choose the best video chat API provider that will match your budget and business requirements. Then, you must see whether they offer modern video calling features, security, and unmatched scalability. With these in hand, you can look over to the provider's integration docs to learn the integration process and the tech stacks they use for websites or simply talk to their experts.
What are the Benefits of Integrating Video Call API Into Your Existing App?
By integrating video calling API to existing video chat applications, businesses can improve communication between peers, add features that they need, can stop worrying about app hosting, enhance workplace structure, optimize quality of video calls, benefit from security-related threats, spend less on maintenance and infrastructure, and more. 
---
Related Articles
---
Integrate Our APIs to Build the Exact Video Solution you Need!