Video Chat Apps have become an integral part of our daily lives. Whether it is a small talk with friends and family or a remote business meeting, video calls are becoming increasingly indispensable for day-to-day communication.
With that said, the demand for advanced features and convenient connection methods is challenging developers to grow more competitive. So, how can you build a video chat app that stands out in the global market?
Well, in this article, we'll address the needs of your users and give you a big picture of live video chat app development, its strategies, and monetization methods.
Market Overview: Video Chat Apps
The post-pandemic years are experiencing a serious shift in the way many businesses operate around the world. Right from the start of 2022, most organizations have converted their operations from remote locations.
As per Statista, the usage of video chat drastically increased from 17% to 44% in the US. In the same period, the market evaluation rose from $4.21B to $6.28B and is expected to reach a whopping $16B by 2030. Employees have started to work right from the comfort of their couches and attend official meetings from anywhere, anytime – all thanks to live video chat apps.
On the other side, the live video call app development market is becoming more and more competitive than ever before. Developers are expected to innovate and build apps that are faster, secure, and reliable. So, we took this into our research to find the best options to build a video chat app. And that's what we'll explore together in this article. Let's get started!
Build Your Own Video Chat App with World Class Features!
What are the Main Types of Live Video Chat Apps?
When you search for video chat apps in your app store on your Android or iOS devices, you'll be able to find thousands of options to choose from. But, not every app in the list is meant for professional purposes.
Some of them are built for businesses, a few for gamers and others for different purposes and use cases. So, to help you choose the right niche for your audience, we've boiled down these options to 3 major categories.
1. Video Calling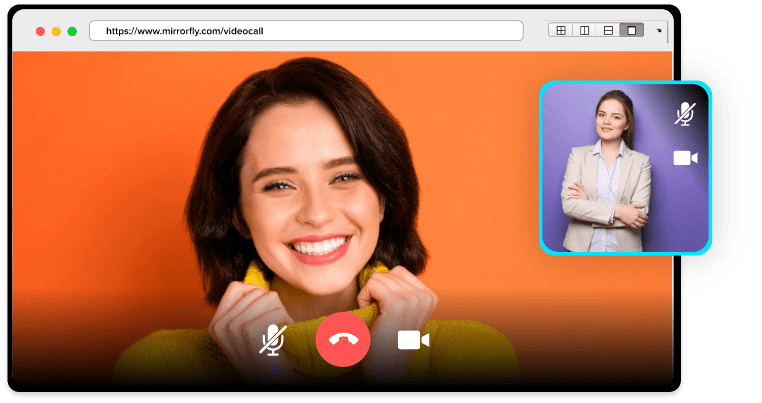 Video Calling or Video Chat is a communication technology that connects users via face-to-face meets, mostly built as a feature of instant messaging apps. Video chats, in general, have gained popularity among the users around the world since they enable seeing a person virtually and talk to them instantaneously without having to meet them in person.
2. Video Conferencing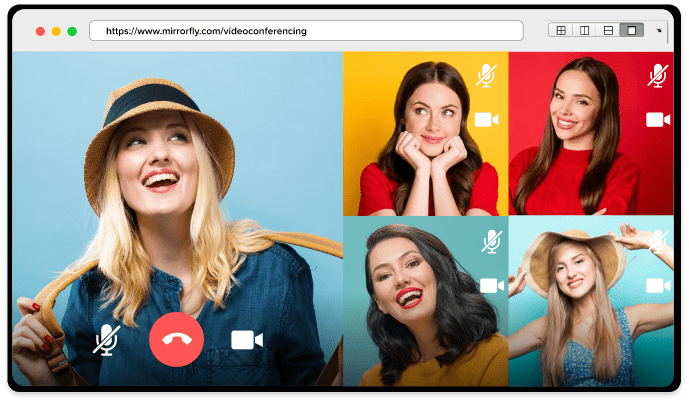 Video Conferencing allows users to connect with each other via virtual meets. Apart from meetings and conferences, users can utilize screen sharing, user management, video recording, live content moderation controls and more in a video conference. This technology is used in laptops and desktops and functions more like an extended version of a remote workplace.
3. Entertainment Apps
Apart from chat, users can also connect with each other virtually for playing games, watching movies, exchanging photos, videos and files. These apps are created completely for keeping the users engaged and entertained, and refrain from boredom.
Popular Use Cases of Live Video Call Apps
Now that you are aware of the main types of video chat apps, it would be wise to discuss where these apps are used in day-to-day activities. Here are 6 most popular use cases of video chat apps:
1. Online Marketplace
A video chat app is the modern solution for buyers and sellers involved in a procurement. Particularly, when a purchase or deal involves huge monetary transactions, a customer would be greatly benefitted. He/ she can choose the product from their own location without having to commute to the seller's place. This gives more flexibility to the user, saving the cost and time of travel.
2. Telehealth
Right when the Covid-19 pandemic started to spread, telehealth apps have gained a huge popularity. Patients can get direct consults from doctors, go through diagnoses and get their medicines prescribed virtually. They can be confident about the privacy of their health information, as most apps adhere to HIPAA compliance.
3. Online Gaming
Gaming has become an integral part of life for many people around the years with the advent of innovative gaming apps. On the other hand, live game streaming brings together players from different parts of the world with a sense of connection. It drifts up their experience with engaging voice features, making it possible to voice out wins and loss.
4. FinTech
Video Chat features that allow users to speak face-to-face have made banking and financial experiences more trustworthy. Even when the users are far away from the portfolio managers, lenders or banking agents, these apps make banking communication a breeze. Above this, most banking apps are built with security encryptions that protects every conversation with ironclad protocols.
Recommended Reading: Conversational Banking | How To Build A Fintech App?
5. Online Dating
Several matchmaking or dating sites have included video chat into their apps to make communication more integral and to prevent frauds. Instead of driving conversations without knowing who the person is on the other side of the chat, video chats make it possible to bring authenticity into reality.
Looking to Build a Live Video Chat App For Your Business?
What to Consider When Developing Your Live Video Chat App
Here is a checklist of factors you must consider when building your video chat app. We've approached each component separately and have categorized them for a clearer understanding:
I. Features
Core Video Chat Components
Interaction Features
UI Features
Technical Components
Multi-user Chat
Video/ Audio Muting
Screen sharing
Noise Cancellation
Emojis & Stickers
Masks & Filters
User Management
Profile Management
In call chat
Presence Indicators
Moderation Controls
Invite Links
Infrastructure
Video Protocols
Application Layer
Security Encryptions
Hosting Performance
Tech Stacks
II. Tech Stacks
Common Tech Stacks for Android and iOS Apps
Programming Languages
Frameworks
Databases
Cloud Platforms
Java
Swift
Kotlin
Node.js
Spark
MySQL
Oracle
Amazon EC2
Amazon S3
How to Build a Live Video Chat App in 5 Simple Steps?
A complete chat experience involves a well-planned development process. We've prepared a 360-degree approach to plan and deploy your video chat app below:
Step 1: Customer Mapping
To create a customer journey map for your video chat app, you need to answer the following questions:
Who are the target users for your video chat app?
What is the purpose of your video chat app?
What is the demography of your target users?
What is the need of users/the pain point they are experiencing with other video chat apps?
What are the interaction activities users perform on competitor apps?
Which features will give your users the best video chat experience?
What's on your roadmap to retain your users?
Step 2: Development Strategy
When it comes to developing a video chat app, you can either build a complete app from scratch or buy only the features from an API provider and integrate them to your app.
Here are the pros and cons of both these strategies:
Building your app in-house vs Buying a Video Chat API
| | | |
| --- | --- | --- |
| | Build | Buy |
| Infrastructure | Need high capital investment for development and deployment. | Hosting is managed by API provider – requires minimum cost. |
| Development | Requires huge investment to start. | Possible to start for Free. |
| Resources | Requires a devoted team of developers. | An individual developer can integrate and deploy the app. |
| Complexity | Requires high server capacity | Managed by the API provider |
| Capital | Requires high investment for development and maintenance | Available for a monthly subscription |
| Dev Time | Takes months for complete development | Possible to complete the entire integration in less than 30 minutes |
| Security | Privacy and Security management need dedicated resources | The APIs are build with compliance to industry standards and regulations |
| Updates | Extensive planning and execution is required for update | Updates take place within few minutes |
Step 3: Budget Estimation
The most crucial part of developing a video chat app is the control of your budget. Here is a sample spend-sheet with factors you may need to consider for planning your budget.
| | |
| --- | --- |
| Factors | Average Cost |
| Initial Investment / Upfront Cost | $ (Cost) |
| Software & Hardware requirements | $ (Cost) |
| Payment to Developer(s) | $ (Cost) |
| Infrastructure / Hosting Cost | $ (Cost) |
| Registration with API Provider | $ (Cost) |
| Feature-set Cost | $ (Cost) |
| Estimated cost of roadmap factors | $ (Cost) |
| Total Cost | $ (Cost) |
The above-mentioned budget sheet is a simplified version of the basic factors. You may need to drill down the details and prepare a budget plan for perfection. This step is essential to keep your project up and running without any hassle with the budget for your video chat app.
💡 Quick Tip: Keep your plan and budget intact with Intercom's RICE Score Model.This a simple tool which allows developers and product managers to prioritize video chat app features without going beyond your spend boundary.
Step 4: Backend Technology
The one major factor you must keep in mind is to make sure that you check the compatibility of APIs and SDKs with your existing apps. There are chances of video quality degradation when there are underlying issues in the backend infrastructure. To rule this out, you need to make sure of the following:
Clearly understand the backend infrastructure
The compatibility of Video APIs and SDKs with your app, if using any
Configurations necessary to make the app deliver HQ videos
Maintain the bandwidth consistency and latency by continuous monitoring
On the greener side, many third-party vendors allow you to try their speed, quality and performance so that you can build high-quality video apps for your users.
Step 5: Frontend Design
User experience is the paramount of all. At first sight and use, users get to decide whether or not to continue using your app. The way your app looks and feels for them is what decides the next step of their journey with your brand. So, you'll need to do a detailed homework of every element that your users prefer or reject, to gain their brand loyalty for your video chat apps.
Benefits of Integrating Pre-built Video API
As explained above, building a video chat app from scratch can be time-consuming, complex and expensive. And the immediate solution to these limitations is to choose ready-made APIs and SDKs. Still got doubts? Here's what you'll benefit from integrating chat features:
1. Easy Integration: APIs and SDKs can be easily integrated into any platforms (iOS, Android, and web apps) and can operate on any device. (mobile, desktops, laptops, and tablets)
2. Minimal Maintenance: You can avail maintenance support from your API vendor and can stay focused on your core development process.
3. End-to-End Encryption: Almost all video chat APIs are built with end-to-end encryption protocols and comply with industry standards like GDPR, HIPAA and ISO to ensure privacy and security of user information.
4. Easy to Make Changes and Updates: When you plan to enhance your video chat features, you have the flexibility to upgrade your plan and avail more features. On the other hand, if you'd like to switch to a different API provider, it is possible to migrate without any downtime.
5. Cost Effective: Save your expenses on development, design, and hosting. You can just pay only for the features you use from your API provider.
Ways to Monetize Your Video Chat Apps
Got plans to generate an income from your video chat apps? Here's a quick list of ways to attract revenue:
1. Ads
If you are building a video streaming app, videos, pop-up and static ads are well-suited for you. You can add skippable ads and closable banners on your video call screen, without affecting the user experience. This way, advertisers will pay you small commissions to gain a spot on your video call screens.
2. Plan Limitations
Once you develop a video call app, you can set limitations like maximum number of users in a group call, or maximum number of space creations. This way, if the users need to extend usage from the set boundaries, they'll need to pay you a rent or monthly/ yearly fee.
3. Feature Costs
Apart from the plan upgrade option mentioned above, you can also charge users for using individual features. For example, if a user needs only a sticker pack without upgrading from their current plan, you can sell out only the particular sticker pack for a minimum cost.
Looking to Integrate Video Chat Solution Using Our APIs!
Conclusion
We hope our comprehensive analysis of live video chat apps helped you to get hold of the stages, strategies, requirements, and monetization methods needed for your video chat app development process.
However, if you are looking for an easier and budget-friendly option to build video calling apps, then we suggest you opt for MirrorFly's video APIs.
MirrorFly, being in the market as a leading in-app chat SDK provider of both SaaS and self-hosted solutions, offers modern call and chat features that are secure, scalable, and affordable. Additionally, with our self-hosted video chat SDKs, you can build white-label video chat apps with 100% customizations on all features at a one-time license cost.
And, if you need step-by-step guidance on how to build video chat apps for iOS or Android, here is an amazing collection of guides you can check out.
Frequently Asked Questions (FAQ)
List the basic features of a video chat app?
Some of the best features of video chat apps include registration, profile Management, contact list, video and voice calls, group calls, text chat, end-to-end encryption, and push notifications.
What is the procedure to make a video chat app?
To build a video chat app it is a must to check for certain major things in terms of technologies, protocols, and strategies such as UI/UX Design, backend development, video streaming protocol integration, testing stage, tech stacks, and team selection to accomplish the entire process.
What are the questions you must think about while planning to build a video chat app on Android?
To build a video chat app you must first set up your mind as,
What will be the overall cost?
What do you want in your video chat app in terms of features and functionalities?
Where to implement the functionalities and whether they could be compatible in the long run?
What are the possibilities with monetization?
List the technologies that are used to build video chat apps?
The tech stack used while building a video chat app includes Swift, Kotlin, Jave, Node.Js, Spark, Amazon EC2, Amazon S3, and much more.
How to create a video chat app for iOS?
Before planning to build a video chat app for iOS, there are certain things to be considered – decide whether yours is a full-fledged app or MVP, front-end and back-end elements, testing stage, etc. Once done with these steps you can have a check over the tech stack too to proceed further.
What is the procedure to build a video chatting app from scratch?
To build a video chat app from scratch you must be well-aware of what you want in your video chat app starting from the features, functionalities, tech stack, the target audience, the developers team, time duration which will be lengthy comparatively and the most important the overall cost of the project. Once you are done with all these above points, you will have a better understanding of which one is easy and affordable to grow your business.
---
Related Articles
---