If the video streaming industry is familiar, you might've encountered Accedo.

But if you are a newcomer, Accedo is a video solutions provider that builds video streaming platforms for content owners worldwide.

The company was founded in 2004 in Stockholm, Sweden. It operates with 600+ employees with office locations in New Delhi, Budapest, and several other major cities worldwide.

The solution provider supports businesses at every stage of the video journey — from strategy and design to delivery, maintenance, and even post-launch optimization.

Accedo maintains a low profile on the internet. And information bout the platform is hardly available online.

This blog will discuss Accedo's features, pricing, etc. And finally, we will also check some of the top alternatives for Accedo.
What is Accedo?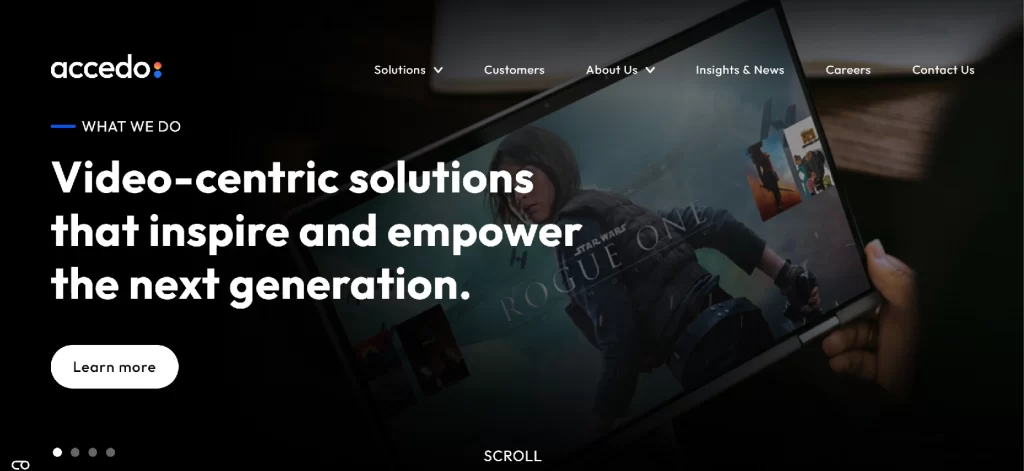 Accedo is a prominent streaming technology company. It provides tailored solutions for OTT video platform within the media and entertainment industry.

Its expertise lies in enhancing the user experience of these platforms through interactive and personalized applications.
Accedo TV collaborates with broadcasters, content owners, OTT service providers, pay-TV operators, and VOD platforms to create captivating video experiences.

Accedo's solutions often revolve around incorporating features like content recommendations, social media integration, interactive advertising, and cross-platform synchronization.

These additions aim to engage viewers more effectively, improving retention rates and heightening user satisfaction.
Overall, Accedo plays a pivotal role in empowering video streaming platforms with cutting-edge technologies and services.
Accedo Features
Accedo supports a range of useful features for an enhanced video streaming experience.
1. HTML5 Video Player: With Accedo's advanced video player, users can enjoy smooth playback and top-notch streaming quality for an immersive viewing experience.
2. Content Management System: Accedo's CMS simplifies the task of organizing and updating content. This makes it easy for platform owners to manage their video CMS libraries efficiently.
3. Monetization: Accedo TV helps platform owners generate revenue by integrating ads and managing subscriptions, ensuring a steady income stream from their video content.
4. Live Streaming: Whether sports events, concerts, or breaking news, Accedo allows real-time live streaming, captivating audiences with live experiences.
5. Migration: When it's time to move to new platforms, Accedo assists in a seamless transition, ensuring existing content and user data are preserved.
6. Video Analytics: Accedo's analytics tools provide valuable insights into viewer behavior, content preferences, and performance, empowering platform owners to make data-driven decisions.
7. Branded App: Accedo TV creates customized, branded applications that reflect the unique identity of the platform, offering users a consistent and recognizable experience.
Accedo Pricing
Accedo offers three different subscription/pricing plans for businesses of varying sizes and demands.

Accedo pricing / Features
Small ($3K /month)
Medium ($5K /month)
Enterprise
(Custom pricing)
Custom domain
Yes
Yes
Yes
Custom branding
Yes
Yes
Yes
Onboarding service
Yes
Yes
Yes
Marketplace integrations
3
5
Unlimited
Services (Brands)
1
2
Unlimited
Apps
10
20
Unlimited
Custom design
No
Yes
Yes
Custom integrations
No
No
Yes
Monthly active devices
20,000
50,000
Custom
Top 5 Best Accedo Alternatives & Competitors
1. VPlayed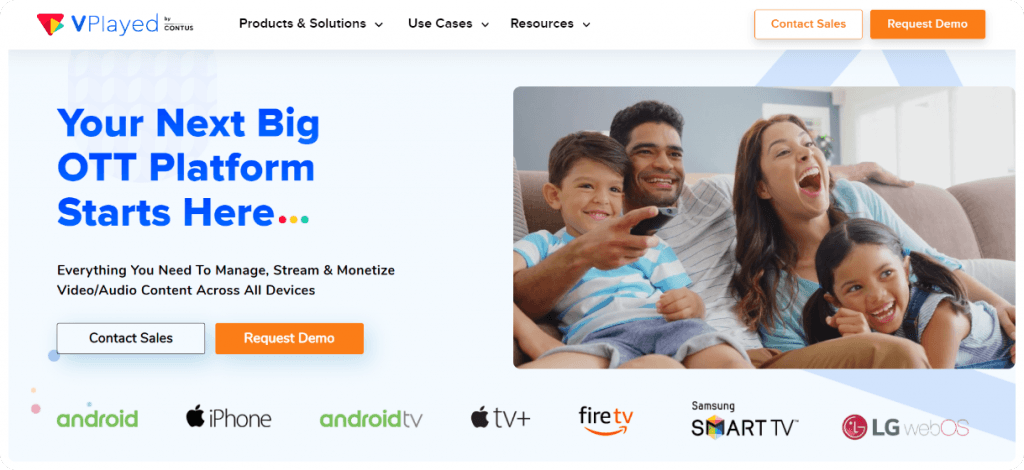 VPlayed stands out by offering a fully customizable video OTT solution tailored to meet the diverse needs of various video businesses.

It empowers content owners to deliver high-quality video content seamlessly across multiple devices, including Web, Android, and Smart TV.
While many platforms claim to support these features, VPlayed truly sets itself apart with its unparalleled customization options.

Unlike other Accedo competitors, VPlayed is 100% customizable.
Customizations in VPlayed extend not just to the video player but to the entire platform.
This means you can personalize any aspect of the platform — from design to deployment – to align perfectly with your brand identity.
Additionally, VPlayed boasts exceptional scalability and reliability, boasting an impressive 99.99% uptime. This reliability ensures uninterrupted video streaming for your audience, even during peak traffic times.
In essence, VPlayed emerges as a robust alternative to Accedo in the market.

After all, it provides a comprehensive and highly customizable solution to build a video streaming platform.

VPlayed offers a unique set of features that sets it apart from Accedo:
1. Fully Customizable and White-label OTT Platform: VPlayed empowers you to create a branded streaming platform that reflects your brand identity, ensuring a personalized and engaging user experience.
2. Comprehensive Built-in Video Content Management System: With VPlayed's intuitive CMS, you can effortlessly upload, organize, and manage your entire video archive, simplifying content administration.
3. Cloud Transcoding Streaming Technology: VPlayed utilizes efficient cloud transcoding to compress video files, optimizing streaming quality for a seamless viewing experience across devices.
4. HLS Streaming Feature: This Accedo competitor enables seamless simulcasting of your programs and content to a global audience through its HLS streaming capability, ensuring broad reach and accessibility.
5. Diverse Monetization Models: VPlayed offers over nine profitable monetization models, allowing you to maximize streaming income and enhance overall profitability.
6. Certified Multi-DRM Protocols: The platform ensures robust security for your valuable content with certified Multi-DRM protocols. It provides licensed content management and safeguarding against unauthorized access.
2. Zype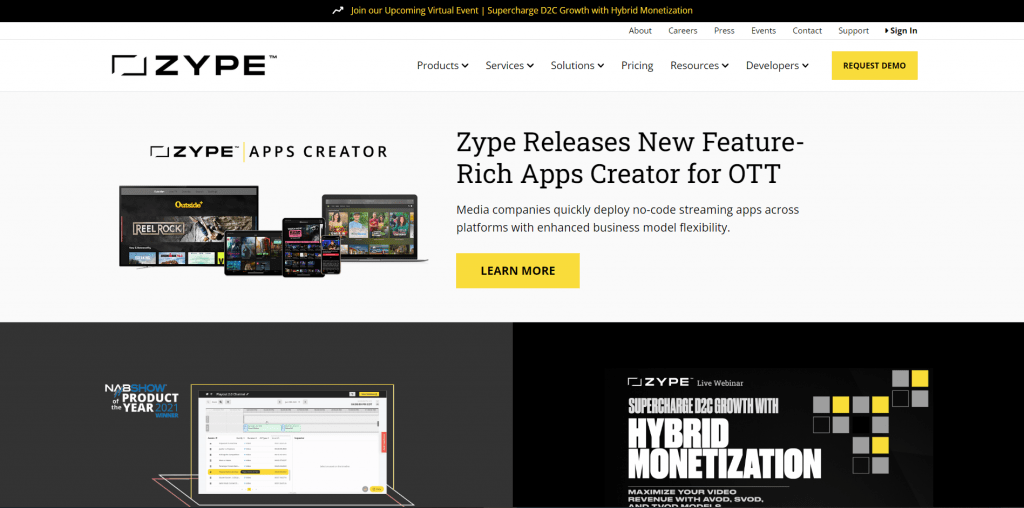 As an Accedo competitor, Zype presents a powerful, user-friendly video monetization platform.

It offers a simplified process for uploading and organizing videos without requiring expert guidance.
Zype's seamless integration extends support to various platforms. It includes web, mobile, and connected TV devices like Apple TV and Roku, ensuring widespread accessibility for your content.
Like Accedo TV, Zype provides a range of monetization options, such as subscriptions, pay-per-view, and ads, enabling you to drive revenue generation effectively and efficiently.

With Zype, you gain access to a robust and intuitive solution that streamlines video content monetization and distribution while catering to your specific needs.
Key Zype features include:
1. VideoMeta CMS: Easily organize and manage your video content with Zype's user-friendly Video CMS.
2. Video CRM: Zype's Video CRM system helps you efficiently handle customer interactions and analyze video engagement data.
3. Encoding: Optimize video files for seamless streaming across various devices and platforms using Zype's encoding capabilities.
4. Connectors: Integrate effortlessly with web, mobile, and connected TV devices to reach a wider audience.
5. Content Delivery: Ensure reliable and efficient content delivery to captivate audiences worldwide without disruptions.
6. Analytics: Gain valuable insights into viewer behavior and content performance with Zype's powerful analytics tools.
3. Setplex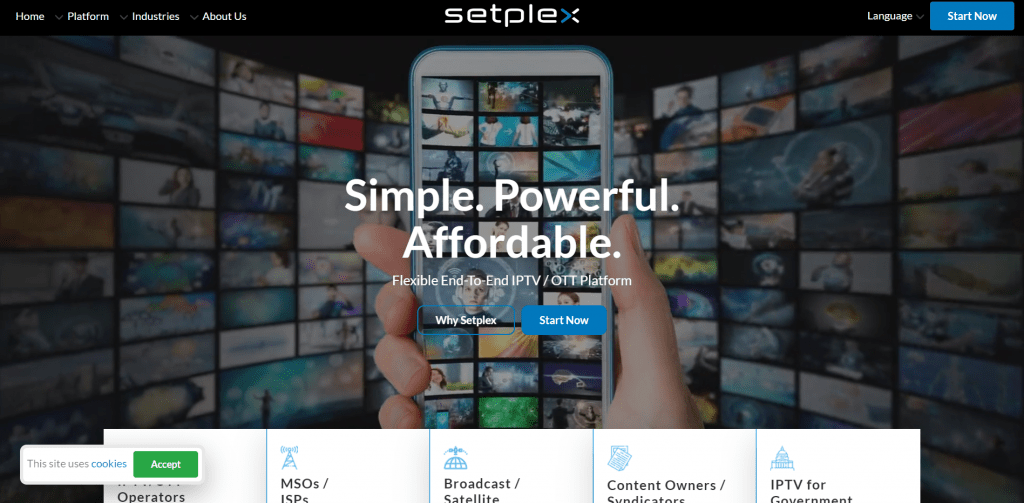 Setplex is a technology company that provides end-to-end IPTV and OTT content delivery solutions. Their platform allows broadcasters, content owners, and operators to seamlessly deliver video content to various devices, including smart TVs, mobiles, and streaming boxes.

As a potential competitor to Accedo, Setplex stands out with its extensive features, scalability, and user-friendly interface. It empowers clients to create highly customizable and branded streaming applications while offering diverse monetization options.

So, it becomes a compelling choice for businesses seeking a top-notch video streaming solution.
Key Setplex features include:
1. Live Streaming: Setplex enables seamless real-time broadcasting to engage audiences instantly with live events and shows.
2. Audience Analytics: Gain valuable insights into viewer behavior and preferences to enhance content strategy.
3. Branding: Create a unique and branded streaming experience to resonate with your audience and identity.
4. Content Organization: Effortlessly manage and organize your video library for easy content updates and distribution.
5. Multi-Service Integration: Integrate smoothly with various platforms and devices for widespread content delivery.
6. Video CMS: Utilize Setplex's user-friendly Video CMS to efficiently upload, manage, and optimize video content.
4. Uscreen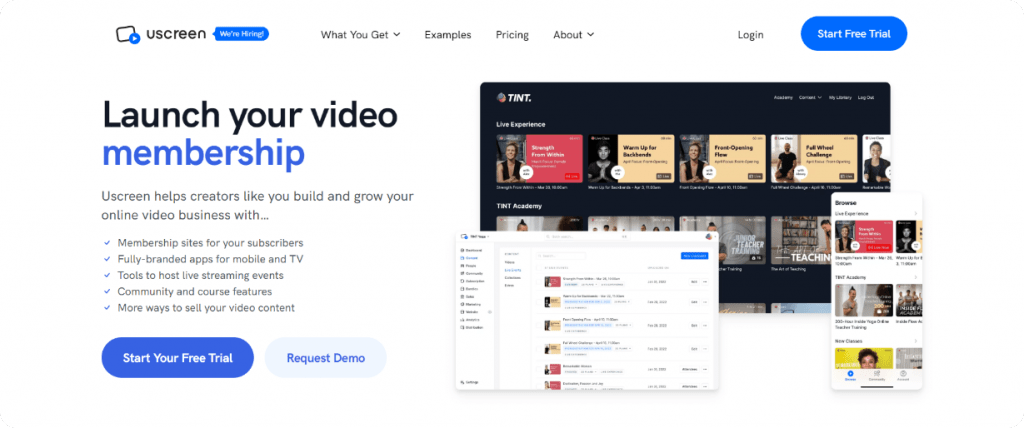 Uscreen is a video membership platform that puts the power in the hands of content creators. It allows them to build their video streaming service and earn from their valuable content.

What makes Uscreen a worthy alternative to Accedo is its unique blend of customization and simplicity. Content owners can create a personalized and branded streaming platform, giving their audience an immersive experience.

Managing content becomes a breeze with Uscreen's user-friendly tools. So it makes your video organization and delivery seamless.

Not to mention, Uscreen offers diverse revenue streams like subscriptions, pay-per-view, and rentals.

As a result, content creators are given the means to thrive in the competitive digital landscape.
Key Uscreen features include:
1. Video Hosting: Uscreen provides reliable video hosting, ensuring seamless playback and delivery to viewers worldwide.
2. Marketing Tools: Boost your video business with Uscreen's marketing tools, facilitating audience growth and engagement.
3. Subscription Analytics: Gain valuable insights into subscription performance to optimize revenue and retention strategies.
4. Integrations: Uscreen seamlessly integrates with various third-party platforms, expanding your reach and functionality.
5. Back-end Dashboard & CRM: Efficiently manage content, subscribers, and data through Uscreen's user-friendly back-end dashboard and CRM.
5. Ventuno
Ventuno is a versatile SaaS-based OTT video platform. It is tailored for video creators to launch and monetize their streaming services easily.

With Ventuno's customizable templates, you can swiftly launch streaming websites, Android and iOS mobile apps.

In addition, you can also launch connected TV apps for popular platforms like Roku, Apple TV, Android TV, Amazon Fire TV, LG TV, Tizen TV, etc.

Ventuno features standard monetization options like ads, subscriptions, and pay-per-view.
The platform's all-in-one solution includes essential features for managing an OTT service. And it includes IT infrastructure, video CMS, encoders, video player, ad-server, payment gateway integration, servers, CDN, and analytics.

The user-friendly single dashboard streamlines content management, syndication, monetization, and performance analysis across all platforms, making app maintenance with Ventuno a breeze.
Key Ventuno features include:

1. White Label OTT Platform: Ventuno provides a fully customizable platform, allowing you to brand your streaming service uniquely.
2. Powerful Video CMS: Effortlessly manage and organize your video content with Ventuno's robust Content Management System.
3. Comprehensive OTT Business Analytics: Gain valuable insights into viewer behavior and performance to optimize your business strategy.
4. Multi-device Support: Reach a wider audience by streaming content seamlessly on various devices, including Amazon Fire TV, Android TV, Apple TV, Roku, LG webOS, Samsung Tizen, etc.
5. Get Premium Support: Enjoy top-notch customer support from Ventuno's team, ensuring a smooth and successful experience.
Conclusion
We have come to the conclusion of this Accedo alternatives blog. What are the takeaways?

Undoubtedly, Accedo TV is a decent video experience solutions provider. However, there may be better fits for some organizations.

For businesses looking for a more tailored and customizable video OTT solution, alternatives like VPlayed, Setplex, Zype, Uscreen, and Ventuno present compelling options.
VPlayed stands out with its fully customizable and white-label platform.
In addition, the platform doesn't charge any user fee or recurring payments. So you can retain 100% of your monetized revenue.

Setplex offers end-to-end IPTV and OTT solutions with user-friendly features and seamless integration, catering to a diverse range of video businesses.

Zype's strengths lie in its extensive video CRM and audience analytics.

Ventuno emerges as a versatile SaaS platform with customizable templates.

So, what is the best Accedo alternative?
Well, it depends on your business needs and the nature of your target audience.
If you still need clarification, contact our streaming experts for personalized guidance.
We will get in touch with you shortly.

So, roll up your sleeves, embrace the challenges, and start on your journey to create an extraordinary OTT Platform that leaves a lasting impression.