Video platforms have become predominant in recent years and said to be the common digital services delivered on the internet. This is considered to be a perfect medium & provides opportunity for many professionals dedicated to content creation, music, & more.
Coming along its way, there are other factors that play a role in your success as a content creator. Ultimately, finding the best platform to host your valuable content is among the most important.
Zype is one of the most popular choices a streaming provider can get. All thanks to its streaming quality and handy features like audience management, monetization, etc.
But the question arises..
Does Zype have those that help you to meet your business needs?
Well, there are wide range of Zype alternatives that offer similar-like service and you might find they're comparatively a better choice for what you're in search of.
Top 6 Alternatives & Competitors to Zype
What is Zype?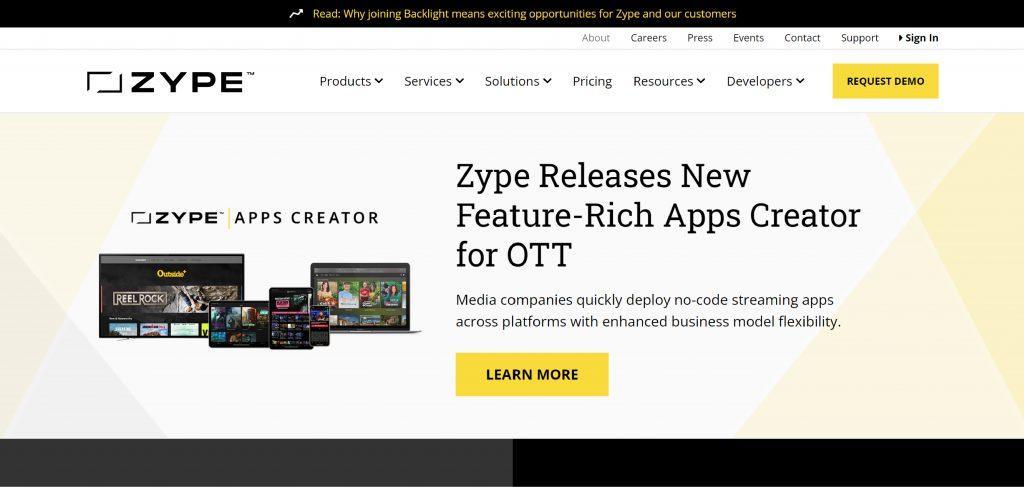 Zype is an end-to-end video content management platform which offers flexible video solutions to content businesses.
It allows them to directly connect with their audiences on any screen. It's drag and drop streaming makes it easy for potential users to build their own video on-demand platform.
The service provides tools for distributing content to any platform or device along with, analyzing, revenue-generating, etc.
The streaming of videos is delivered across web, mobile, OTT apps, set-top streaming players, smart TVs and more.
Features to look in at Zype video platform are:
App templates that are useful for quick development

A secure content management system to organize assets

Reliant content delivery along with multi-CDN support

Customer relationship management (CRM) software

VOD or live streaming by ingesting from any video source
But the high price tag is usually takes the focus & sends people looking for alternatives to Zype.
Let's look into them one by one..
Want To Choose The Best Zype Alternatives For Your Streaming Business?
Top 6 Alternatives & Competitors to Zype Video Platform
Get a comparative look at the list of best-in-class top video streaming platforms in the market that aids you to have the right solution for business streaming needs.
End-to-end video streaming solution for unique business needs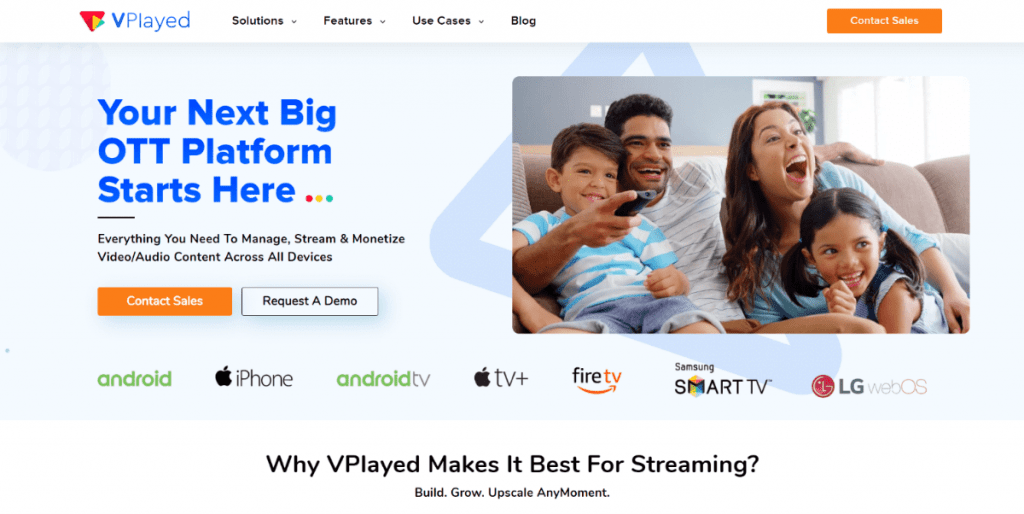 CONTUS VPlayed facilitates its customers with a whitelabel video streaming that's completely customizable end-to-end. Content owners, distributors or media broadcasters can take advantage of future-driven streaming tools and keep monetizing on the go. As a matter of fact, they can reap the benefits of building a video streaming website endlessly since they deliver the solution with lifetime ownership support.
Some Of Key Features Of VPlayed Include:
Enables hassle-free streaming by using advanced HLS video player

Manage your video content effectively via a centralized video CMS

Prevent digital piracy by encrypting content with strong DRM tools

Multiple monetization models help you to drive maximum ROI

Analyze user behavioural viewing patterns to increase video views
Pricing
CONTUS VPlayed develops every solution in a customized manner as per every customer's individual needs. Therefore to have exact pricing details you can get in touch with the team directly.
2. Vimeo OTT
Phenomenal video streaming solutions for small to large-sized businesses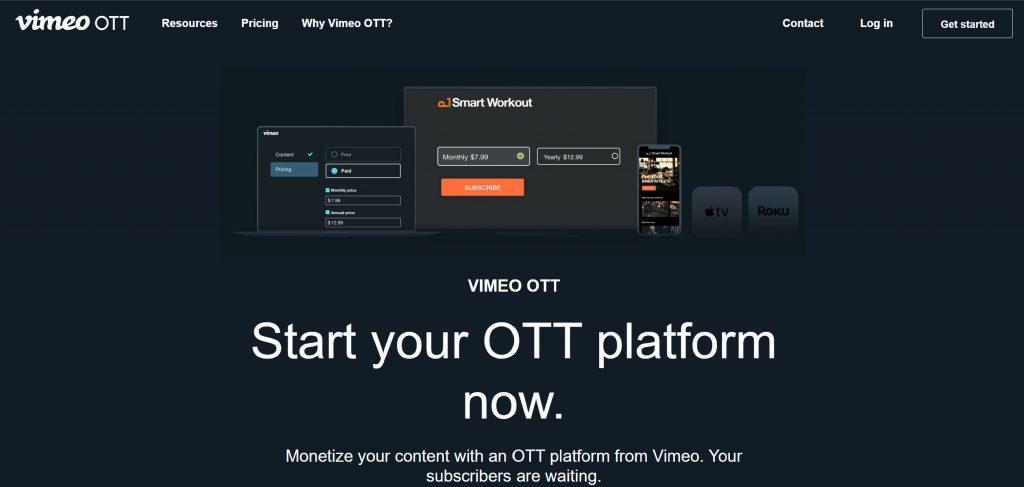 Vimeo OTT that was launched its video streaming platform in the year 2004 assists content owners to beautifully shape any sort of video content easily and exhibit their artwork to the entire world.
This is another alternative platform much pioneered by its team as compared to Zype. Be it any audience which needs to be catered to, Vimeo always supports their varied viewing needs at any point of time. Moreover, they were the ones who initially supported HD video.
Some Of Vimeo OTT's Key Features Include:
Online streamers can show picture-perfect video via ad-free player

Powers up best video CMS with content storage and management in Vimeo OTT

Seamless post-production with support globally makes a plus factor

Live streams delivered in high-quality makes it smooth via 4K ultra HD

Privacy options is a vital resource to ensure your content to be safe
Pricing
Vimeo's pricing packages are split into free, starter standard, advanced & enterprice plans.
Free: As a registered user, they will continue to make, manage as well as share videos on vimeo for free. Vimeo has also added its essential video analytics on a single dashboard so potential customers can review reports on acquired viewership
Starter: Vimeo's starter plan provides a professional-grade streaming toolkit to assist your team to get more out of your creative videos. This includes adding chapters, boosting SEO, collaborative review features, tagging, & more.
Standard: Standard plans help content creators to make and share high-tech quality video supported with sophisticated player customization. Marketing features include the capability to add branding and watermarks to videos and include CTA, lead capture directly in the player.
For other plans, you can contact vimeo directly.
3. Uscreen
Renowned video streaming service provider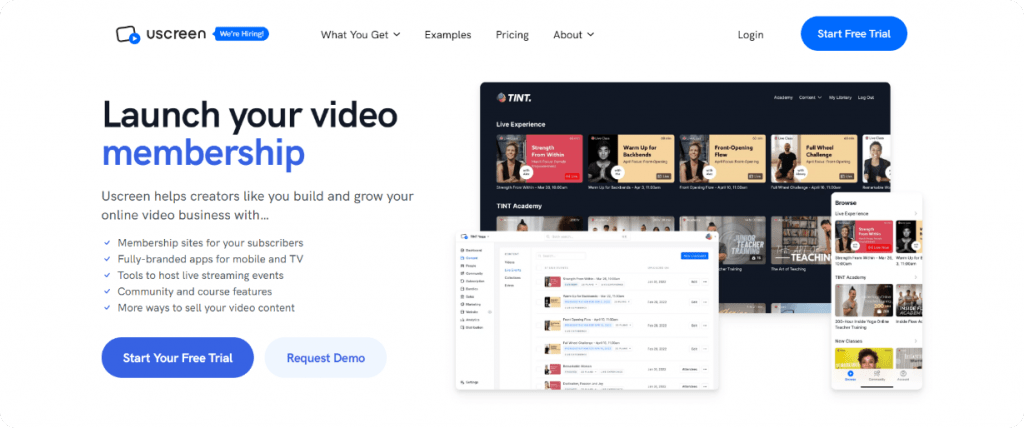 Uscreen is among the top OTT platforms that is quite popular in the world. The platform creates independent OTT websites and apps for customers in any field. Fast encoding along with multi-bitrate streaming heightens viewing experience in 4K UHD.
The whitelabelled platform is equipped with an advance HTML5 player and is backed up by global CDN. Streaming specialists in Uscreen offer varied tools to drive user engagement via email marketing, analytic reports, monetization models, etc.
Some Of Uscreen's Key Features Include:
Launch your service with zero coding in flexible Uscreen platform

Monthly & customizable subscription plans to rev up efficiently

Enables branding of any video that you'd like to showcase

Furnish your content in a stellar video library in decentralized space

Build engagability with live countdowns via interactive chat sessions
Tired of using Uscreen?
See why Uscreen is not suitable to manage your Online video platform and why you need a
Uscreen Alternative
Pricing
The pricing plans of Uscreen are split into 3 categories. They comprise with Basic, Growth and Uscreen plus plans.
Basic: Starts with $79 per month that is provided with 50 hours of video storage, 1 admin user, one 1-1 onboarding session, along with email support
Growth: Starts with $159 per month that is delivered with 150 hours of video storage, 10 admin users, three 1-1 onboarding session added with chat & email support
Uscreen Plus: For the customized plans based on mobile apps, TV streaming apps, Live streaming & chat, etc you can contact Uscreen directly.
4. Panopto
Biggest video streaming platform compatible across web, mobile, smart TV
Panopto is a video hosting platform, a next-best alternative to Zype. It facilitates its customers with online courses or any video streaming content that comes across the world. Major business use cases are based with corporate organizations and educational institutions.
They promote themselves to be as a one-stop solution when it comes to live streaming, recording and sharing video content from anywhere in the world.
Some Of Panopto Key Features Include:
Ease-of-use with the platform since it's centrally sychorized with tech-stack

Real-time video conferencing is made effortless with interactive streaming tools

Live or one-to-many video streaming solutions making it barrier-free to communicate

Remote video trainings make things convenient to team up at anytime smoothly

Videos are made accessible across various screen sizes and formats flexibly
Pricing
Panopto offers its exclusive price plans in 3 major packages.
Basic: Plans are offered free for minimum duration
Pro: Plans start from $14.99 per month
Enterprise: For custom-priced plans you can contact Panopto directly
Also, the time when you get into contract, you will be assured with unlimited streaming and storage.
5. Kaltura
Top video streaming platform faciliating all content needs

Kaltura's digital video publishing solution comes with opportunities of hosting limitless content. This is to take an entirely bespoke approach to distribute the services across different platforms and devices.
This customizable platform delivers flexibility for catering content to unique streaming markets such as media companies, television operators, ed-tech organizations & more. Moreover, Kaltura is widely opted by world's top brands and organizations.
Some Of Kaltura's Key Features Include:
Facilitates videos with best HD quality controlled via adaptive video player

Multi-CDN integration enables buffer-free streaming in cloud-TV platform

Live playlists with looping option provides flexibility to explore in solution

Provides both built-in as well as 3rd party analytics support for content

Availability of platform API for on-demand and live streaming videos
Pricing
Since each package is generally customizable, Kaltura doesn't disclose its cost on its platform. Please get in touch with them directly if you are in search of a custom quote.
6. Brightcove
Stream live on demand content to engage audiences anytime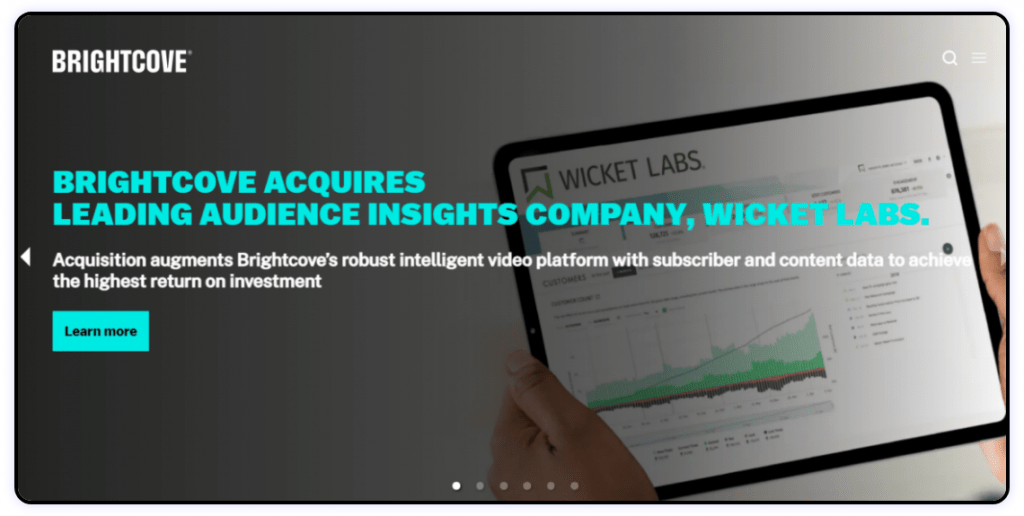 The Boston-based company Brightcove was established in 2004. One of the first internet video platforms, it combines hosting for on-demand videos, live streaming, and cloud video streaming. Brightcove makes it simple to broadcast videos on any screen, whether a mobile device, desktop computer, laptop, or tablet. The platform enables a wide range of video monetization platform strategies. Scalable solutions are provided in packages with individual costs.
Some Of the Brightcove's Key Features Include:
Superior advertising and marketing strategies to accelerate business expansion

Potentiality for live streaming across any device to reach a wider audience

Integration for creating a video streaming applications with specialised add-on features

Flexible video monetization models that enable scalable revenue growth

With security technologies for safe streaming, increased privacy is encouraged.
Pricing
Brightcove provides pricing plans for every level that a broadcaster aims. These include the following:
Starter: Inclusive of 50 to 200 videos along with 100,000 plays with 2-5 users
Professional: Limitless videos and powered with 100,000+ plays added with +10 users
Enterprise: Limitless videos, added with 100,000+ plays with 10+ users, unlimited uploads and analytics-only solution.
Conclusion:
There are a sizable number of OTT service providers on the market, and each of their solutions offers a variety of features and functions that are tailored to the various needs of OTT businesses. This concludes our list of Zype alternatives. Your demands and objectives ultimately determine which of these platforms will be the best fit for your company.
If You Are Looking For An Zype Alternative For Your Streaming Business Then Schedule A Free Demo With Us