Looking for something exciting on "Best Voice API in 2023"? This is your time! Here's your ultimate guide with my research and reviews. Let's take the journey across with no delay and explore the market beyond the core!
Market Scenario of Voice API
Where the world is transforming into digitalization, everything around us is upgrading to its potential in all possible ways. With the enhancement in technology, the WebRTC-based Voice call app has obtained a lot of popularity over the past few years.
These are the voice API that are making sense throughout when it's about voice chat apps, with which one can often make and receive calls over the apps making the most stable accomplishment in business growth and success.
This is the post which talks about the most popular voice APIs in the market, that has created the most powerful impact across everything. This has almost encouraged the developers to create their own voice application.
So, Let's start with the basic understanding about these APIs.
The Powerful Voice Call APIs, What are they?
Well, voice calling APIs are the application programming interface or tools that enable the companies to integrate the ability to make and receive voice calls within their application allowing you to stay connected and make business transactions.
However, there are many voice conferencing system APIs available in the market, but there are some specifications based on which you can go for the best voice API.
Let's have a look at the four major criteria that you must look for,
Variety in API Features – look out for a variety in API features that can make your application more capable and unique in all sense.
Popularity, Demand in the Market – This assist you to determine the worth of the API that you want to implement into your application.
Investment, the Cost – Mostly an entire development process relay on pricing/investment, so it is vital to examine the cost of the APIs that you were planning for powering voice calls.
Compatible and Easy to Use – Better to check whether the APIs are compatible and easy enough to use and integrate into your pre-built or existing device.
Once you are done with the above-mentioned major criteria, now it's time to have a check on the list of top 11 best voice APIs in the market.
11 Best Voice API for Android, iOS & Web Apps – A Complete Study!
Let's have a look at the best voice APIs concerning features, pros, cons, and pricing and have a better understanding,
API Provider
Popularity
Pricing Model
Mirrorfly
#1 SaaS & Self-hosted voice API
Free + monthly plans
Twilio
Programmable voice API
Free + pay-as-you-go model
Apphitect
100% Customizable voice API
Custom pricing
Sendbird
Scalable voice API
Free + monthly plans
Plivo
Top-notch voice API
Pay-as-you-go model
Siri
Easy to Implement voice API
Free + monthly plans
Sinch
Smooth voice calling with VoIP & SIP
Free + custom pricing
Enablex
SaaS-based voice API
Per minute + custom pricing
Vonage
SIP Trunking API
Per minute + custom pricing
QuickBlox
Absolute calling toolkit for developers
Free + monthly + custom pricing
MessageBird
P

owerful VoIP infrastructure

Free + custom pricing
Top Voice Call APIs and SDKs Providers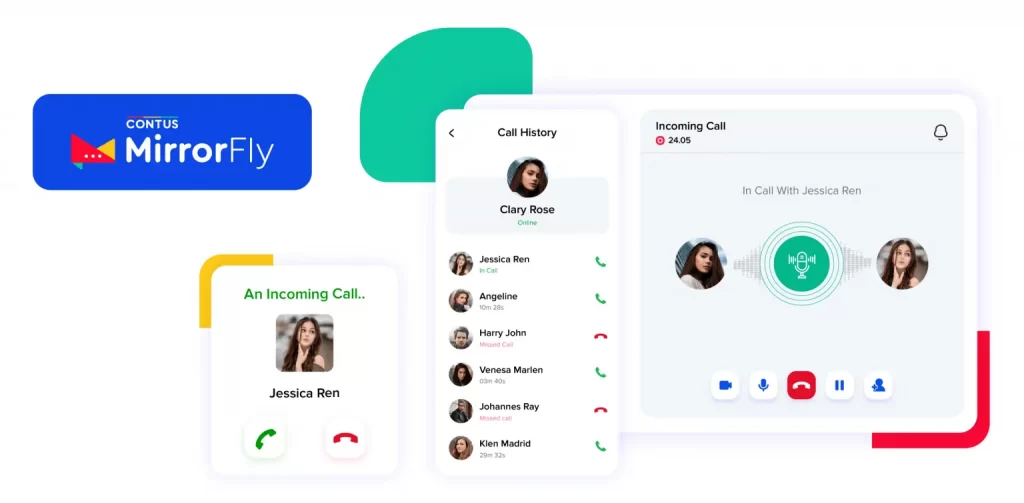 MirrorFly is a leading voice API provider that is highly favored by developers for its advanced voice calling features, fast integration, and E2E encryption protocols. Additionally, it is renowned for facilitating over 1 billion conversations with ultra-low latency and a 99.999% uptime SLA across apps, ensuring uninterrupted video calling experiences for users.
Plus, we also offer SaaS and Self-managed voice chat solutions to help you build engaging voice-calling apps.
Here are the highlights of the two solutions:
MirrorFly Cloud Solution
The cloud-based voice calling APIs let you integrate all real-time features like 1-to-1 and group voice chats, call muting, notifications, call logs, and a handful of others for a monthly subscription fee. Its other benefits include:
Lifetime free chat APIs
21-day FREE trial for voice and video calls
Multi-tenancy support
MirrorFly Self-hosted Voice Chat Solution
The SaaP solution works great if you are planning to build a white-label voice-calling solution with fully customizable features. Besides, you can avail of 150+ customizable features at a one-time license cost and host apps on your premises.
100% Customizable SDKs
One-Time License Fee
White-label solution
Dedicated development team support
Pricing
Self-Managed solution (One-Time License Cost) and On-Cloud (Monthly Subscription)
Get Started With Our Self-hosted Voice Solution!
#2. Twilio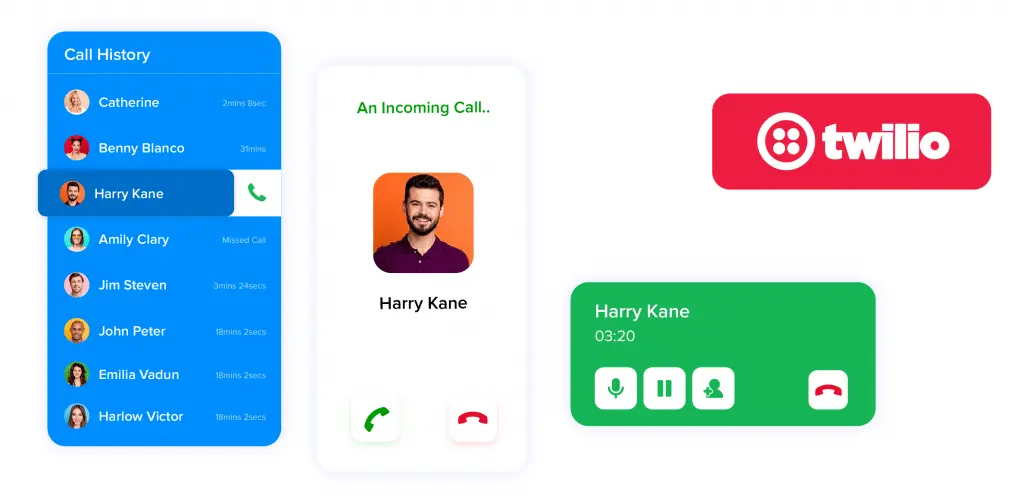 Twilio is the popular programmable voice API that brings a power to the phone services by enabling users to make and receive phone calls, send and receive text messages. Twilio powers a personalized interaction by engaging users at a large scale in it's single platform across any channel.
With the REST API, the developers can integrate it's voice chat functionalities for regular purpose alongside with query metadata about calls. It offers access to carrier networks and also provides codes to solve communication issues.
Also Read: Best Twilio Alternatives in 2023
Twilio's Best Audio Call Features
Insights & Reporting
Set up SIP
Detect Answering Machines
In-progress Calls Modification
Retrieve Call Logs
Pricing
Available at a monthly subscription
Looking to Recreate your Existing Twilio Platform?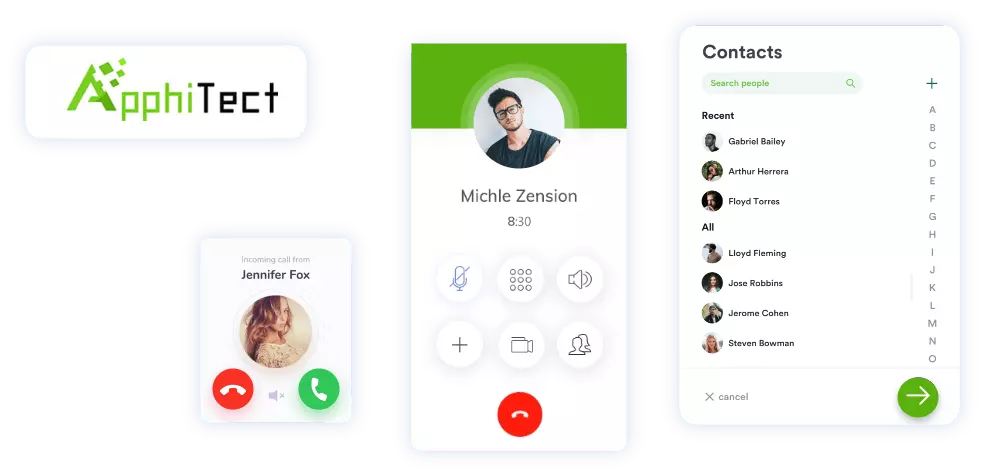 Apphitect is a leading mobile app development company, based in UAE. Apphitect.ae is built with real-time instant messaging elements and is one of the best chat APIs for Android and iOS applications. The application is equipped with rich and customizable UI/UX designs with a facility of unlimited cloud storage.
Also, it allows third-party integrations that can assist you to scale up the prevailing architecture. The flexible, scalable and multi-faceted features makes Apphitect Voice APIs, one of the best chat SDKs for multiple devices and iOS, Android applications.
Apphitect's Best Audio Call Features
One-to-One and Group Audio Calling

Live Broadcasting

Conference Calling

Push Notifications Features

Voice Recording

Audio Encryption
Pricing
One-time License Cost
#4. SendBird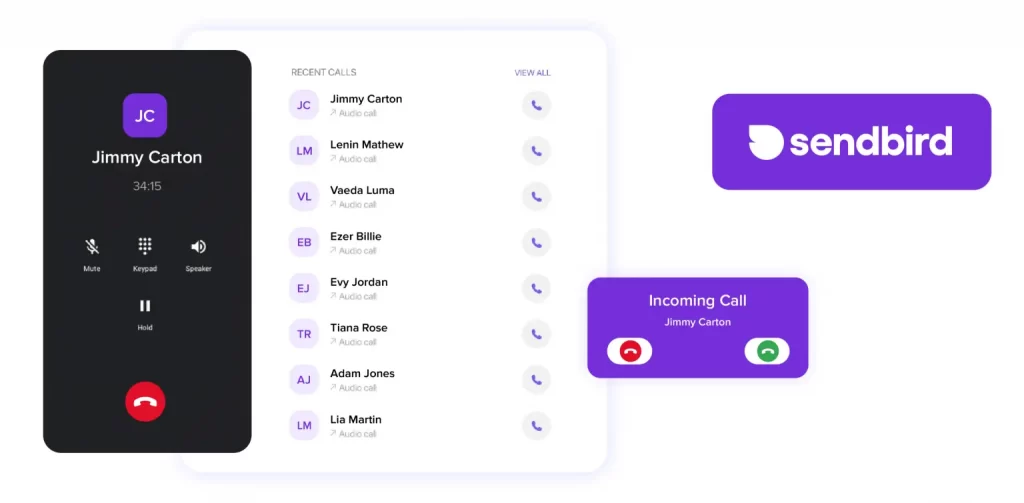 Sendbird voice communication APIs provide high-quality communication audio calls. It's proven managed infrastructure is always available for massive scale of conversations. It permits to perform personal and group calls with no downtime and lag, experiencing a secure and compliant voice chat and communications.
Sendbird voice call APIs enable the calls to be backed by highly scalable and reliable chat platform infrastructure, this is to deliver a more immersive digital experience. It's on-device multimedia feature eliminates the loss of data by providing the user with the ability to record video, audio and image files directly from the app.
SendBird's Best Audio Call Features
Integrate user ID with chat

On-device call recording

Duto-reconnect

Call history

Notification

Multi-device support
Pricing
Available at a monthly subscription
Looking to Recreate your Existing Sendbird Platform?
#5. Plivo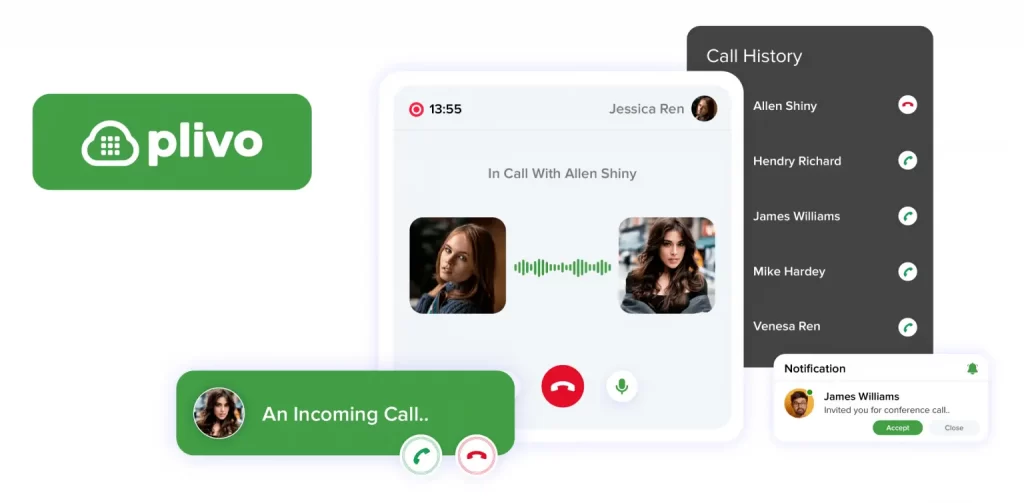 Plivo is a cloud communication platform that enables the developers to embed voice calling and text messaging into any mobile and web app with no restrictions over carriers. Plivo is in direct connection with over 1600 local carrier networks that deliver reliable connectivity in 195 countries. It offers a cost-effective and easy-to-deploy solution around the world.
Plivo allows the businesses and developers to build their voice and SMS communication using any web standard language. Its voice calling APIs facilitate the placing of phone calls with native SIP support and SDKs.
Plivo's Best Audio Call Features
SIP Gateway and Devices
Voice Alerts and Survey
Audio Conferencing
Call Monitoring and Transfer
Call Recording and Routing
Automated Responses
Pricing
Available at a monthly subscription
#6. Siri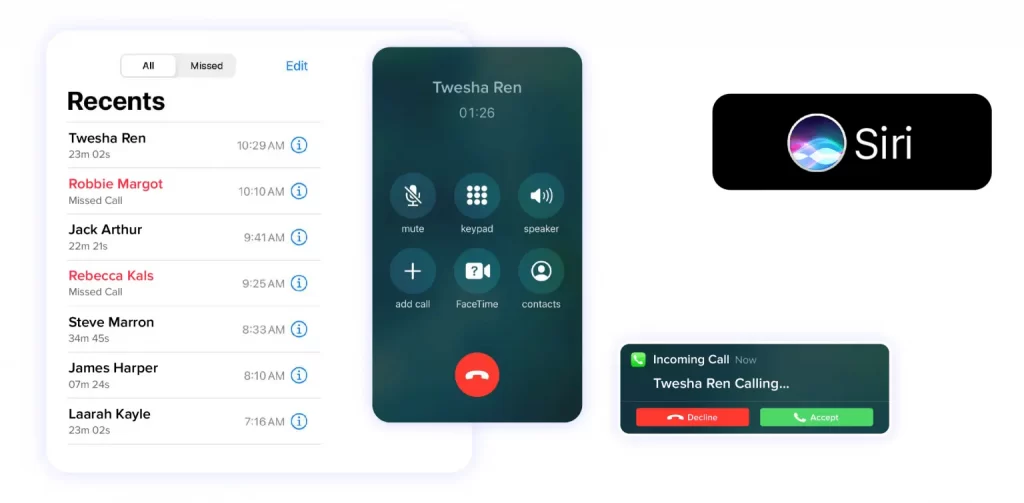 Siri voice API, also known as Sirikit voice API, is the intended UI framework which allows the developers to implement app extensions that integrate the chat system. Thus, it makes it possible to integrate the voice assitant's functionality into third party apps. Siri's voice chat APIs can be used to deploy a state of the art interface which can provide a smart answer to users.
Siri voice API uses two technologies – voice recognition and processing of natural language. Siri can be used with intent extension where the program can communicate via purpose extension.
Siri's Best Audio Call Features
Make Voice Queries
Perform Voice Related Tasks
Offers AI Assistance
Add Intelligence Voice Assistance
Smart Answer Options to Users
Pricing
Available at a monthly subscription
#7. Sinch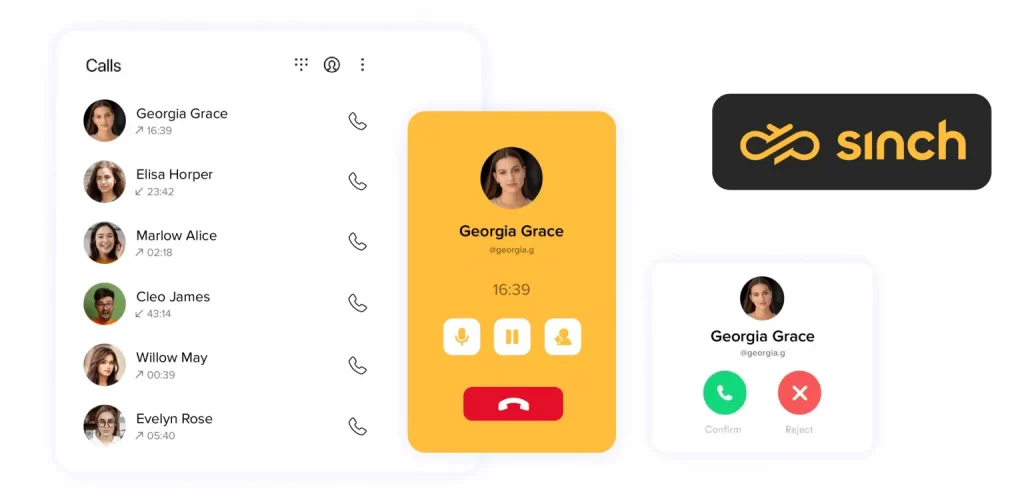 Sinch is a real-time VoIP and SIP API provider that allows the businesses to create the best voice call apps on any device such as iOS, Android, and web app. It offers many standard communication APIs like SMS, messaging apps, audio calling, video calling, etc. Sinch provides hassle-free integration of high-quality voice APIs that supports VoIP, PSTN and SIP.
It's cross platform application delivers a multi-party voice call feature that creates an engaging and deeper conversation between the brand and the customers.
Sinch's Best Audio Call Features
Cross-platform support

Voice calling

In-app voice calling

Number masking

STIR/SHAKEN
Pricing
Available at monthly subscription
#8. EnableX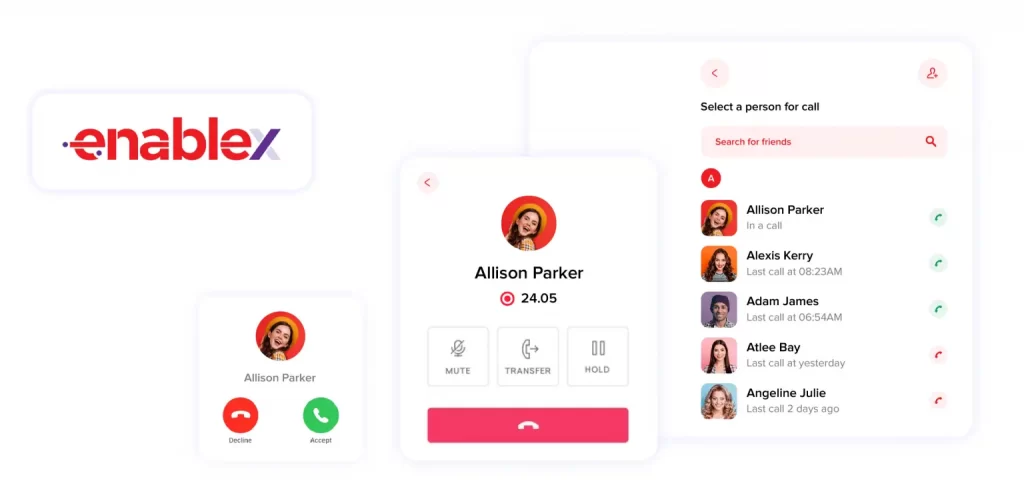 EnableX is a communication platform that provides you the capability to build your smart and scalable audio calling app across a variety of devices. It's robust set of APIs enables you to build one-on-one VoIP calls that connect you to PSTN networks globally, on the WebRTC platform.
It supports voice broadcast, voice conference calling, call masking, and much more. It leverages CPaas for developers, which allows them to integrate voice features into their system with no investment over the back-end.
EnableX's Best Audio Call Features
Call masking

Calling line identification

DTMF support

Automated voice message

Voice broadcasting

Interactive voice response
Pricing
Available at monthly subscription
Ready to Build a Voice Chat App Using Our Flexible APIs?
#9. Vonage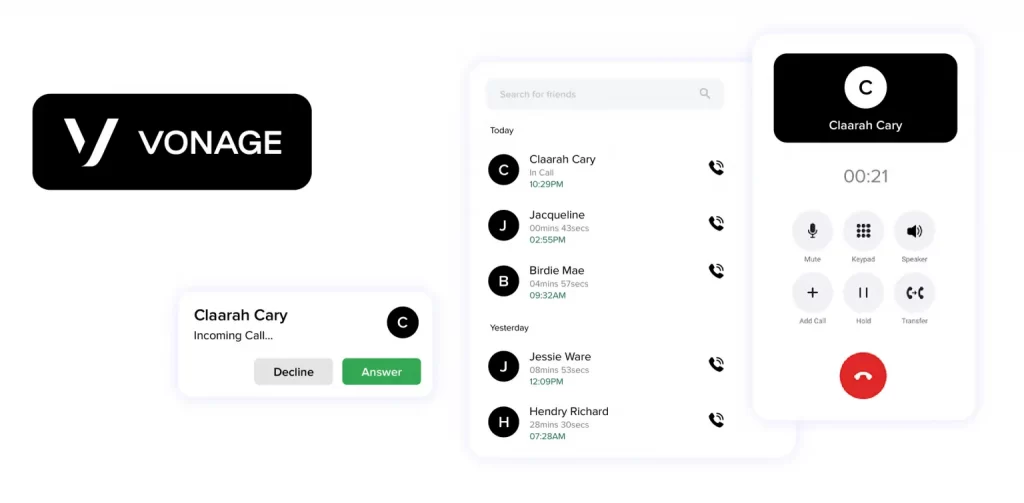 Vonage provides a cloud communication building block APIs that are used in several communication modes as audio calling, group calling, SMS, messaging apps, SIP trunking and much more. They also enable two factor authentication dispatching the services for multichannel message delivery.
Since, Vonage works directly on its direct carrier network Vonage, it continues to expand its service of reaching out to almost any phone in a single platform. It has a communication solution that is highly secure to protect any privacy concerns.
Vonage's Best Audio Call Features
Routing is based on location

SIP deployment (Beta)

Billing is performed in per second

Vonage has coverage to over 1,600 carriers in almost 225 countries across the world
Pricing
Available at monthly subscription
#10. QuickBlox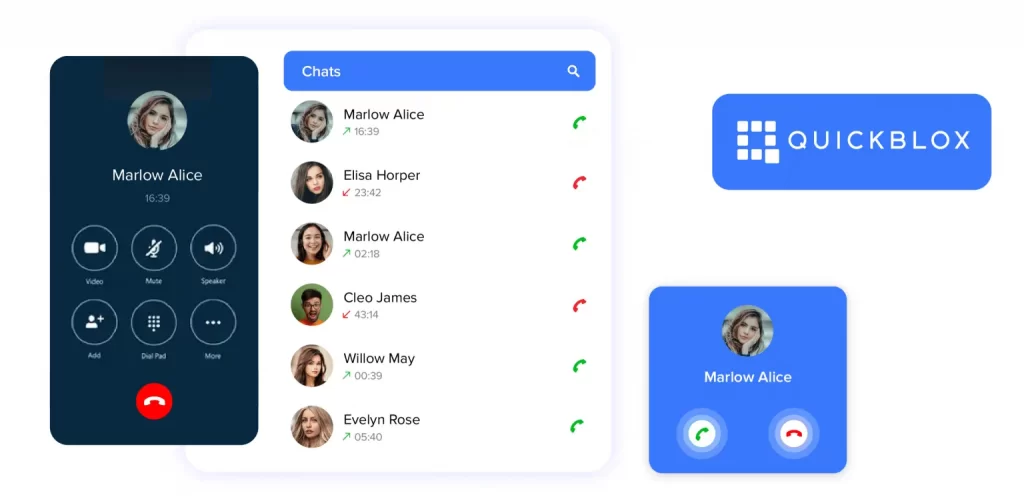 QuickBlox is a feature-rich communication app provider that offers a powerful tool-kit with easy-to-use APIs and native, hybrid SDKs for real time communication. It's one of the major backend infrastructure that focuses on offering VoIP APIs and SDKs to integrate voice calling features into any existing mobile and web app.
QuickBlox offers a ready-to-go module that allows the developers to build their own ideal voice call app with the features of their choice that moves along with all types of devices.
Quickblox Best Audio Call Features
Remote media track

VoIP calling

VoIP push notification
Pricing
Available at monthly subscription
#11. MessageBird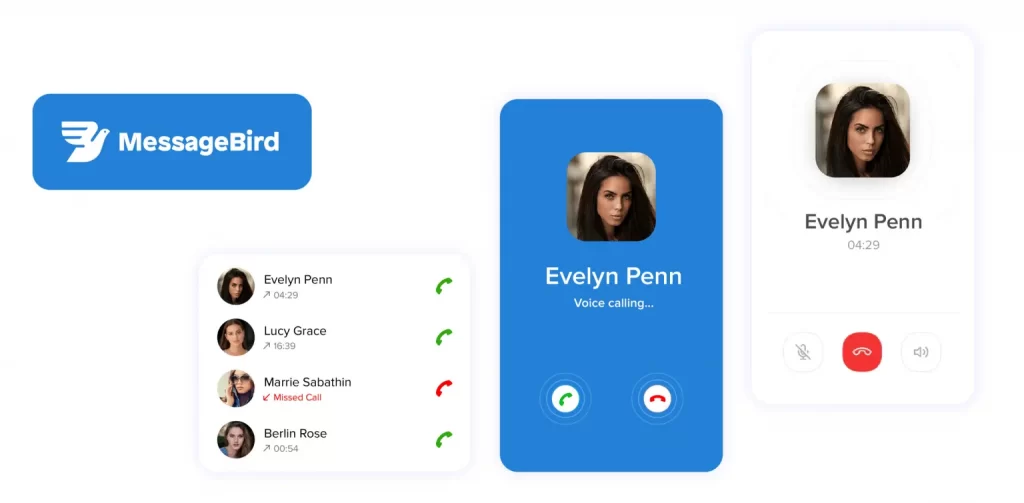 MessageBird is a cloud communication platform that connects the businesses with their customers across multiple channels. It's products and solutions are the foundational building blocks to business communication that includes WeChat, Messenger, Email, SMS, Voice, etc.
MessageBird supports multimedia features for direct stream web video chat and also has a powerful VoIP infrastructure for reliable and secure voice application.
MessageBird's Best Audio Call Features
Telco stack

Tested routes

Decentralized call centers

Custom hold music

Transfer call

Masked number
Pricing
Available at monthly subscription
Conclusion
However, the above given list of these voice API providers are some as there are many around the global market. This is something based on my research. Now, it's your time to do some research from your end too to have a better clarity with the market's current situation if you were planning to build your best voice call app.
Whatever be the case, if you still feel you need some more guidance then just feel free to contact, will be there to assist you!
All the Best!
If You Want To Get Started On Creating Your Own Voice Chat App, Sign Up For a Free Trial, And Get Your Own API Key To Build With!
---
Frequently Asked Questions (FAQ)
What is a Voice API?
A voice API (Application Programming Interface) is a set of programming tools and protocols built for developers to quickly add highly-scalable, top-quality voice and telephony features to any existing applications or services. By integrating voice-calling features into communication apps, developers can boost user engagement and create richer, interactive customer experiences. 
What is a Programmable Voice API?
A programmable voice API (Application Programming Interface) is a software interface with a range of tools and features that helps developers to integrate voice-enabled chat capabilities into any existing applications. Moreover, by using a programmable voice API, developers can create conversational IVRs, modify calls in progress, make outgoing and incoming calls, control calls, and add call recordings to their software applications. 
What is the difference between voice call and VoIP?
Voice and VoIP (Voice Over Internet Protocol) are the two different ways of sending voice communication. Traditionally, voice calls use the PSTN to transmit voice signals over a dedicated telephone or cellular network, whereas VoIP uses the internet for voice transmissions. 
Moreover, VoIP is a cost-effective option and offers more advanced features like video conferencing and call recording than traditional voice calls. And these days, businesses using VoIP are increasingly becoming popular.
What is the difference between In-app voice call and normal phone call?
The basic difference between voice call and in-app call is that phone calling is a traditional method where both caller and callee use a telephone line to communicate with each other. While, in-app voice calls use a software application to transmit voice messages over the internet between caller and callee. Further, to access in-app voice calls, both the sender and receiver must have the same app installed on their mobile device or computer, whereas, a recipient's phone number alone is sufficient to make a phone call. 
What are the benefits of in-app voice calling?
In-app voice calling offers several benefits or advantages to businesses like clear and prompt communication, cost saving, convenience, audio conferencing and call recording, security and privacy, improved user experiences, and other advanced features.