As the pandemic situation emphasized social distancing, people had tough times in regaining their sense of hope and faith without witnessing their physical prayer sessions and religious practices.
With the evolution of technologies, there are wider options in exploring the church services to participate virtually in the sermons, church events, and much more.
Live streaming church services have revolutionized the power in reaching out to mass viewers, sermons, preaching's, and church events.
Live streaming services for churches give the pastors or bishops the privilege to broadcast their sermons with advanced streaming software to remotely broadcast across the globe at the safety of their homes.
Let us explore how to use church streaming services, the benefits of owning faith streaming in the present scenario and the comparison of the top church live streaming solutions in the market.
The Benefits Of Church Streaming Services To Look In
There are multiple benefits associated with broadcasting your religious services for the church as you get to reach out to people across the globe via your church streaming platform to make them worship online.
People suffering from disabilities, illness, and global crises can benefit abundantly from the church streaming services. Listed below are the prominent advantages.
Sick and disabled people can witness the church services at the comfort of their homes at any difficult times.
People who travel across the globe can take part in their faith community
Live streaming solution of sermons, and broadcasting of private church events to the members of your community
Increase the reach beyond your community and connect with wider viewers
Recording of live streaming church events and have it available as VOD platform as it will ensure repeated telecast of the videos and people can watch it multiple times
Attend any congregation from the comfort of your home and ensure participation of people during the church events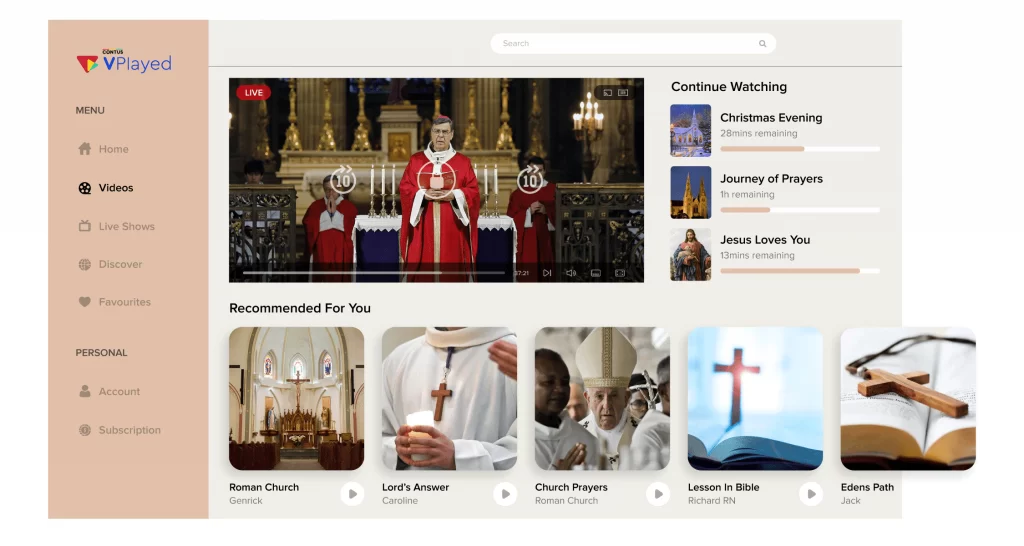 How To Live Stream Your Church Services?
Let's take a look at the step-by-step catalog on the right way to live stream your church services.
With the right assistance, you can easily set your religious streaming service rolling out to reach people across the world and spread your religious preaching's.
1. Invest In A Proper Plan
First you have to begin with a proper plan of what and how exactly you are wanting to initiate this.
Analyze your present church streaming service to understand where you need to improvise in terms of technological advancements and prepare a plan to invest rightly.
2. Pick The Right Church Streaming Service
Choose a reliable church streaming service for hassle-free hosting of the live stream and associate with an expert streaming solution provider with the following attributes,
Strong CMS (Video Content Management System)
Top-notch security tools
Friendly user interface
Progressive video analytics
100% customizable
Fully White-label HTML5 video player
3. Get Ready With Your Setup
The preparation of your work setup is very essential as you have to pick the right camera suiting your workflow and choose the right video encoder for conversion of video signal to the right stream of data.
Use the dedicated encoding hardware and work more on your lighting to get the best output.
4. Run The Tests
Always ensure to run the tests on your live streaming software to see the efficiency. Check for any lags, or delays before going live in front of your viewers.
You must test the speed of your internet connectivity to check the streaming. In the end, you must ensure to have a check on the licenses to stream the copyrighted content.
5. Commence Streaming
The final stage is to get your streaming started. Create your stream, set your cameras, and start the streaming with all the key aspects in mind.
Are You Planning To Live Stream Your Church Service?
Comparing The Top Live Streaming Services For Churches – Which Is Best For 2024
There are multiple hosting platforms for streaming your church services remotely as physical sermons have taken a back seat.
Now congregations can make live streaming of their church services around the world with the expert assistance of solution providers.
I have listed the important features of the best live streaming platform and given a detailed comparison to assist you to consider audio streaming solution for sermons.
1. VPlayed
Religious Streaming Services For Live & Video On Demand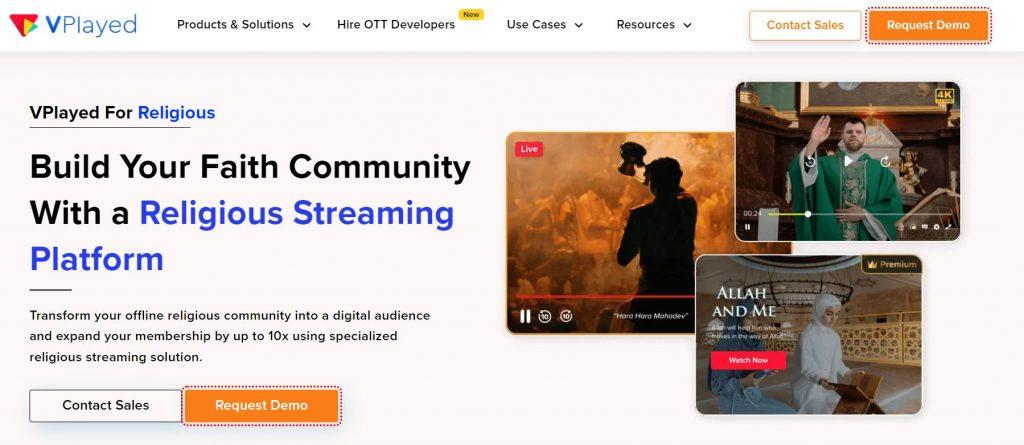 VPlayed is a superior and reliable white-label religious streaming service that is fully customizable with its first-class features in delivering the best live streaming church service.
Now engage your religious community with expert solutions from VPlayed with global distribution and increased revenue prospects with easy integration of their multiple video monetization models.
With a list of top-notch features, you can stream the religious services in a compatible and flexible mode.
Features Offered By VPlayed's
Fully customizable content management library to suit your needs and make it user friendly to access
Custom-built HLS video player for superior and reliable HQ streaming services
Experience Live linear streaming with the use of advanced adaptive bitrate streaming
An expert white-label solution to give you complete ownership
High protection of videos with protected sign-ins, video DRM, dynamic watermarking, and encryption to tackle piracy
Private messaging feature to have private interactions for prayers with pastors and bishops
Unlimited storage and bandwidth for more storage for the users
Enhance the performance of your server with an auto-archive feature
Allows complete assistance and technical support 24*7 for a smooth process

2. Dacast
Live Stream Your Church Services For Global Audiences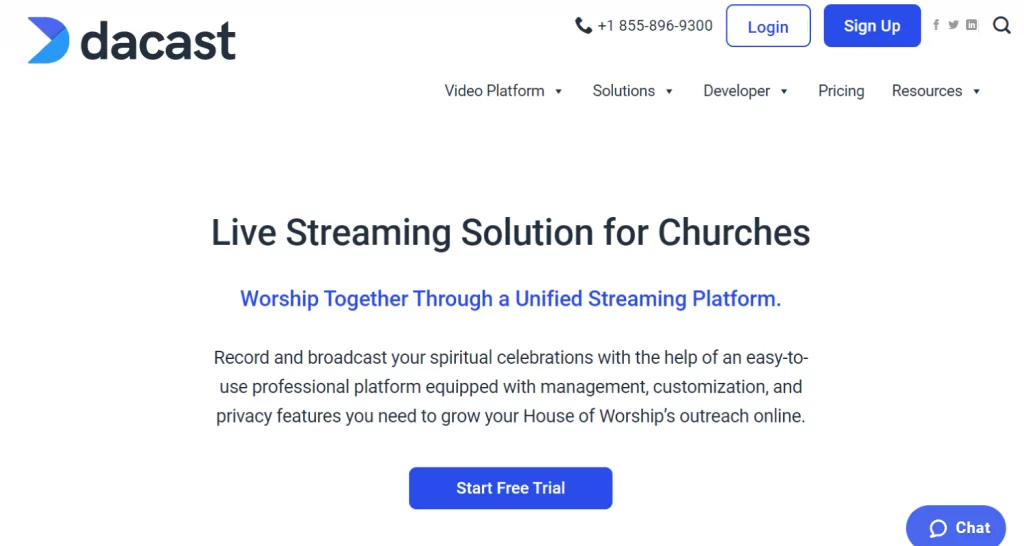 Dacast ensures live streaming for churches with varied plans and delivers a comprehensive solution for every congregational need.
The Dacast pricing plans are made to suit the churches accordingly and you get expert assistance on the test, set-up, and streaming.
Dacast is equipped with expert CDN and there is a promised delivery of content for global audiences quickly.
Interesting Features Offered By Dacast
Comprehensive video analytics dashboard for gauging the user behavior
Live recording of streaming to save as on-demand videos for repeated future use
24*7 customer support and assistance throughout the process
Strong privacy features to tackle piracy of any form
Use of multi-user access on custom and scale plan
Mobile devices and Social media compatibility for streaming
VOD and Live streaming support packages
Top tier CDNs for smooth content delivery
Tired of using Dacast?
See why Dacast is not suitable to manage your OTT platform and why you need a
Dacast Alternative
3. Streamingchurch.TV
Best Church Streaming Solution For Your Ministry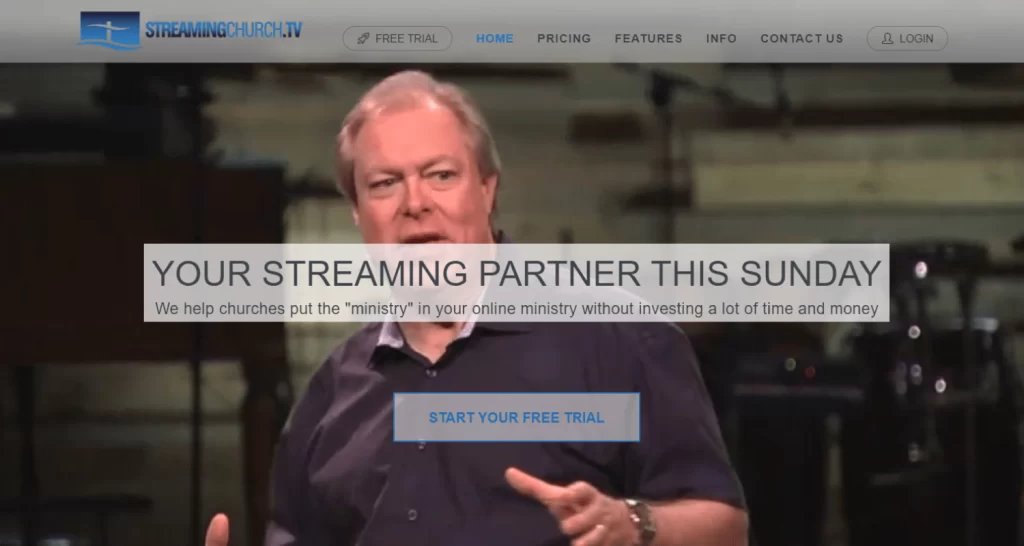 Streamingchurch.TV is designed specifically for streaming church services and it holds a set of specific features with the map of church attendees, sermon notes, simulating live services, and much more.
It makes note of everything and offers both VOD and live streaming services under specific plans like premium and so on.
The only drawback will be the streaming in poor quality as it does not stream the content over CDN and affects the quality when many people are watching it.
Primary Features Offered By Streamingchurch.TV
Complete live streaming support for church services
Ensures Ad-free streaming of services
Compatible with social media platforms across Facebook and Twitter
Compatible with multiple mobile devices and Roku
An interactive map of the attendees to know their preferences
Integrated sermons for better praying experience
4. BoxCast
Connect With Houses Of Worship With Adaptive Streaming Service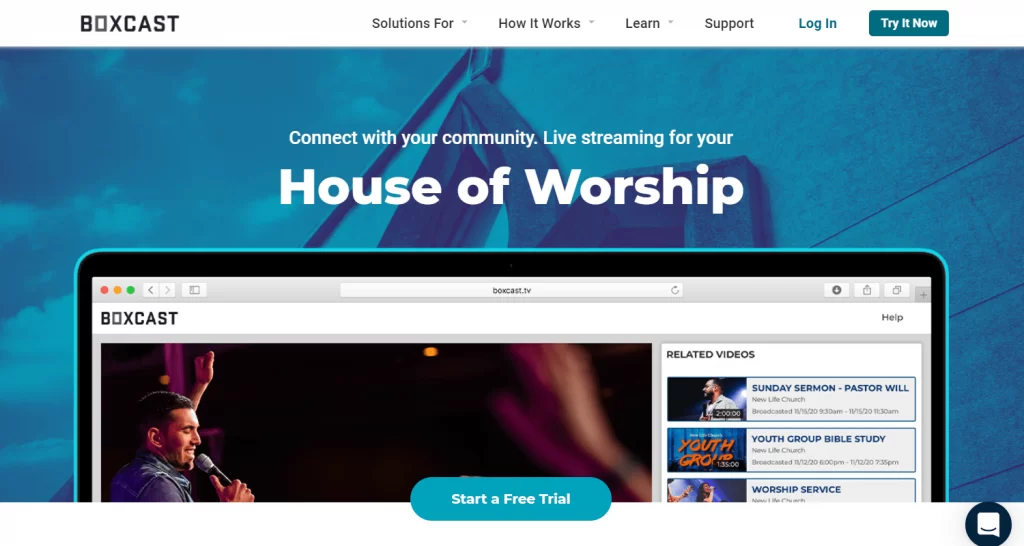 Boxcast is an efficient live streaming solution especially dedicated to sermons and churches. It has a fully adaptive player and expert analytics to gauge real-time analytics.
The Boxcast is known for immediate response and customer support. It holds the ability to reach upcoming broadcasters for its simplicity and offers a money-back guarantee.
Primary Features Offered By Boxcast
Ensures Ad-free streaming of religious services
Stream from the website with easy embedding
Expert email and phone support for assistance
Compatibility with Facebook and Twitter
Reliable and Uninterrupted religious broadcasting 24*7
Compatible and Flexible with mobile and phone apps
Expert dashboard analytics for measuring the behavior and metric
5. ChristianWorldMedia
All-in-one Live Streaming Church Service With Multiple Monetization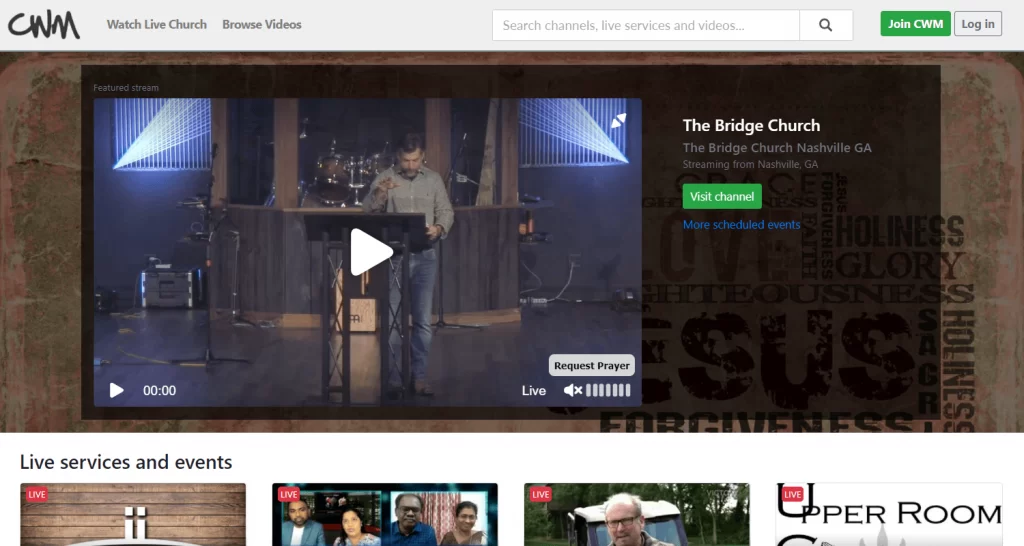 ChristianWorldMedia is quite affordable and flexible for all the congregations and churches for their religious streaming needs.
There are multiple pricing options with online bible integration attributes and one minor setback is that it streams only for a limited number of viewers with the low video quality.
Primary Features Offered By ChristianWorldMedia
24*7 Hassle-free religious streaming services
Each live event with 50 simultaneous viewers
Compatible with Roku and flexible streaming across devices
Integration on the bible and social media for easy access
Exclusive features in pro plans such as live recording, unlimited archiving, adaptive live transcoding, etc
6. TruthCasting
Leading Video On Demand Platform For Religious Events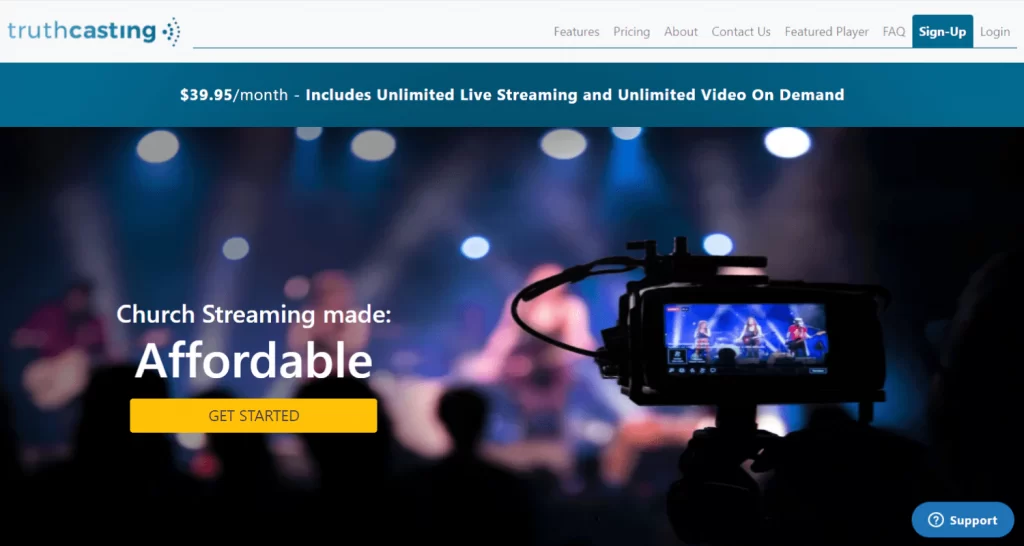 TruthCasting offers multiple features for church-related broadcasting and religious events.
The features of the solution provider give access to all the available features as long as you never exceed the limit and it supports churches within 2000 members.
It does not offer HQ support and hosts its service with the web services of Amazon.
Primary Features Offered By TruthCasting
Ensures Ad-free streaming for a complete viewing experience
Gives unlimited storage and unlimited bandwidth for viewer access
Compatibility with multiple mobile devices, platforms, including iPads, and iPhones
Ensures reliable content delivery for religious streaming
Use of embedded code to make live video streaming platform
7. MyChurchWebsite.Com
High-end Church Streaming Solution With Industry-Leading Technology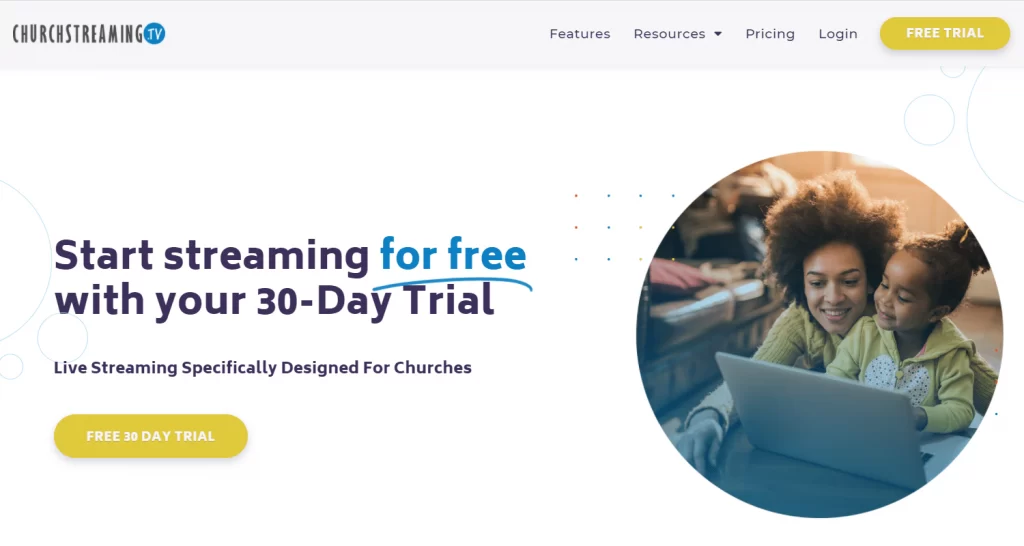 MyChurchWebsite.com is touted to be a high-end website design company for churches and it is available at a one-time cost of three thousand and five hundred dollars.
It has a separate live streaming solution and the drawback lies in no technical support as well as no CDN partnership. There is no possibility to reach out to customer support on any lags or buffering issues.
Primary Features Offered By MyChurchWebsite.Com
Ad-free streaming of religious services for dedicated praying experience
Compatibility with every mobile device and flexible streaming of prayers
Smooth integration of social network
Google analytics for gauging the user behavior and use of metrics to measure performances
8. Vimeo
On-Demand Faith Video Solutions For Best Viewing Experience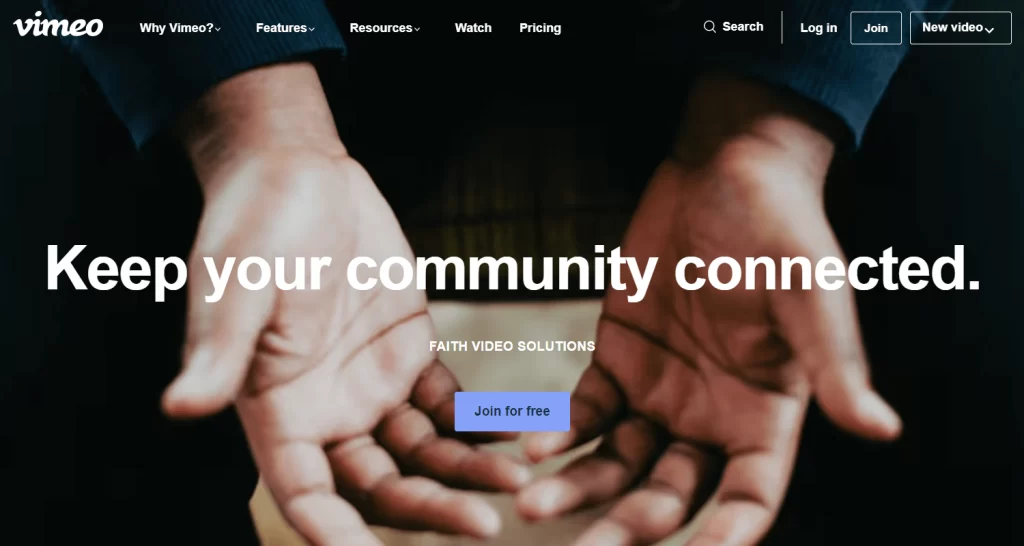 Vimeo is another prominent religious streaming solution for online worship.
It has live streaming capabilities with premium features and Vimeo offers advanced plans for faith-based streaming. It exclusively targets the larger budget with its advanced attributes and customizable options.
Vimeo does not give the privilege of streaming over CDN.
Primary Features Offered By Vimeo
Customizable player to suit your individual needs
Social distribution on all platforms of social media
Use of google analytics and metrics for measuring the behavior
Unlimited live events for a better streaming experience
Infusion of polls, graphics, Live Q&A
Video creation with custom branding
Availability of private team projects
Tired of using Vimeo OTT?
9. Muvi
End-to-End Live Streaming Service For Religious Institution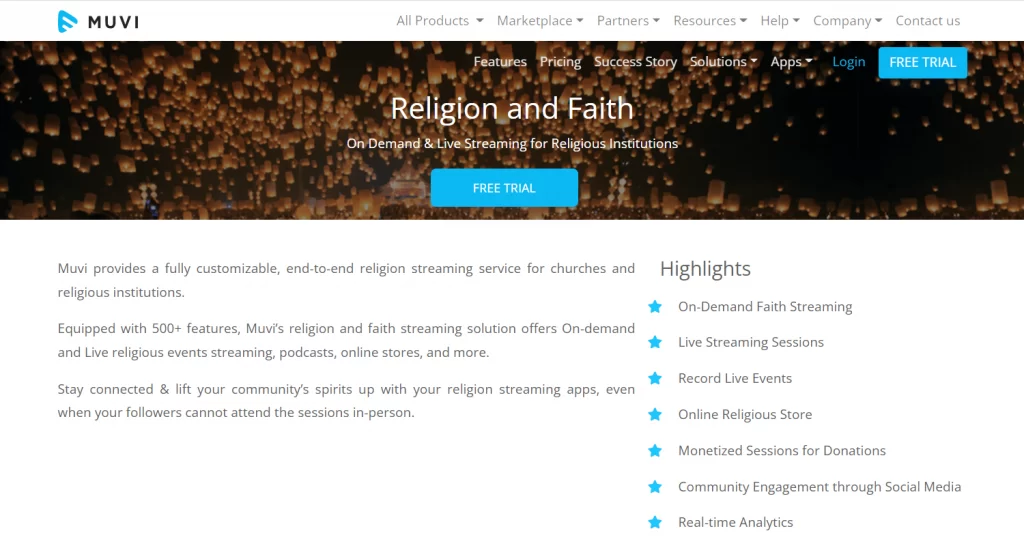 Muvi is a superior live streaming service with religious streaming possibilities for church services. It is loaded with progressive attributes and the price is set a bit higher.
Muvi can easily become a huge investment for churches and comes under a mega-budget. Unless you run a big church with an ample sum of money, it is out of your reach to avail of their services.
Primary Features Offered By Muvi
Ensures complete live streaming support
Availability of video-on-demand hosting
Multiple video monetization tools with easy integration
Superior global content delivery
Compatible multi-screen streaming across devices
Fully white-label video player for ownership
Easier embedded streaming from your own website, and OTT app
10. SermonCast
Most Powerful and Flexible Church Video Streaming Platform On All Device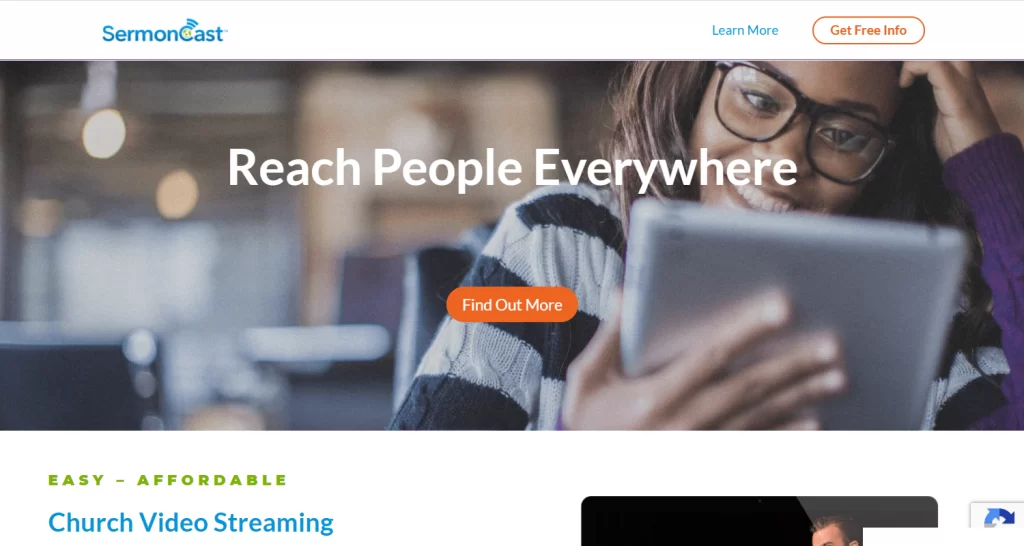 SermonCast is one of the oldest church live streaming solutions since 2006.
It supports both the VOD and Live streaming hosting with the use of an HTML5 video player to maximize your reach to the community members on various devices.
You can also create an extensive video library to share amongst members of the congregation.
Primary Features Offered By SermonCast
Use of powerful google analytics and metrics
Hosting of VOD and live streaming effortlessly
Ensures Ad-free streaming of videos
Compatible All-device video player for hassle-free streaming
Quicker video upload to save time
11. ChurchStreaming.TV
Broadcasting real-time solemn Live Streaming Platforms For Churches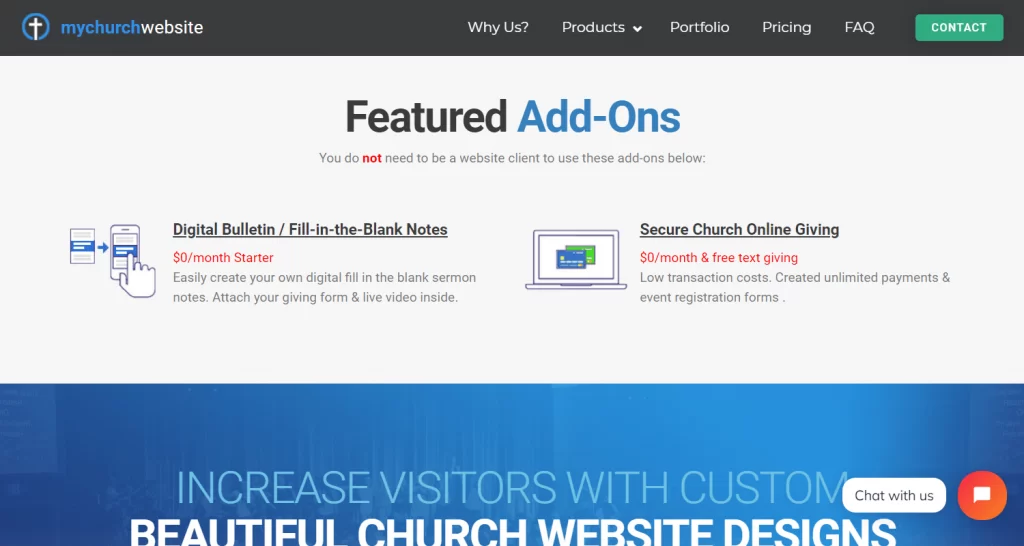 ChurchStreaminiveg.TV is one of the best live streaming solutions exclusively for religious streaming and broadcasting real-time liturgical services. The platform is feature-rich and comes additionally with another setup sans activation fees.
Primary Features Offered By ChurchStreaming.TV
Quick and Easier embedded streaming on your website, app, etc.
Completely reliable technical support and assistance
Superior simulcasting to YouTube, Facebook, and many more social media platforms
Compatible Support for Apple TV App and Roku channels
Instant Auto-archiving of video contents
Use of Viewer analytics and metrics for measuring the viewers
Final Thoughts
With the technological advancements, there are greater options in live streaming for churches and the above insights on the 11 best church live streaming services will give expert clarity on their streaming nuances.
Get associated with the leading religious streaming solution provider like VPlayed to build an ingenious devotional platform for live worship across the globe in a secure, interactive, and tech-savvy way of faith streaming.
If You Already Have An Idea To Stream Spiritual Content For Your Faith Communities, Schedule A Free Demo And We'll Get You On The Road To Religious Streaming Success!

Frequently Asked Questions (FAQ):
1. What is church live streaming?
Church live streaming is the real-time broadcast of religious services, sermons, and events over the internet. It allows individuals to participate remotely in church-related services. It creates a sense of community by virtually extending the church's reach beyond physical boundaries.
2. What are the benefits of building a church streaming service?
Building a church streaming service gives better accessibility. It allows for a wider audience to engage with religious services. It cultivates the community by accommodating various schedules, encouraging participation, and providing a flexible worship experience for members who may be unable to attend in person.
3. What features should you consider when choosing a church live-streaming solution?
When selecting a church live streaming solution, consider crucial features like reliable streaming quality to ensure a smooth viewing experience, interactive chat options for virtual engagement, multi-platform compatibility for broader accessibility, video archiving for on-demand access, and user-friendly interfaces to facilitate seamless virtual worship experiences.
4. How do you choose the perfect church streaming platform provider?
To choose a better church streaming platform provider, evaluate their expertise in church live streaming, assess reliability, consider customer support availability, explore customization options to align with specific church needs, and ensure compatibility and integration with your existing church systems.
5. How much does building a church live streaming platform cost?
Building a church live-streaming platform can cost you anywhere between $25,000 to $100,000. However, it varies based on features, customization, scalability, and the requirements of your church.