Whether you are an amateur video creator or a consumer there are chances that makes you allure towards a pay-per-view platform because of its medium to grow exponentially.
Deploying ads may be the most effective way to monetizing content, however it also has the tendency to interrupt the viewing experience! This emphasis the very fact of exploring other video monetization techniques.
In PPV streaming you might cross varied instances which is put to use. You can find movies, special events or even TV shows for that matter. While presuming in a case, if your users are in search of a movie, but aren't able to locate in the box office then it is usually found on pay-per-view online.
Some of them special events like wrestling matches, music concerts, premiere shows can be found on pay-per-view. And, if your audience are looking up to view a television show that they have missed in any case, you can surely showcase those episodes using pay for view option.
Let us reveal more of this interesting monetization technique..
Top Pay Per View Video Streaming Platforms
What is Pay Per View in Video Streaming?
Considering to go for pay-per-view video package? We'll let's start it off by talking about what is the meaning of pay-per-view & how does it add value to your business..
When you add PPV to your monetization package, you have the opportunity in hand to provide shows on a pay per view basis. It is for every individual show that is watched by your users on the specific channel dedicated to PPV content.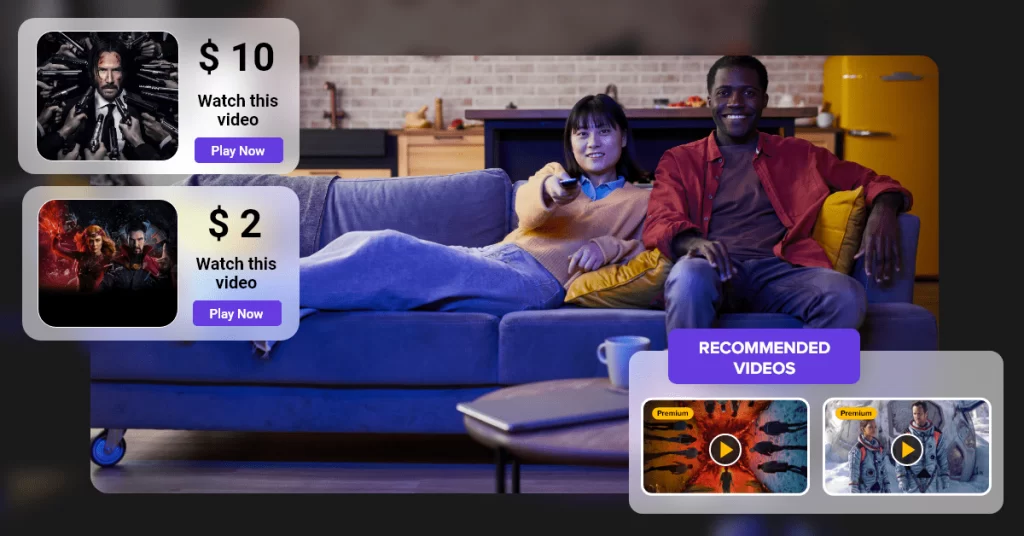 An amazing factor about PPV videos is that the you can monetize then & there while you stream your content & viewers get totally benefited with paying for what they watch… Yes, its totally a win-win situation since both can leverage it at the click of a button & get quality results.
How Does PPV Work?
Well, pay-per-view allow viewers to watch special content which isn't included in the regular subscription packages. PPV only charges the viewer when the service is used. Unlike in on-demand, the viewers are charged on a monthly basis & charges additionally if any paid content needs to be accessed.
Here are some key benefactors that can work to your advantage:
Heavy returns on investment, in contrast to ads
Definitely ads might seem to provide an easier way to monetize content. But, you'll need plenty of viewers in order to earn with just a few pennies. Where as when you charge a fixed fee , for an example, a live streaming a Pay Per View sporting event, you can make thousands of dollars as a revenue with much smaller audience
Like afore mentioned, ads steal viewer's attention away from your individual content which dilutes the number of views that you need for monetization. Streaming via pay per view lets your viewers watch your videos without any sort of disturbance in the middle of the content. This takes away the annoying ads & allows your videos to be the center of attention.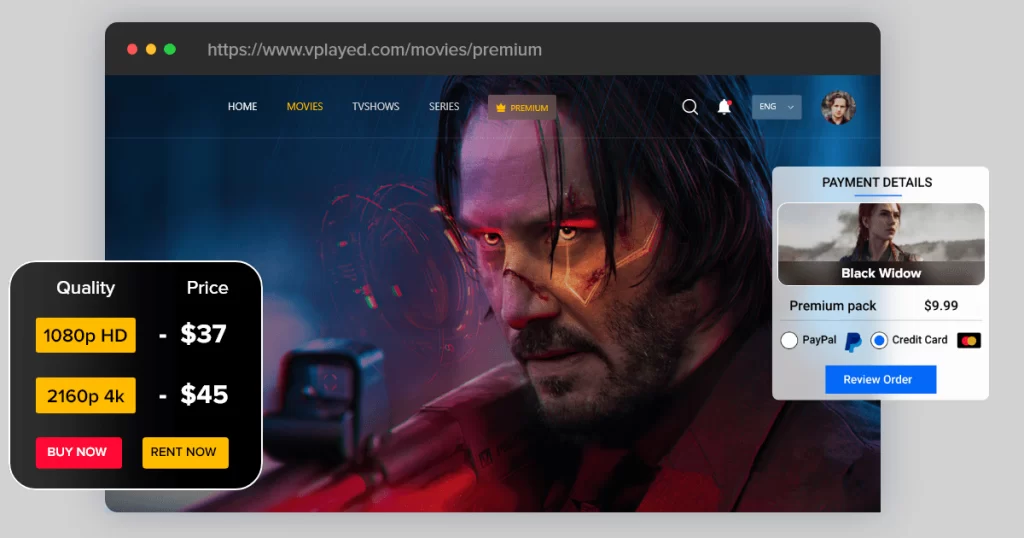 If you set up your pay-per-view app subscription service, your customers will keep paying continuously, giving a viable recurring revenue stream every now and then. And if its a movie release which is broadcasted on the very first day of release, it will always double up its value while selling through per per view online.
It's Perfect for Online Audience
Gone are those days, when cable companies use to play their monetary cards, by imposing any sort of content to the target audience. With in pay per view streaming services viewers can easily choose what they want to watch & when they plan to view as per their convenience. As a result there is much more freedom to choose user's viewing content for which they pay for their choices.
While you are figuring out how much money per view needs to be charged, earning becomes simple. For instance you are looking to earn $5,000 from every single PPV live event you can simply calculate to charge $50 per person & you'll only need 100 viewers. Then, once you tend to attract twenty more viewers & bon.. You've earned another $1000
Ultimately it's in your hands! If you are deciding on how to charge for your videos using pay per view model, unlike YouTube there's a wayout. You can charge customers with per collection of any content, for instance let's take online courses, or go for monthly or yearly subscriptions.
How to Price Pay-Per-View Video Content?
The deciding factor to monetize your PPV while know how does it work is the easy part. But, in this segment, you'll know how to price them accordingly.. And that process is slightly trickier.. But we're here to help you out!!
Before setting your mind on finding more about pricing structure, initially it is important for you to consider pay-per-view costs & its other inclined expenses. Later, these are required to be factored into your business valuation.
For fixing up with a starting price for a single video ticket, ideally it is preferable to be around $5 mark. This can help viewers to sample your new content & become comfortable with its fee facilitation.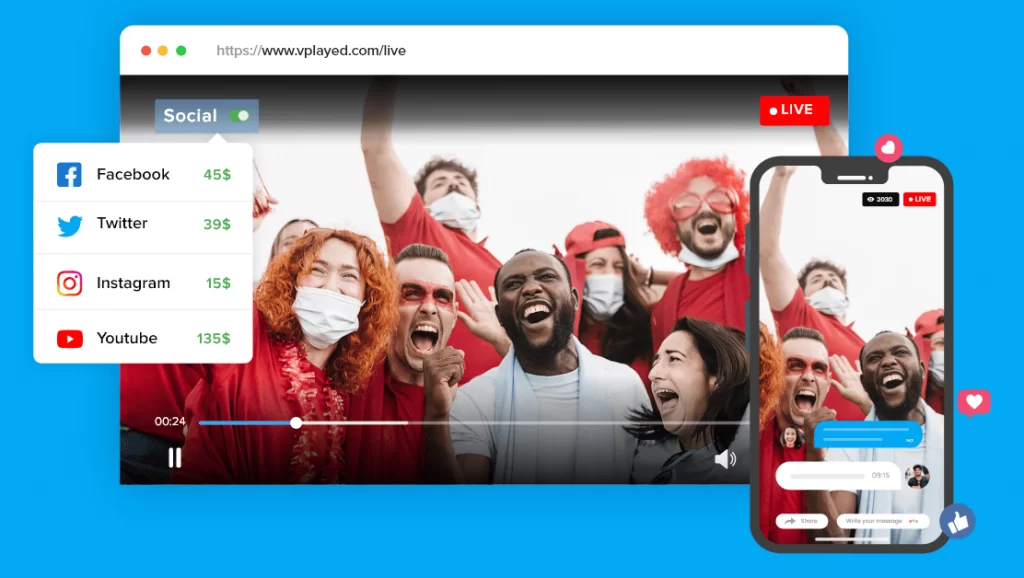 Another option is to rent your content for the time period & allow viewers to enjoy your pay per view services. Talking about the varied services offered, it can be useful for one-off events such as live performances or premiere shows.
As you tend to produce more content, you may even think of offering a monetization package. You can then grant users wider access to more of your curated videos. Later, this is where a video subscription or a pass comes in handy to support your revenue-bearing opportunities.
All the more, a pay per view video is ideal to grant access to specific playlists. Or else, you can also offer 'all access' subscription that can give your platform payers to access to all of your content in an online video library.
Pay-Per-View Video Platform Considerations
We have done a detailed research on several inputs that you may require in order to stream pay per view services. Let's take a look at some of the essential features you may require within your platform.
You'll always want your audience to view your content wherever it is streamed from, isn't it! We recommend you to choose a streaming service that supports high-quality delivery using the advanced tech stack of CDN. Make sure your server network isn't restricted to distribute content to certain regions, but across the globe.
Another criteria that you should consider is whether your pay per view services supports mobile streaming so that your viewers can access your content wherever they are at any moment via multiple devices.
Thirdly, the cost of using PPV solution depends on the software you select. Mostly services are created in such a way that you tend to opt for tiered pricing. This can help you pay for only what you need, even though there might be an array of pricing models to look into.
A best pay per view service is entirely dependent on the how overall content gets managed. Otherwise it might become a barrier for your platform's content to outreach its vast audience. Besides that, an easy or friendly video CMS interface with its intuitiveness can help things stay organized.
As and when the organization learns how to start a pay per view website, & learn to set it up, they would look out for a smaller price tier that lets them experiment to manage. Eventually like they grow businesses may preferably need a pay-per-view platform that completely grows as compared to other streaming services.
Top 10 Pay Per View Video Streaming Platforms In 2024
So once you've decided to move to a premium pay per view video hosting service, you need to make sure which one is ideal option to choose. Finding a pay-per-view platform that suits to your business needs, can be easy & appropriate to know what to look for in the solutions offered.
World-class Pay Per View OTT Streaming Solution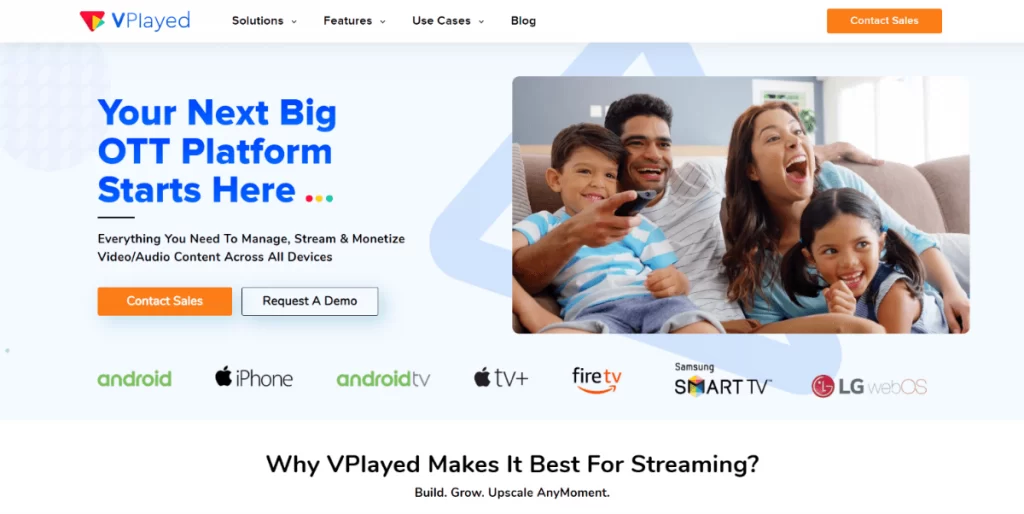 VPlayed is a powerful OTT platform that enables content owners or businesses to establish their revenue streams by gaining a full stack video solution. As content broadcasters you can have your content empowered with numerous features and monetization models, & one among is with pay-per-view package.
Some of its Pay Per View Enticing Features are:
Complete customization in & around the platform

Whitelabelling OTT feature across your multitude of services

Flexible integration of platform either on cloud/ on premise

Explorable wide opportunities for live streaming pay-per-view

An array of analytics solution that captures content performance

Entire platform can be under your control with life-time ownership
Tap into Your Content's Potential through Pay Per View Streaming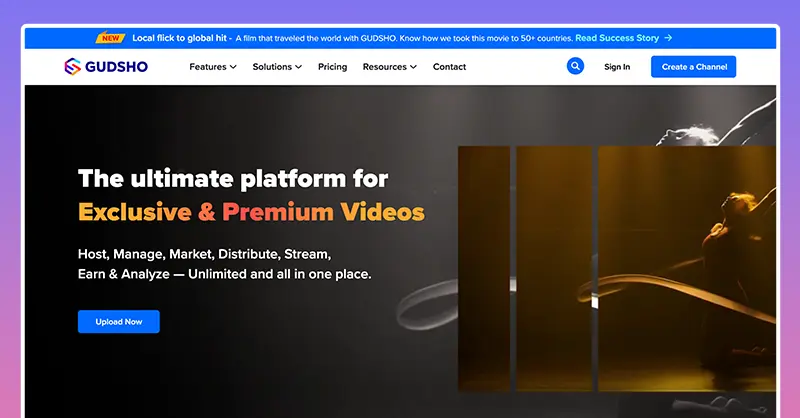 GUDSHO allows businesses to keep their content under the PPV category, which can be streamed for separate payments. Your viewers can choose videos on rent and stream them for the given period. Here, you can set your own prices for every PPV content and ensure maximum earnings.
Some Of Its Attractive Features Are:
4+ revenue options, including PPV, subscriptions, ads, and more
Superior security with AES encryption and SSL certification
Geo-fencing to allow your videos only for preferred regions
Special screening to invite your choice of guests
Auto-generated promos to save you time and effort
3. Dacast
Unlock your Content's Potential with Pay Per View Streaming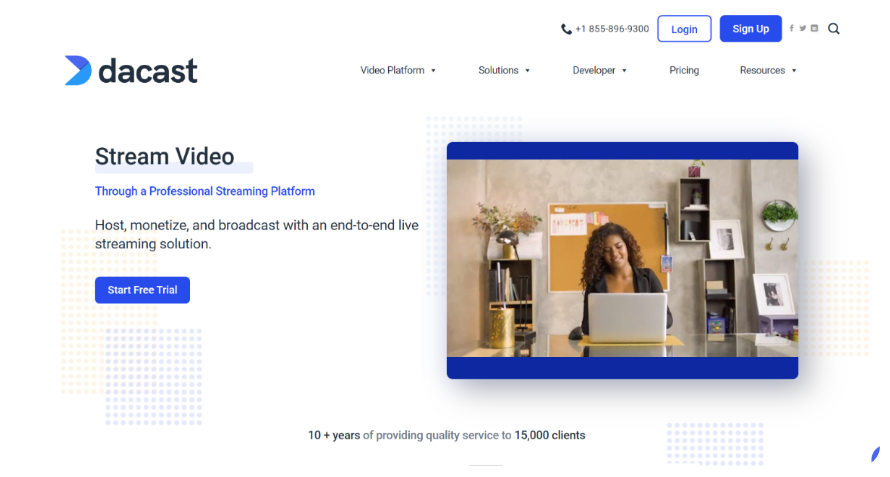 Dacast is a great choice for streamers who are looking for a worthy & best pay per view platform. Their domain readily uses a secure paywall solution that is built into the video player. In this manner, both yourself & your viewers can rest assured that only after each transaction the content is viewable with complete safety.
Here Are Some of Its Path-striking Features:
Hybrid model in order to use multiple monetization options

Delivers content via powerful html5 video player with secured paywall

Streams can be smoothly rendered via advanced CDN integration

Dacast provides a room to transcode, manage & monetize videos

Also it supports a wide range of 3rd party OVPs
4. Vimeo OTT
Live Pay Per Video Streaming Service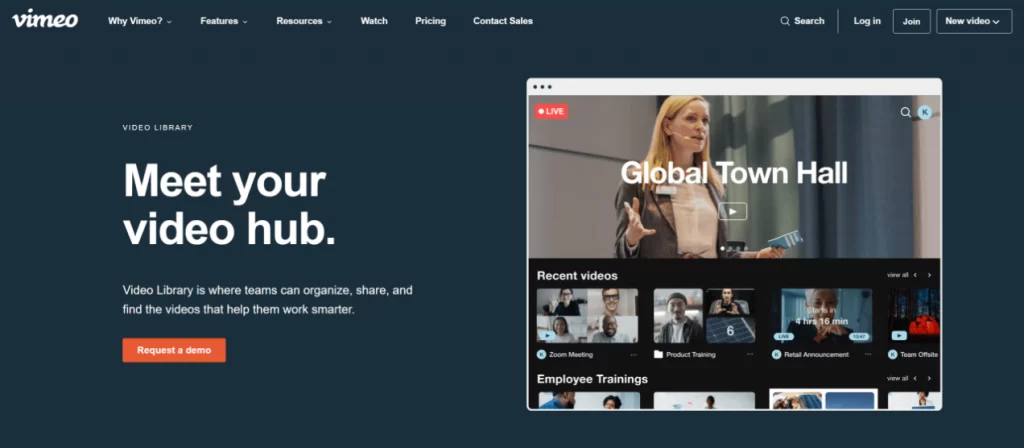 Vimeo is another player of pay to watch video platform in the streaming industry. Having Vimeo acquired with the Livestream solution in 2017, it premium offers plans to build revenue, including PPV monetization. Video uses a robust HTML video player, so it can stream with all-device broadcasting facility across the globe.
Get a Glimpse of Some of Its Top-notch Characteristics:
Monetize your video content with one-off transactions

Provides a preview mode just before going live to your audience

End-to-end streaming services with 24/7 support

Realtime insights can help you to keep a pulse on what's working

Assists to create a video streaming apps with fully branded experience
5. Kaltura
Get the Best of On-demand Video with Pay Per View Streaming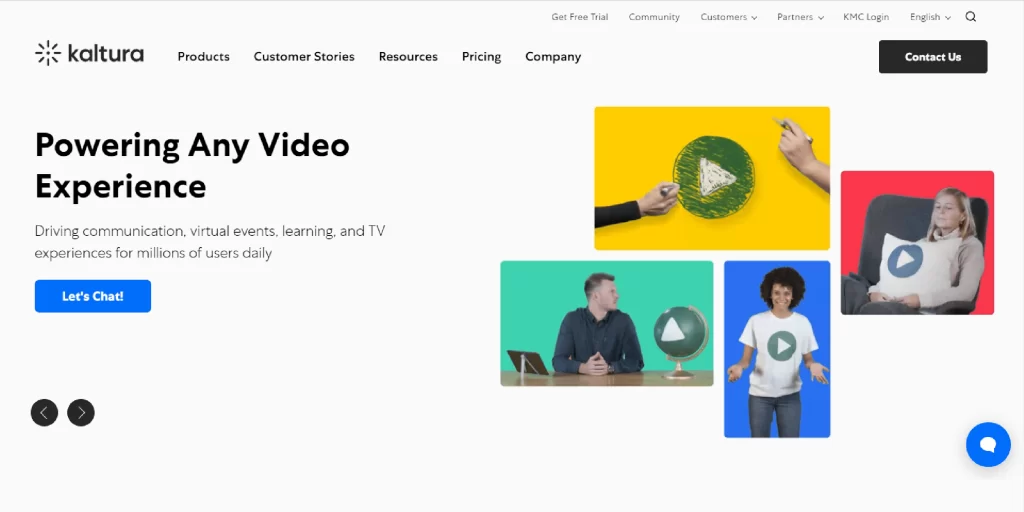 Kaltura is a cloud-based video hosting platform which is open-source to numerous customizability. Kaltura makes it the best solution for content publishers & media broadcasters for what they are looking for. It is because they can creatively establish a complete control over the video streaming platform that is supportive of an array of technologies such as CDN, adaptive bitrate streaming & lots more.
Here are Ways That Can Help You Generate Best ROI Today:
Mint revenue with PPV video monetization easily without intrusive ads

Kaltura's on-prem edition allows you to set-up own storage infrastructure

Best media delivery possibilities via RTMP, HTTP streaming tech-stack

Smooth transcoding process after media uploads on multiple devices

Comprehensive set of metadata fields within organized playlists
6. Muvi
Monetize Your Premium Streaming Content via PPV Model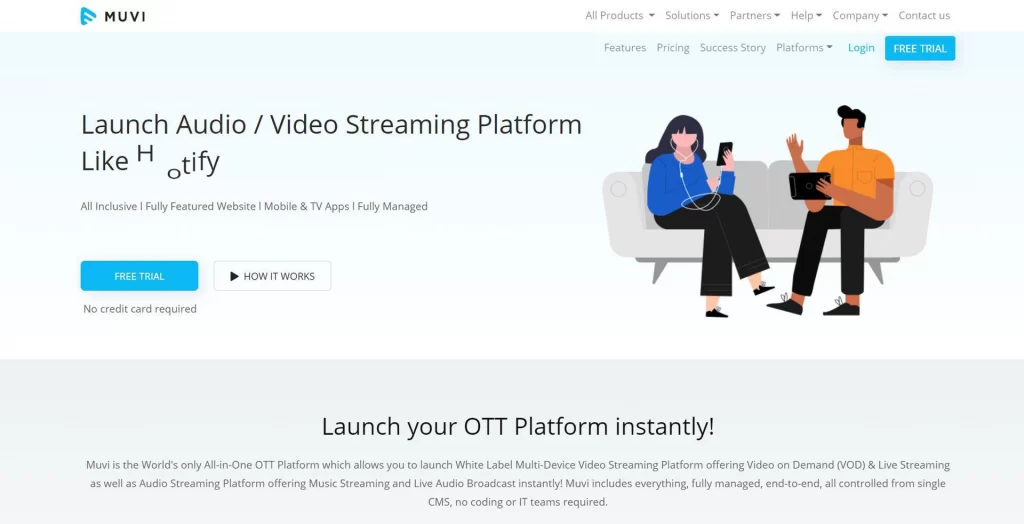 Muvi is a cloud-based video platform that allows content broadcasters to build their own custom video on demand & live streaming channels. Since its foundation in 2011, Muvi has grown to encompass more than 580 platforms that includes industries right from live sports to religious events, & much more. It is an end-to-end streaming solution that takes care of all technical aspects needed for your content platform, right from managing OTT infrastructure to setting up payment gateways.
Get the Best Means to Channelize your Monetization Strategies:
Build a customizable website that represents your brand

Use cloud flare CDN to deploy unbuffered videos worldwide

Showcase multichannel presence via mobile & TV apps

Sell your standalone content as one-off live streaming events

Meta-data can necessarily make your video search-engine friendly
7. Maz Systems
Set up PPV-based Website to Scale Completely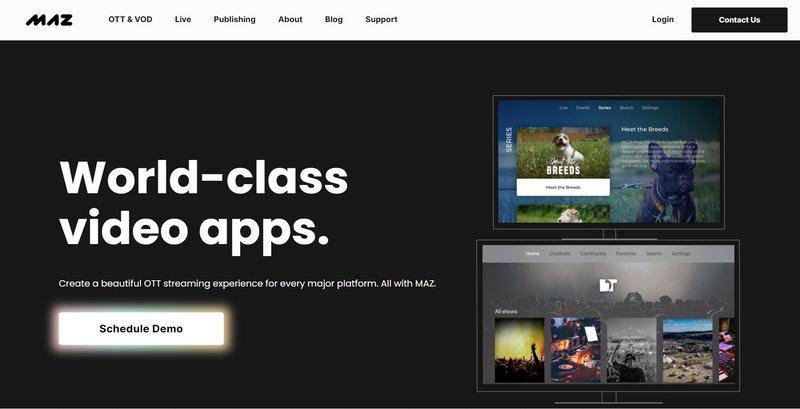 Maz is a video hosting platform that helps businesses to customize their content streaming apps in and around the world. They're the key online streaming hub which helps tech integration with wide range of OTT services. They even take care of the coding & design so that you can entirely focus on your streaming content.
Let's Take Closely at Some of Their Key Offerings:
A pay-per-view video platform with complete reliability

Simulated live streams which capacitates to run 24/7

To drive revenue with subscriptions get built-in advertising tools

Web platform & apps creation using pioneer developers
8. Uscreen
Enhance Streaming Experience With Pay Per View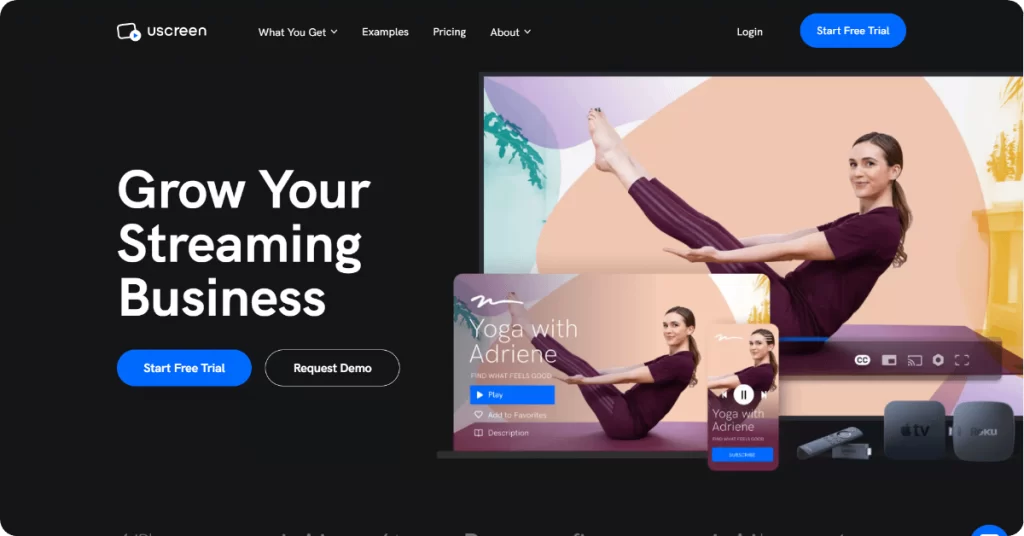 Uscreen is a video streaming platform that helps content owners launch their own video streaming services. In other words, you can distribute and sell your videos online with Uscreen.
Whether fitness classes, educational courses, or entertainment content, Uscreen provides the infrastructure to build your branded website and mobile apps. These platforms enable you to reach a global audience.
The video-selling platform offers a plethora of valuable features. It includes subscription management, video hosting, secure payments, analytics, and marketing tools.
A user-friendly interface and comprehensive tech support are a big plus for Uscreen. And it makes it easy for anyone to start their own video streaming service.
Some Of The Noteworthy Features Of UScreen Are As Follows:
VOD streaming capabilities: Easy upload and delivery of on-demand videos.
Subscription management and monetization: Manage subscriptions and generate revenue with recurring payments. (SVOD, AVOD, TVOD)
Customizable branding and design: Personalize the platform with logos, themes, and visual elements.
Cross-device compatibility: Accessible on various devices for wider audience reach.
Integrated e-commerce functionality: Sell digital products directly on the platform.
Detailed analytics and reporting: Gain insights on engagement, growth, and revenue metrics.
Marketing and promotional tools: Utilize email campaigns, discount codes, and affiliate programs.
9. Zype
The Power Of Video Monetization In Your Hands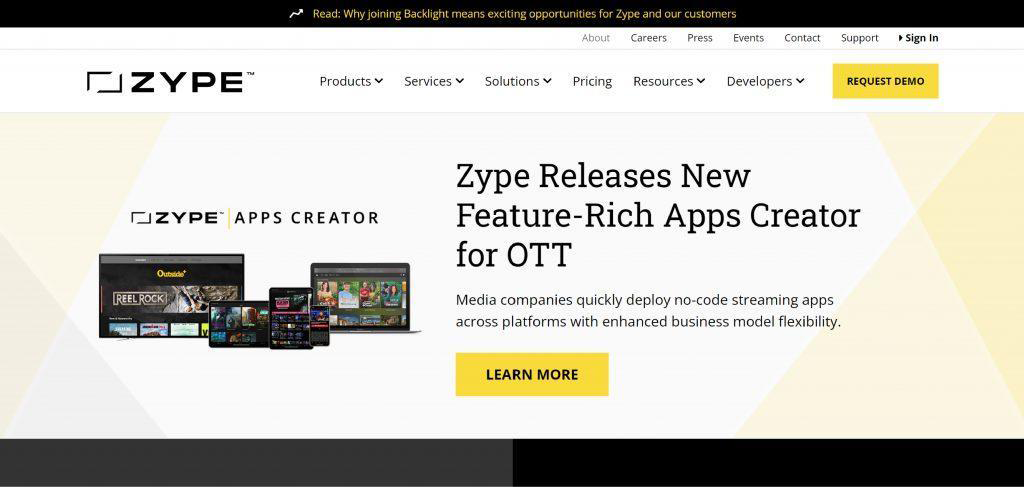 Zype is an end-to-end video platform that empowers businesses to create their own customized pay-per-view and live-streaming channels. With a focus on monetization, Zype offers a comprehensive solution for content broadcasters to maximize their revenue streams. From managing content delivery to implementing secure paywalls, Zype takes care of all technical aspects, allowing you to focus on creating engaging online video content.
Here Are Some Of Its Groundbreaking Features:
Create branded channels with flexible pricing options.
Scalable Infrastructure without compromising on performance.
Safeguard your premium content with robust paywall solutions.
High-quality streaming across devices with advanced CDN technology.
Seamless Integration with popular OTT services and payment gateways.
10. VdoCipher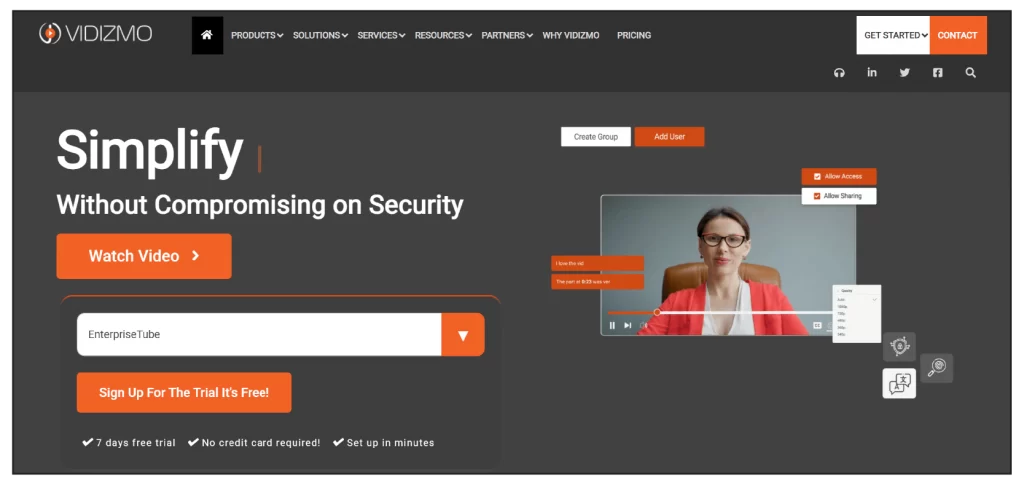 VdoCipher is a video platform for securely hosting, streaming and selling videos online.
It protects your videos from unauthorized access using security features like DRM protection, digital watermarks, and AES encryption.
VdoCipher ensures smooth video playback on different devices and platforms. In other words, it adjusts the video quality based on the viewer's internet connection.

So it provides the best streaming experience even on a slow internet connection.
VdoCipher offers multiple ways to sell your videos without paying a premium. You can charge pay-per-view, offer subscriptions, or advertisements to generate revenue.
In a nutshell, VdoCipher is a user-friendly video-selling platform. It keeps your videos secure, provides seamless playback, and offers monetization options.
Here Are Some Key Features Of VdoCipher:
Video Security: DRM, watermarking, and encryption for content protection.
Adaptive Video Streaming: Adjusts video quality based on the viewer's internet connection.
Content Monetization: Generate revenue through pay-per-view, subscriptions, and ads.
Video Analytics: Gain insights into viewer engagement and video performance.
Content Delivery Network (CDN): Global infrastructure for fast video delivery.
Customizable Video Player: Personalize the player to match your brand's aesthetics.
Cross-Platform Compatibility: Stream securely on various devices and platforms.
Conclusion
If you are planning to choose pay-per-view route to monetize your upcoming streams, surely it is necessary to choose the right video hosting provider. Right from professional video production companies to a solo-managed entity, PPV streaming is a great way for anybody to upscale their revenue ladder at a single shot. We hope that you are now having an overall clear idea of how pay-per-view actually works. All in all you don't have to attract millions of viewers through several content breakups in between & can get a complete control to make surplus profitability.
If You Already Have An Idea About Launching A Video Monetization Platform, Schedule A Free Demo And We'll Get You On The Road To VOD Streaming Success!
Frequently Asked Questions (FAQ):
1. What is Pay-per-view Video Streaming?
PPV is also known as Transactional VOD or the rental model. In simple words, Pay per view (PPV) is a business strategy that allows your visitors to pay money to view video content, whether it is live or a pre-recorded one. In fact, video streaming via a pay-per-view video platform is the greatest alternative method for earning lump sum income from your exclusive content. 
2. What Are The Advantages Of Using PPV In Video Platforms?
Here are the top 10 benefits of employing PPV in video platforms that are worth mentioning. Relatively simpler revenue model, No distractions whatsoever, Recurring income, Ideal for online viewers, Easy to scale up, More flexible, Improved customer predictability, Reduced bandwidth expenses, Easy to launch, Higher return on investment, compared to advertisements.
3. How Can I Start Selling My Video Content Online With a Pay Per View?
Simply put, selling video content on a reputable video platform would be a fantastic idea since it allows you to deliver professional-grade broadcasts to your audience, pushing your business to the next level. Furthermore, this strategy might raise the demand for viewers to easily participate in your enticing content. For instance, if you want to earn $2,000 from a single PPV live event, you can easily calculate it by charging $20 per person and you just require 100 unique viewers.
4. How Does PPV Streaming Work?
The PPV works in such a way that it provides appealing options for retaining end-users, such as fast access to fresh content. This model is ideal for video streaming and broadcasting as it provides better flexibility to both the content owner and the customer. As a result, this approach helps your video streaming business by delivering a higher ROI than the AVOD model (Advertising-based Video on Demand).
5. Why Use Pay Per View To Monetize Your Live Video Content?
Once you've chosen the best video monetization platform, using the pay per view model to monetize your live video content can propel your business to new heights. Below are some of the benefits of pay per view live streaming. Venture into new markets, Incentives to businesses, Ideal for online viewers, Recurring income or better return on investment, Customizable payment plans or hassle free payments.