Messaging has become an important part of lifestyle for the modern generation and almost all businesses adopt this technology to grow its user base. Whether it is a conversation between individuals, businesses or organizations, chat has become a primary mode of communication.
This growth however, demands more tech-intensive chat apps. And this is where you will need scalable communication strategies to build quality messaging systems and meet your user demands at the same time.
And now, let us begin with understanding – what is messaging strategy?
What Is A Scalable Messaging App Strategy?
A messaging strategy is a clear plan that helps you build, manage and scale your chat apps as your user demand increases.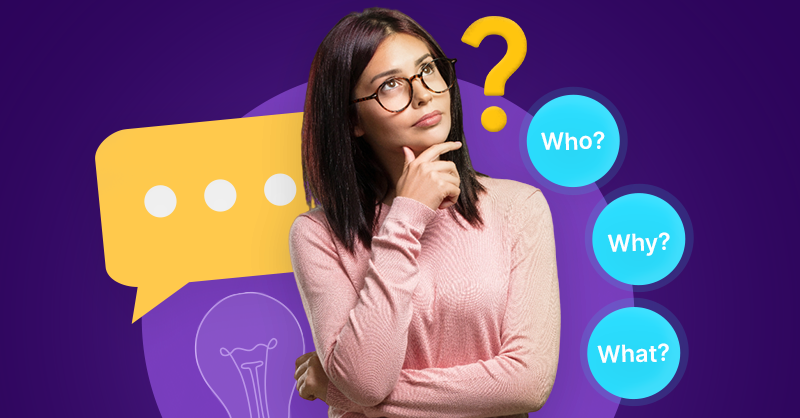 The strategy focuses on helping you develop a messaging infrastructure that can handle any rising volume of messages, users and data, all while providing a seamless and reliable experience to your app users.
Why should you create a scalable messaging strategy for your apps?
Scalability is one of the key criterias helps your messaging app thrive as a leader in the competitive market. Besides, there are several other reasons why you should have a scalable messaging strategy and let's look into each one of them one-by-one below.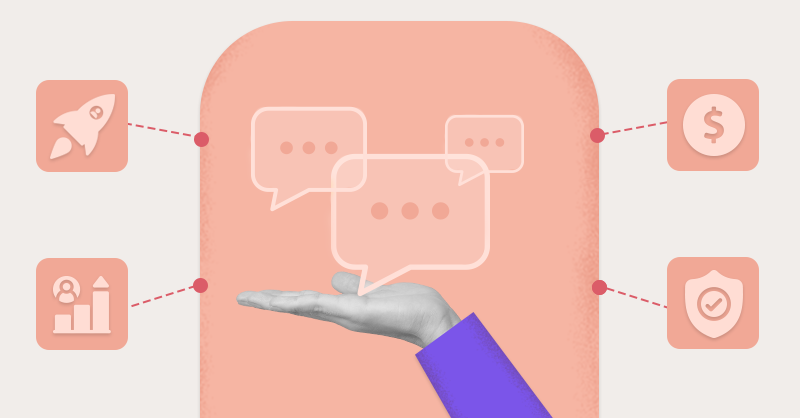 1. To handle increasing user demands:
When the number of users on your messaging app increases, the load on the system simultaneously increases. This is why you will need a communication strategy to immediately act on the rising volume of messages. This way you can ensure that your app remains highly reliable and responsive.
2. To maintain uptime and reliability:
You users will definitely not love a hanging app in the middle of a conversation. Any time, any day they expect a smooth and seamless working without downtime. To ensure this, you will have to particularly build a communication app strategy to meet the user demands.
3. To reduce costs:
Whether it is building your chat app or maintaining it, you'll need to ensure that you have a clear plan to allocate the necessary budget for resources and development, without spending a fortune.
4. To boost user engagement:
Only when your app is scalable, users can enjoy a seamless messaging experience. Also, the app will be highly responsive making it easy for users to interact with each other and stay on your app for a long time.
Which factors affect the scalability of your chat apps?
Before you get into building a strategy for your messaging app, you'll need to be aware of the key factors that have an impact on the scalability of your app.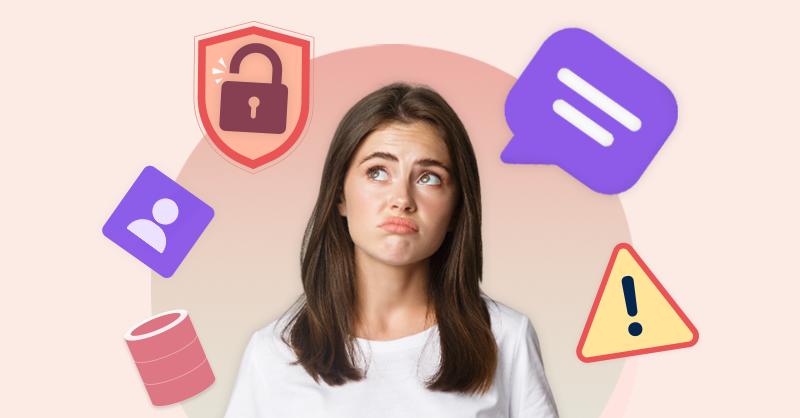 Some of these include:
1. User volume and message frequency:
Users can send/ receive any number of messages on your chat apps. It is necessary that your messaging infrastructure has the capacity to handle the load, regardless of the message or user count.
2. Message data size and complexity:
Most conversations these days happen over chat apps. And users tend to send and receive different forms of messages like text, emojis, documents, images, videos and gifs, in different volumes. These large and complex messages can sometimes cause a strain on your chat service and increase the latency.
3. Network latency and bandwidth limitations:
The network conditions may vary from place to place and bandwidth limitations set by different ISP (Internet Service Providers) might typically affect the latency at which messages are delivered to user devices on your app.
4. Server capacity and availability:
Your server capacity is one of the factors that will more likely determine the latency and reliability of your chat apps. If your backend infrastructure is scalable and robust, it can handle any volume of chat data easily.
5. Security and privacy requirements:
Although users tend to send and receive a lot of messages across apps, the one thing that they are particularly concerned about is the security and privacy of their chat and account information. In that respect, it is essential to build communication apps with the best security encryptions and industry compliances.
6. Customization needs:
Users love upgrades and customization. And when they get to enjoy a personal touch in the chat apps they use, they are more likely to stick on to the app for a longer period of time. Use of themes, colors, fonts and other features in their own style gives them a feeling of belonging, eventually boosting user engagement.
Ready to Build a 100% Customizable Chat & Video Call App?
Top in-app messaging strategies that boost the scalability of your apps
Now that you know the factors that you should keep in mind while building a scalable messaging system, here is our quick list of the best messaging app strategies you can implement when building your own chat apps: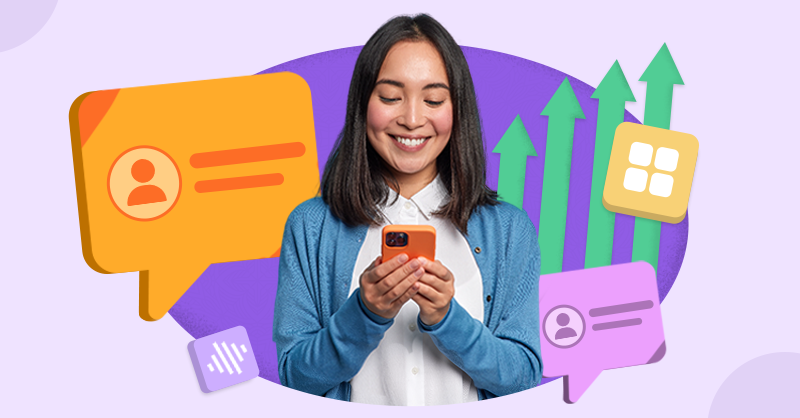 1. Use a cloud-based messaging infrastructure:
One of the key reasons that we suggest cloud based infrastructure is that it gives you the flexibility to scale your apps as per your needs and help you handle even sudden increases in volumes of messages and users.
2. Implement message queuing and routing:
Message queuing is a communication strategy that lets you manage the flow of messages and prevent loss of chat data, while routing helps you make sure that the messages are delivered to the right recipients.
3. Optimize message data size and complexity:
Optimizing message data size and complexity can help improve the performance and scalability of your messaging system. You can achieve this by compressing messages, removing unnecessary data, and minimizing the use of attachments.
4. Use load balancers and auto-scaling:
Load balancers and auto-scaling can help distribute the load across servers and automatically scale the messaging infrastructure as the user load increases. This ensures that your messaging system remains responsive and reliable even under high user loads.
5. Implement caching and database optimization:
Caching and database optimization can boost the performance and scalability of your messaging system by reducing the number of database queries and improving response times.
6. Implement real-time analytics and monitoring:
Real-time analytics and monitoring can help you identify performance issues and bottlenecks in your messaging system. This can help you proactively address these issues and optimize your messaging infrastructure for better scalability.
How does choosing the right in-app chat provider affect your app's scalability?
When you build a communication strategy for your app, choosing the right in-app chat provider is critical to the scalability and success of your messaging system. A customizable in-app messaging solution can offer you the following benefits: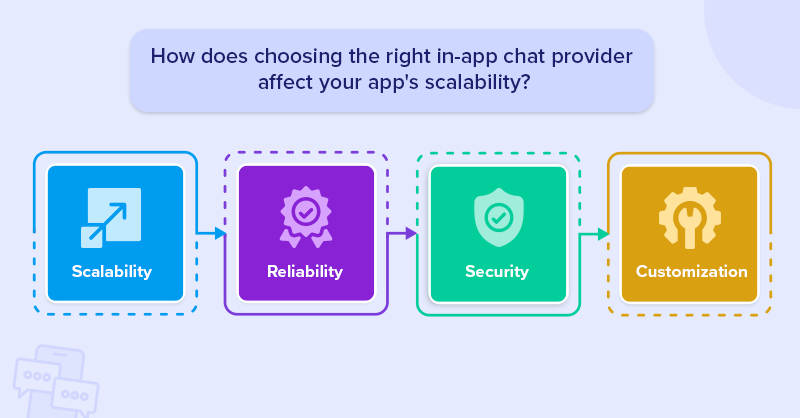 Scalability:
When you choose a provider that offers scalable messaging infrastructure, your app will be able to handle increasing volumes of messages and users.
Reliability:
Only the right in-app chat provider can offer you a reliable messaging infrastructure that is highly responsive at the same time.
Security:
A robust in-app communication provider helps you protect your user messages and data from getting stolen or breached.
Customization:
As the user demand increases, the right in-app chat provider will give you the freedom to customize the chat features as per the market's changing needs and trends.
MirrorFly is an excellent in-app chat provider that offers all these benefits and more. MirrorFly's messaging infrastructure is highly scalable and reliable, and it offers robust security features to protect your messaging system and user data. MirrorFly also offers customization options that allow you to tailor the messaging experience to your specific needs and requirements.
Moreover it allows you to hire a developer team to support you in the integration process, which even more simplifies your job.
So, it is no doubt that MirrorFly can meet all your requirements to build a scalable messaging app.
Key Takeaways
Scalable messaging strategies are crucial to meet growing user demands and maintain messaging system quality at the same time.
Factors that can affect messaging system scalability include user volume, message frequency, message data size and complexity, network latency and bandwidth limitations, server capacity and availability, security and privacy requirements, and customization needs.
In-app messaging strategies that can improve scalability include using a cloud-based messaging infrastructure, message queuing and routing, optimizing message data size and complexity, load balancing and auto-scaling, caching and database optimization, and real-time analytics and monitoring.
Choosing the right in-app chat provider is essential to ensure a scalable, reliable, and secure messaging infrastructure with customization and integration options.
Customization can affect messaging system scalability by introducing complexity, compatibility issues, and maintenance requirements, so it's important to balance customization with scalability considerations.
Conclusion
In conclusion, building messaging strategies is crucial to meeting the growing demands of users and maintaining the quality of messaging systems. Also, striking a balance between customization and scalability considerations is crucial to ensure that messaging infrastructure can handle growing user demands and maintain optimal performance.
Therefore,when you create great messaging strategies, you can easily meet your user's needs while maintaining high-quality messaging services.
Got other strategies besides the ones mentioned in our list? Post in your comments and we'll join the discussion!
Frequently Asked Questions:
What is a scalable messaging strategy?
A scalable messaging strategy is a plan that allows your chat app to handle any increase in traffic and message volume without slowing down or crashing. This plan usually includes optimizing infrastructure, implementing efficient message queuing and routing, and using cloud services.
Why is scalability important in messaging strategies?
A scalable messaging strategy is important to your messaging app because it lets you easily add new features or integrate with new technologies as your needs change. It also ensures that your messaging system can adapt to your evolving business needs over time, without compromising on performance.
How can message queues help with scalability?
Message queues can help with the scalability of your chat app by allowing you to decouple the sending and receiving of messages. This means that messages can be sent and received independently and at different rates, improving system performance and reducing bottlenecks.
Also, you can implement asynchronous processing, which allows multiple messages to be processed simultaneously without blocking other tasks. This can help to improve system throughput and reduce message processing times.
How does Mirrorfly help in messaging strategy?
Mirrorfly is a leading in-app communication provider that helps your messaging strategy with a wide range of features and capabilities to support your messaging needs. It offers real-time chat, voice, video SDKs along with features like file sharing, push notifications and call logs.
With Mirrorfly's scalable and reliable infrastructure, you can handle large volumes of messages with ease, and its secure messaging protocols ensure that your conversations are safe and protected.
What are some best practices for optimizing messaging performance?
Here are some best practices for optimizing messaging performance:
Use a scalable messaging platform
Optimize message size and content
Implement caching and data compression
Use message queues and asynchronous processing
Implement message retries and dead-letter queues
Monitor and analyze message metrics
Continuously test and optimize messaging performance
Which platforms are best for scalable chat applications?
There are several platforms that are best for scalable chat applications, including
1. Mirrorfly
2. Firebase,
3. PubNub,
4. Twilio,
5. Stream Chat.
These platforms offer reliable, scalable infrastructure with features that are essential for building high-performing, scalable chat apps.