Welcome to our Panopto alternatives blog. Before getting deep into the guide, let's take a moment first to acknowledge the undeniable power of video as a medium for communication, education, & entertainment. Yes! Videos have actually become a ubiquitous form of content that can convey messages, capture attention, and evoke emotions in a way that no other medium can.
From captivating vlogs to engaging tutorials, video content has totally revolutionized the way we consume information. In particular, as the demand for video-based learning and sharing is in demand or is on the rise, there is an increasing need for robust video streaming platform that can seamlessly handle the creation, management, and distribution of online video streaming content.
Now, more than ever, many individuals, businesses, and educational institutions are seeking All-in-one online video solutions to enhance their content strategies. Whether it's recording lectures or creating interactive training sessions, having the right video content management system is crucial.
Now comes the main question…
Top 7 Panopto Alternatives & Competitors 2023
Why Consider Panopto Alternatives?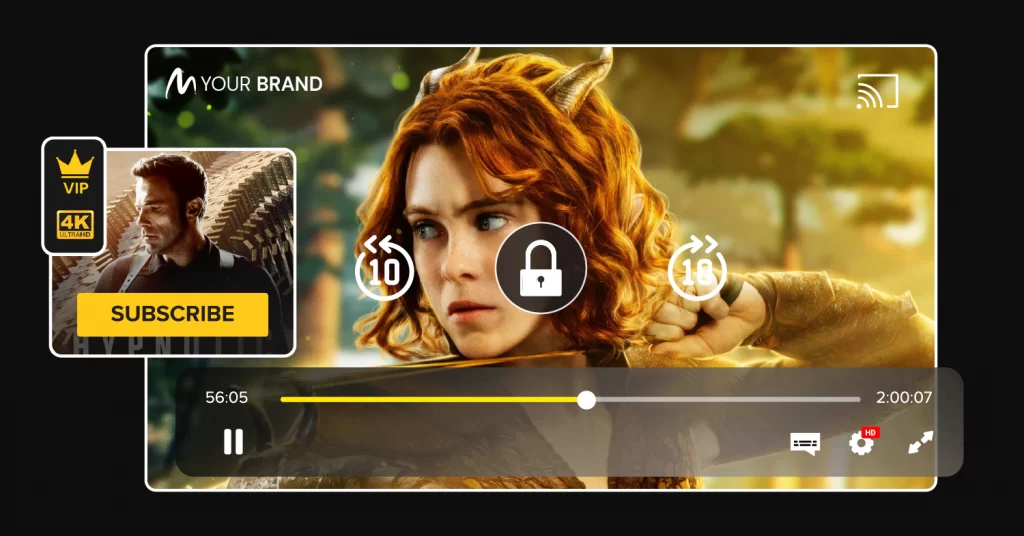 While Panopto has established itself as a leading platform with its extensive features and user-friendly interface, exploring alternative options can offer you a wider range of capabilities and functionalities. In this blog, we will delve into 7 compelling alternatives to Panopto, each with its own unique strengths and capabilities.
Throughout this guide, we will provide a comprehensive overview of each Panopto competitors, highlighting how they differ from Panopto and showcasing their key features. By gaining insights into these alternatives, you will be empowered to make informed decisions when choosing the best online video platforms that aligns with your specific business requirements.
Want To Choose The Best Panopto Alternatives For Your Streaming Business?
Top 7 Panopto Alternatives & Competitors for Streaming Videos
Want to explore the top Panopto alternatives to start your streaming business? We have compiled some of the best Panopto competitors, which are VPlayed, Vimeo OTT, Kaltura, Wistia, Brightcove, etc…
Discover Your Perfect Panopto Alternative with New Horizon of Video Solutions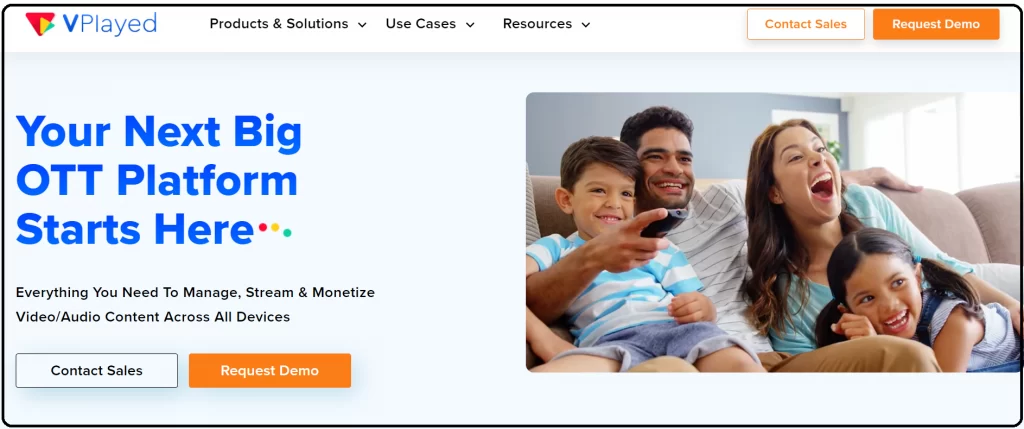 VPlayed is a standout contender among the top Panopto alternatives, earning its place as the number one choice on our list. With its extensive array of features and exceptional performance, VPlayed has established itself as a leading video content management system in the industry.
What sets VPlayed apart is its capability to handle high-quality video streaming with ease. From live streaming to video on demand, VPlayed ensures seamless playback across various devices and platforms. All in all, with its impressive commitment to delivering an exceptional user experience, VPlayed has rightfully earned its position as a top Panopto alternative in 2023.
Discover the Top-notch Features Of VPlayed
One can effortlessly broadcast live events and reach audiences in real-time.

Offers the best video streaming solutions for businesses across the globe.

Comes with flexible monetization options to earn revenue out of video content.

The white label functionality gives freedom to tailor the look and feel of the platform.

The stringent security measures ensure that only authorized users can access the content.
2. Vimeo OTT
Ultimate Alternative to Panopto with New Vision for Video Management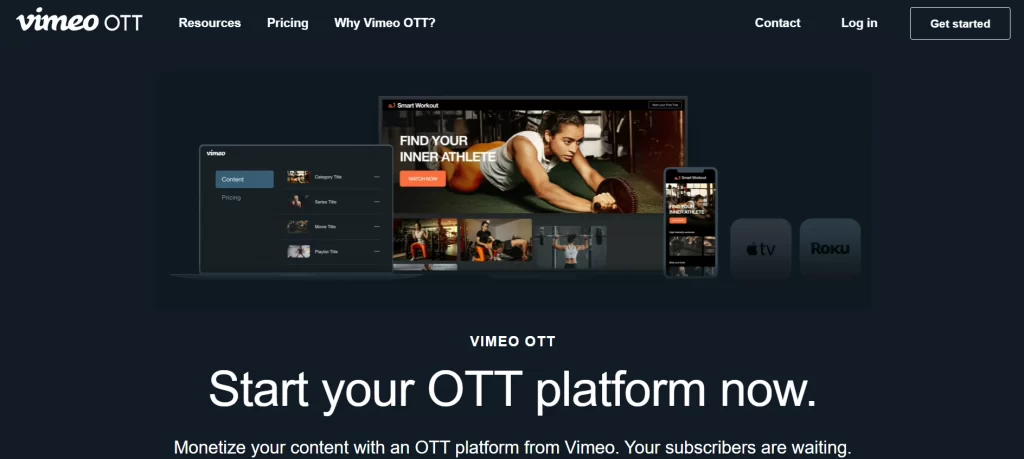 Recognized by experienced creative professionals and video artists, Vimeo OTT stands as a compelling Panopto alternative, offering exceptional service and flexibility. Whether you are an individual, part of a small creative team, or a serious business organization, Vimeo OTT provides an accessible and reliable solution for your online video hosting needs.
In fact, Vimeo OTT simplifies the overall process of video creation, making it easy and attainable for each & every one, regardless of budget, time constraints, or expertise. With Vimeo OTT, you can fully customize and control how you share, view, and manage your content, thereby empowering you to maximize the impact of every uploaded video on the platform.
Discover the Top-notch Features Of Vimeo OTT
Supports uploading videos in HD resolution, ensuring that the content looks stunning.

Easily add brand logos or text overlays to the uploaded videos using the online editor.

Enables live streaming without intrusive ads, providing a seamless viewing experience.

Secure video hosting, ensuring that the content is accessible only to authorized viewers.

Track the performance of videos at a glance through Vimeo OTT's centralized dashboard.
3. Kaltura
Find Panopto Alternatives to Enhance Collaboration and Knowledge Sharing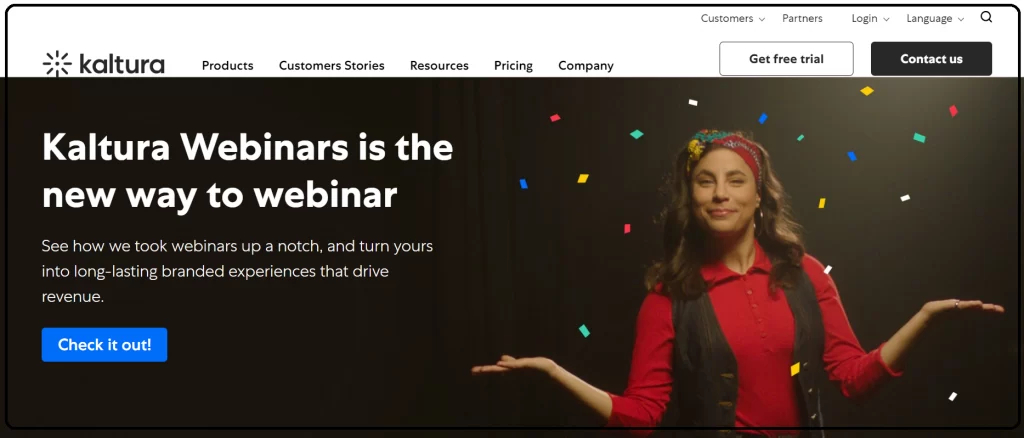 Kaltura, a cloud-based video streaming solution, empowers users with a versatile platform for seamlessly uploading, managing, and distributing their videos across various platforms and devices. With Kaltura, end-users can actively engage with a wide range of entertaining or informative content, whether at home, at work, or on the go.
In fact, this dynamic online video streaming platform serves as a vibrant space for individuals and organizations to connect and share their videos with global audiences. Nevertheless, Kaltura's commitment to driving video innovation and enabling organizations to leverage the full potential of video makes it a compelling alternative to Panopto in 2023 and beyond.
Discover the Top-notch Features Of Kaltura
Provides a player that can be fully customized with users' own branding elements.

The platform leverages cloud technology to ensure reliable and secure video hosting.

Comes with high level video editing tools, eliminating the need for expensive software.

One can gain insights with the help of the platform's analytics & reporting capabilities.

Offers robust features, making it more suitable for business houses with larger budgets.
4. Wistia
Embrace Panopto Competitors for Flexible, Scalable, and Customizable Solutions.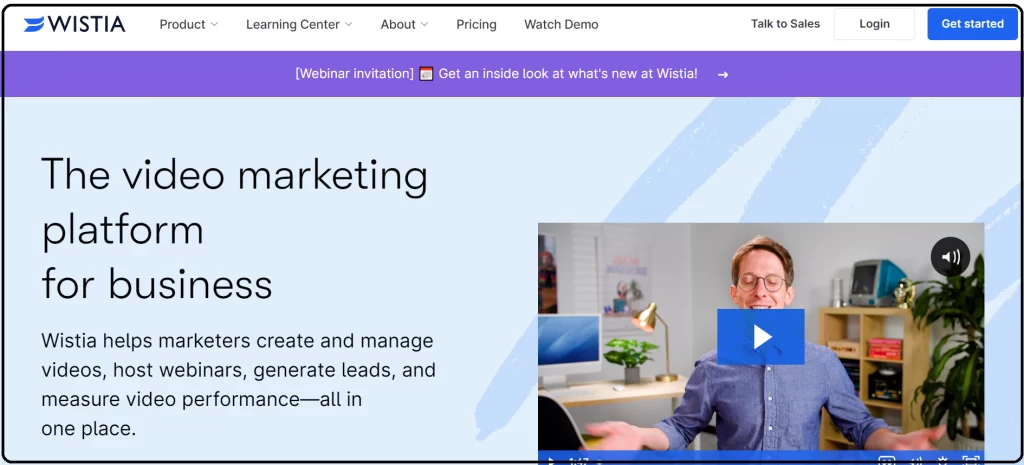 If you are still looking for a Panopto alternative, then Wistia can also be considered, as it is a long-standing rival of Panopto in the video hosting market. It is primarily recognized for its video hosting & marketing capabilities. Acting as a white-label streaming solution, Wistia allows you to tailor your videos to align with your brand image or name.
However, it is worth noting that Wistia's main strengths lie in marketing-oriented applications. In short, we can say that if you are one who is seeking a comprehensive online video solution that combines marketing functionality with next level customization and performance, then Wistia's video platform can serve as a promising alternative to Panopto.
Discover the Top-notch Features Of Wistia
Geo-restriction capabilities for secure content distribution based on location.

Granular control over user actions through a number of customizable user roles.

Precise tracking of video impact on ROI for effective analytics and measurement.

Robust audit logging functionality to monitor user activity and maintain compliance.

Seamless SSO integration with Google and Microsoft for streamlined user authentication.
5. Brightcove
Unlock your Video Potential with Powerful Panopto Alternatives.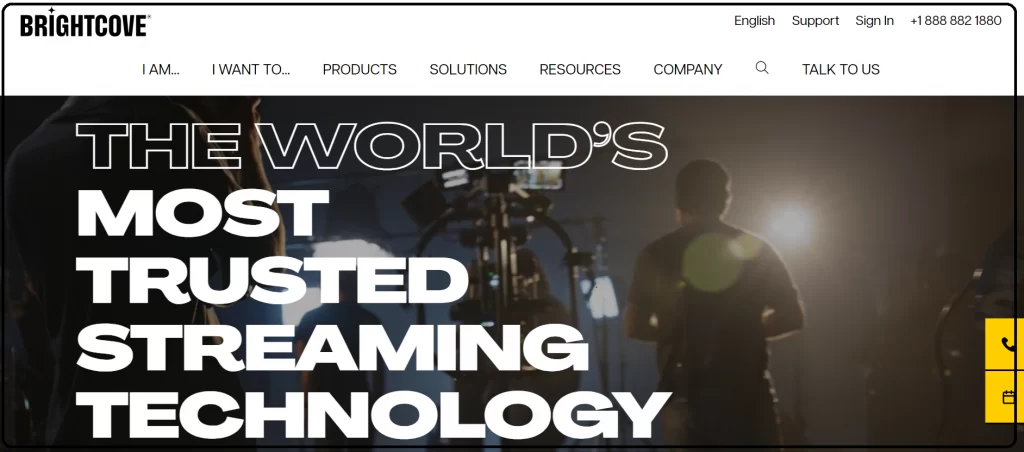 Brightcove is one of the leading enterprise video platforms, which is why it made the list of Panopto alternatives. Renowned for its robust public streaming capabilities, Brightcove offers a number of video monetization and customer engagement features. Since its launch, Brightcove has been empowering customers to explore and embrace the extraordinary possibilities of video.
With Brightcove as your video streaming solution, you can rival Panopto. Also, Brightcove offers an extensive range of features tailored to your specific business objectives, allowing you to customize the platform according to your needs. Its pricing structure is designed to provide added benefits based on the features you require, ensuring a flexible and scalable solution.
Discover the Top-notch Features Of Brightcove
Seamlessly supports both live and on-demand online video hosting.

Supports seamless distribution of videos, ensuring wider reach and accessibility.

Offers advanced content encryption options to ensure the protection of video assets.

One can easily customize and create player templates that align with the brand identity.

Built-in monetization plugins, thereby helps to generate revenue from the video content.
6. JWPlayer
Diverse Range of Panopto Alternatives & Revolutionize your Videos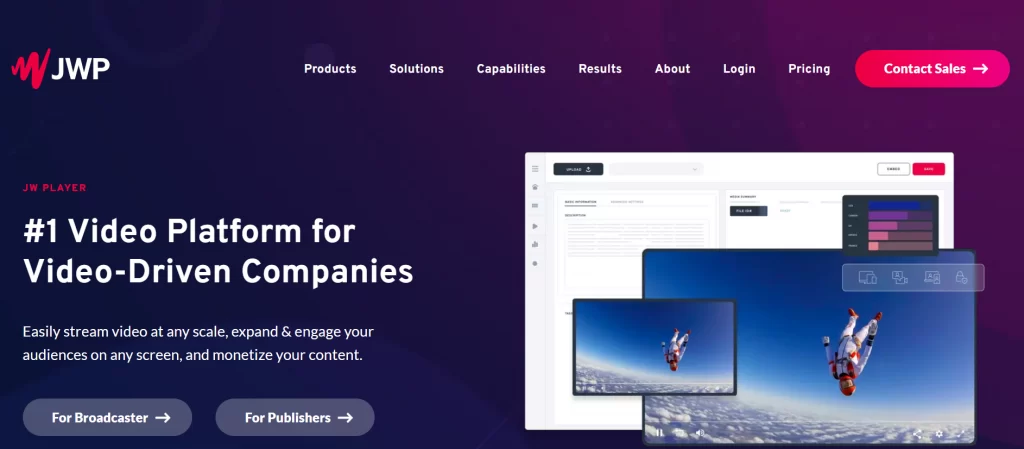 To be honest, JW Player provides a slew of industry-leading features, including adaptive streaming to VOD hosting and monetization. With this end-to-end video monetization platform, you can effortlessly publish videos, run video advertising, and stream web content, thereby ensuring an immersive viewing experience across various devices connected to the network.
The platform also provides valuable insights through data analysis, allowing you to strategize your content for optimized video performance. Also, JW Player includes in-built tools like article matching to enhance audience interaction. Apart from this, it extends its capabilities by enabling video playback and advertising on Chromecast-enabled devices, while also supporting multi-screen VAST-compliant advertising.
Discover the Top-notch Features Of JW Player
Drives incremental views with motion thumbnails, curated playlists, etc.

Enables ad monetization for live, video-on-demand, and short-form content.

Capable of seamlessly integrating with social media handles and other platforms.

Offers a host of ad integrations for high ad-fill rates and quick revenue generation.

Offers customizable player templates for a consistent and branded video playback.
7. IBM Cloud
Explore Panopto Competitors for Tailored Video Solutions that Fit Your Needs.

On a basic level, you should know the fact that the IBM Cloud offers two editions, namely IBM Enterprise video Streaming. Simply put, the IBM Enterprise video streaming edition is designed for internal communications. On the other hand, IBM video streaming supports regular video streaming requirements.
With its cloud-based infrastructure, IBM Cloud provides a scalable video solution that caters to both live streaming and on-demand content. It serves a wide range of sectors, including media, education, religious communities, etc. Above all, the platform offers three different price packages, each offering a set of services with varying storage capacity, channel options, and user access.
Discover the Top-notch Features Of IBM Cloud
Advanced content encryption for enhanced video security.

Flexible IP and domain restrictions to control access to video content.

Customizable channel pages for personalized branding and user engagement.

Seamless integration with other IBM Cloud services for a holistic cloud solution.

Reliable and scalable platform to meet the needs of diverse industries and use cases.
Wrapping Up
As a content owner, exploring Panopto alternatives is one of the commendable steps toward finding the best video hosting and sharing platform for your organization. While Panopto may have served you well in the past, it's pretty much important to consider the evolving needs of end-users in the present as well.
Throughout this blog, we have presented an in-depth overview of the top Panopto alternatives and their unique features. Each alternative brings its own strengths and capabilities to the table, allowing you to tailor your video approach according to your specific requirements.
We hope that our insights and analysis have empowered you to make an informed decision in choosing the best Panopto alternative for your organization.
Make the most of this opportunity to bring a change, and embark on a transformative journey towards maximizing the impact of your video content. Remember, the right Panopto alternative is out there, waiting to become your trusted partner in delivering exceptional video experiences.
If You Are Looking For A Panopto Alternative For Your Streaming Business Then Schedule A Free Demo With Us