When you conduct extensive research on the entire OTT industry, you will uncover a plethora of online video streaming platforms with varying features and functionality. However, picking the top OTT platform from the list is a bit of a tedious process. To make things easier, we have come up with this blog where we go over the top 6 JW Player alternatives.
However, after going through the entire blog, you will come to know the best Jwplayer alternative that may meet the majority of your business needs and will be quite effective for your online video streaming strategy.
What is JW Player?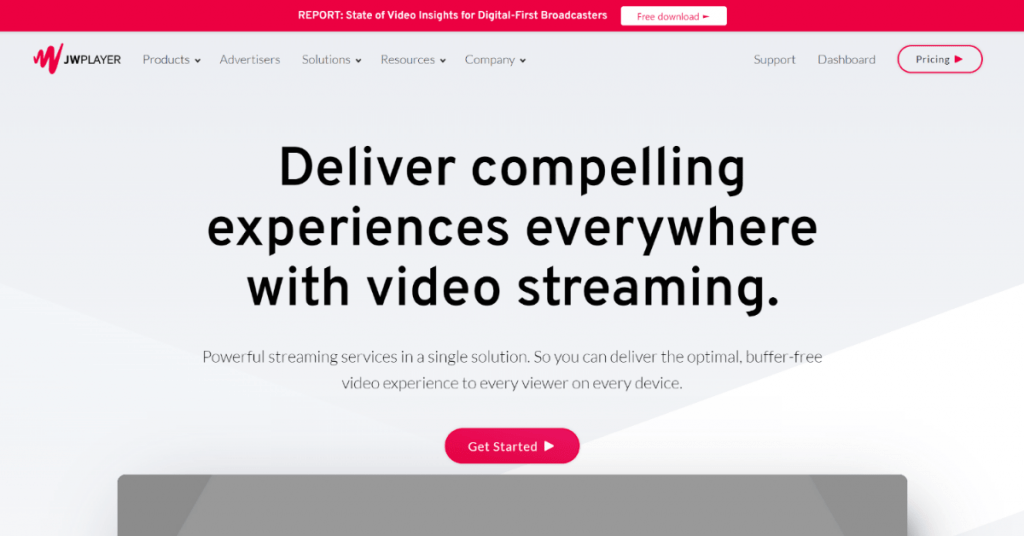 JW Player is one of the most powerful and adaptable video players for publishers and broadcasters. It can be used to publish videos, run video advertising, and stream web content. The platform provides a uniform viewing experience across mobile, tablet, websites, or connected TV. Users can customize their experience by designing their own video-page interactions, adjusting video quality between high definition and standard definition, accessing and adding multi-language support, and more.
JW Player HTML5 video player provides an engaging video experience on any platform. The platform helps companies to stream video content and to those who are likely dependable on online video streaming. Jwplayer also enables video playback and advertising on Chromecast-enabled devices, as well as multi-screen VAST-compliant advertising so that the end-user can have a lean back video viewing experience.
Some Of The Most Notable Features Of JW Video Player
A full-featured video management console.

APIs for delivery and management.

Support for advanced video intelligence to increase audience engagement.

Native SDK recommendation engine.

Worry-free streaming with

HTML5 video player.

Adaptive streaming based on the situation.

Video CMS dashboard.
JW Player Pricing
When it comes to the JW Player pricing model – There are three options to choose from. However, contacting the vendor will help you know more about the JW Player pricing details and their feature offerings.
Free Trial (30 days), Subscription, and Quote based pricing

.
Features Of Starter Plan
HTML5 video player.

Adaptive streaming with HLS and DASH.

Multi-bitrate HD encoding.

Password protection sharing.

Video gallery.

Engagement analytics.

Priority email assistance.
Features Of Custom Enterprise Plan –
Includes starter plan features as well as…
Video analytics in real time.

Publish to social media.

Video recommendations engine.

Outstream Ads.

Video player bidding.

DRM playback in HTML5.

SDKs for Android and iOS.

Self hosted player.

Live event streaming.

Certified Google IMA integration.

VAST/VPAID marketing.

Advanced Ad scheduling.

Ads enabled mobile SDKs.

VIP support.
Want To Choose The Best JW Player Alternatives For Your Streaming Business?
Top 6 Best Alternatives For JW Player
Based on the reviews of our subject experts VPlayed, Kaltura, Vimeo OTT, Brightcove, Dacast, and Brid.TV are some of the best alternatives for JW Player.
These players were ranked on the basis of factors like video quality, video management dashboard, APIs for video delivery, recommendation engine, etc. Let's look at each of these JS Player alternatives in the following listicle.
By now, you would have come to know more about the JW Player platform, but comparing it with other OTT platforms can help you make an informed selection. This is due to the fact that JW Player is not compatible with every OTT business model.
As a business owner, if you are looking for a JW Player alternative, the information in the below sections will help you greatly in choosing the best OTT platform, which would be a perfect Jwplayer alternative. Also, check the feature list for each OTT streaming platform to make an informed decision.
Let's see each JW Player alternatives one by one in detail.
HLS Compatible OTT Platform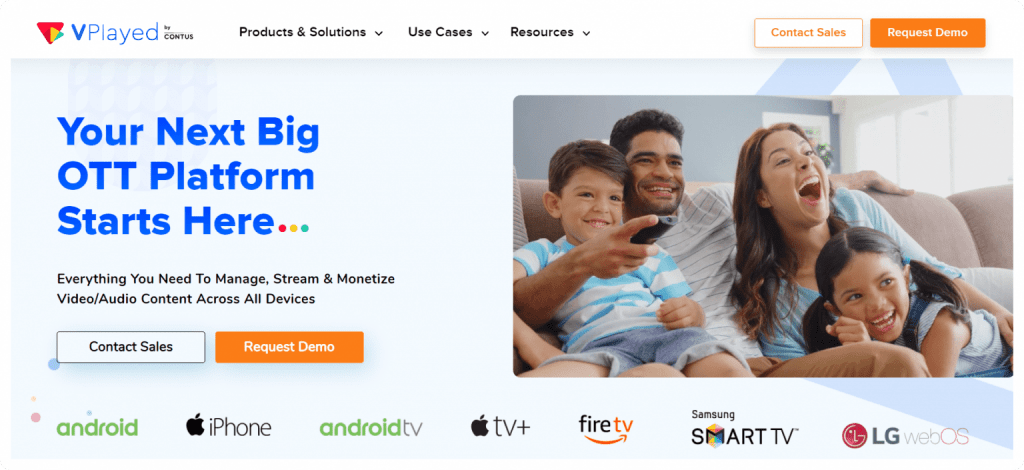 CONTUS VPlayed is an end-to-end video streaming solution for establishing an OTT platform that can be completely customized to meet the demands of any online video streaming business. As the platform offers customized video player options for various purposes, it stands out and tops the list of JW Player alternatives. In short, CONTUS VPlayed can be considered as a one-stop solution for all your video streaming needs and can be an ideal choice for JW video player.
Additionally, CONTUS VPlayed is backed by advanced security features like DRM, Access control and End-to-End encryption, which helps to prevent unauthorized access. The platform comes with a self-hosted OTT video solution that allows for live video and audio streaming. Unlike most OTT platforms, the CONTUS VPlayed OTT video solution requires a one-time license fee; with complete source code. However, as a content owner, you have the flexibility to choose between on-premise and cloud hosting, depending on the business need.
Key Features Of Contus VPlayed Video Streaming Platform Includes:
Multiple payment gateways to enable users to pay for their preferred subscription models.

A powerful video player –

HLS video player

for HQ quality video streaming.

Support for adaptive bitrate streaming for flawless

video streaming

across all devices.

Reliable playback experience with no bandwidth loss.

Support for multi-screen viewing.
Unrivaled OTT Platform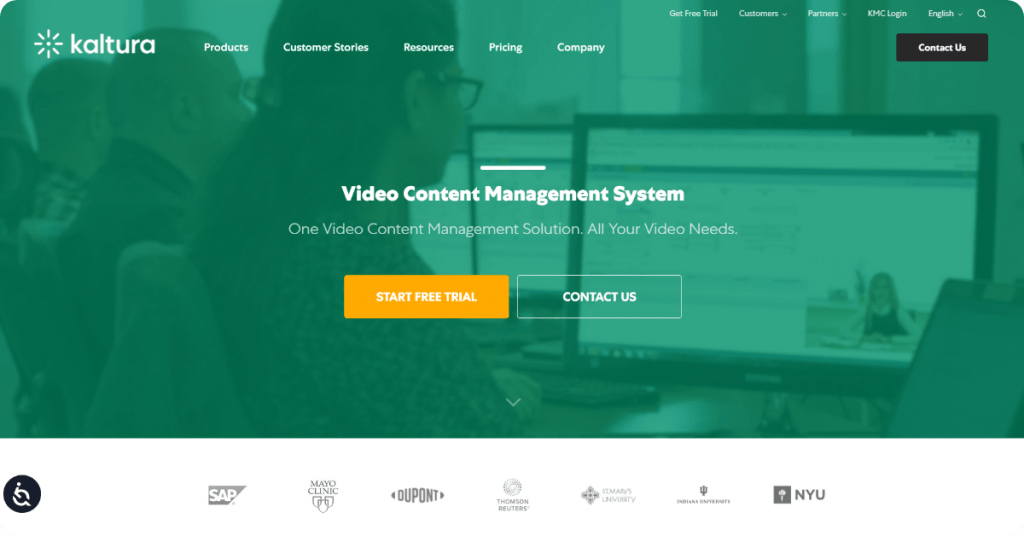 Kaltura is a business-grade OTT video streaming platform that enables content owners to build their own branded video streaming services. Kaltura differentiates itself from other OTT platforms by providing a high-quality educational video streaming platform. In addition to that, the company has developed a platform for media brands who want to offer online video streaming solutions at a cost similar to JW Player pricing.
The platform offers live and on-demand video SaaS solutions to improve collaboration, training, communication, marketing, and sales. Kaltura also offers digital rights management (DRM) support to protect online video content. As a business owner, if you are looking to stream lectures and classes to students, then you can have a look towards Kaltura as an alternative to JW Player. Above all, Kaltura's powerful analytics tools for video on demand and live streaming enable business owners to track the performance of the videos in real time.
Key Features Of Kaltura Video Streaming Platform Includes:
Capable of screen capture as well as multi-stream recording when synchronized with PowerPoint presentations.

Fully modular and compatible with a wide range of third-party services.

Open APIs based architecture that helps in customization and flexibility.

Interactive tools for making, sharing, and embedding customized videos.

Live quizzes, breakout rooms, polls, collaborative whiteboards, and note-taking to keep the audience engaged.

Granular analytics with user-level heatmaps, engagement insights, comparative analysis, and support for xAPI and caliper analytics.
All-in-One Video Software Solution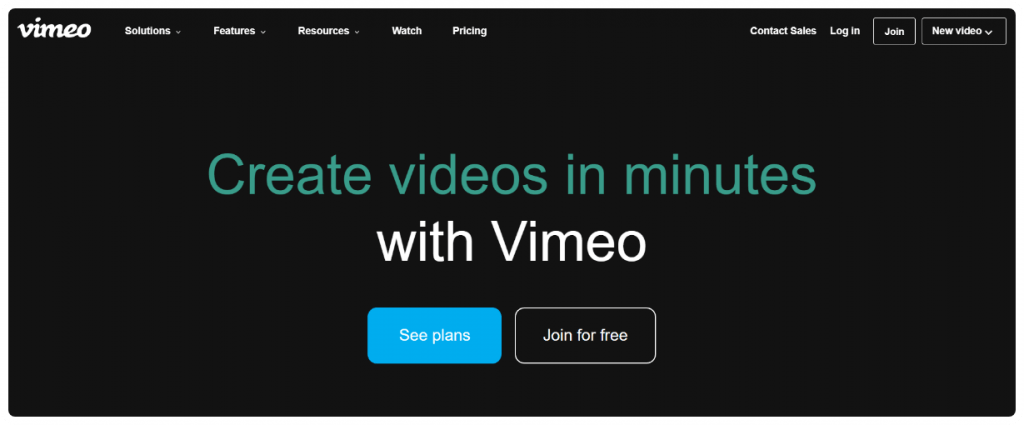 Vimeo is an online video platform that provides video streaming options for both prosumers and professionals. Over the years Vimeo OTT has evolved itself and has been a go-to solution for many content owners, which is why it may be regarded as a JW Player alternative. In fact, history says that Vimeo OTT initially supported video on demand (VOD) hosting, and after acquiring Livestream, it launched Vimeo Live to offer enhanced live streaming capabilities. Isn't that a great achievement?
The video monetization options on Vimeo OTT include subscription, transaction, and advertising-based approaches. The platform aids content owners in the development and maintenance of branded content delivery apps and allows for in-app purchases. The analytics dashboard is incredibly useful, but it is the video monetization model that draws the attention of many content owners to utilize Vimeo OTT as an effective JW Player alternative.
Key Features Of Vimeo OTT Video Streaming Platform Includes:
Customized

video content management system.

Gain audience insight with shareable demographics and engagement charts.

Adaptive CDN streaming worldwide.

Customizable channel templates.

Advanced SEO and analytic tools.

Branded in-app building tools to have a powerful

video monetization

option.
Tired of using Vimeo OTT?
Comprehensive OTT Video Platform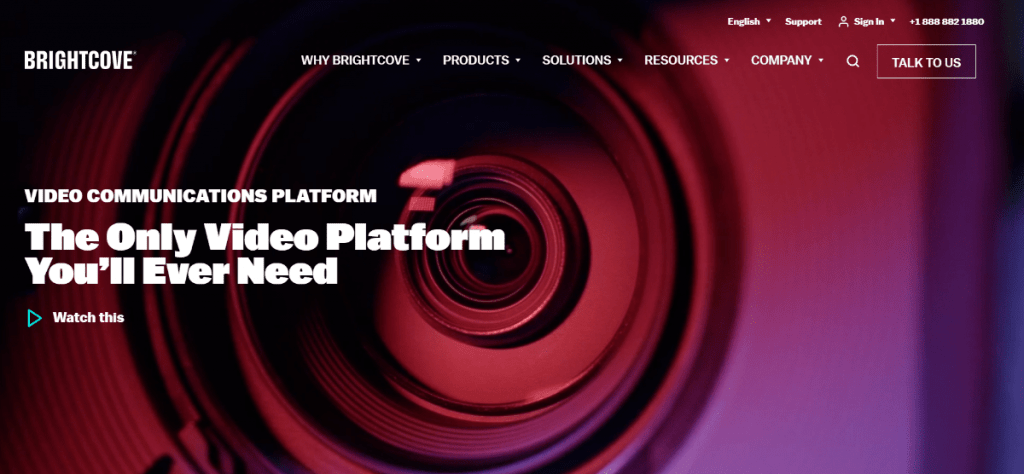 Brightcove is a cloud based online video platform that focuses on providing video related solutions to help businesses build their audience base. Brightcove's live streaming feature includes real-time broadcasts, VOD hosting with integrated marketing solutions, and entertainment content that can be accessed via desktop and mobile devices. Apart from this, the platform provides segmental insights such as player loads, user views, minutes viewed, new viewers, traffic sources, and more.
When it comes to content privacy, Brightcove comes with industry leading features such as multi-platform DRM, proxy limitations, geo restriction, and SSO authentication. Aside from this, they also offer midstream rights checks and license management to protect online video content. The platform assists broadcasters in bringing their internet-based streams to life. However, when it comes to budgeting, Brightcove OTT platform may or may not be an ideal JW Player competitor.
Key Features Of Brightcove Video Streaming Platform Includes:
Professional-quality adaptive bitrate switching.

24/7 support via different media channels.

Token-based rest APIs.

Intuitive design interface for specific use cases.

Effective audience engagement.

Advanced activity tracking.
Tired of using Brightcove?
Popular Video On Demand Platform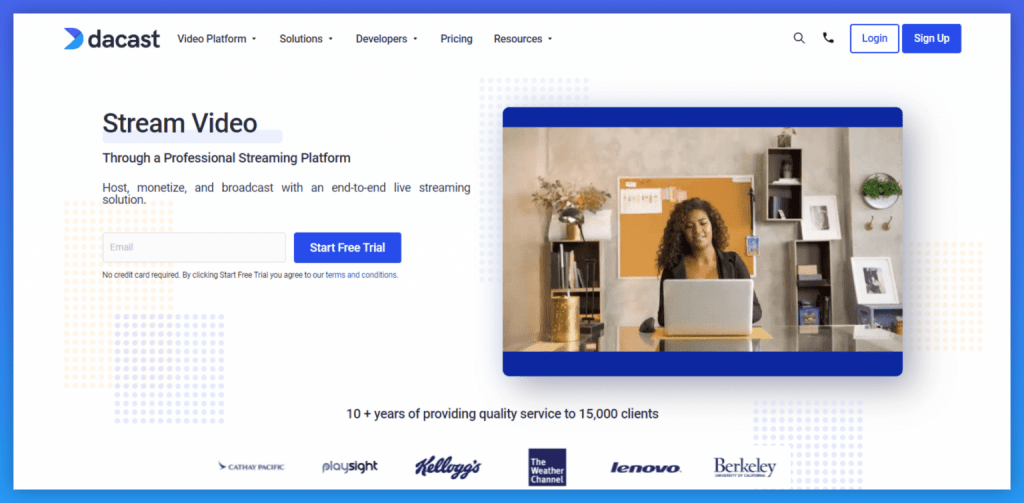 Dacast is an online video platform that offers both live and on-demand streaming on every plan. The platform uses an HTML5 video player and partners with top-tier content delivery networks to ensure reliable delivery to any kind of device. This also helps broadcasters to reach global audiences with ease. Like many of the other JW Player alternatives, Dacast includes advanced tools that broadcasters need for their business.
Dacast provides a self-service, fully integrated platform for live and on-demand streaming. It allows broadcasters to start streaming in minutes and monetize their video content as a new source of revenue. Dacast provides a number of professional tools and utilities via cloud computing. It uses Akamai content delivery network to reach global audiences. Above all, Dacast's video analytics provide feedback on every video, allowing one to improve the overall online video streaming strategy.
Key Features Of Dacast Video Streaming Platform Includes:
A high-quality CDN for reliable

online video streaming.

A worldwide content delivery network.

Embedded

HTML5 video player.

Mobile device support.

Ease of setup and high quality of backend support.

No limit to concurrent viewers and live channels
Tired of using Dacast?
See why Dacast is not suitable to manage your OTT platform and why you need a
Dacast Alternative
Professional Video Streaming Platform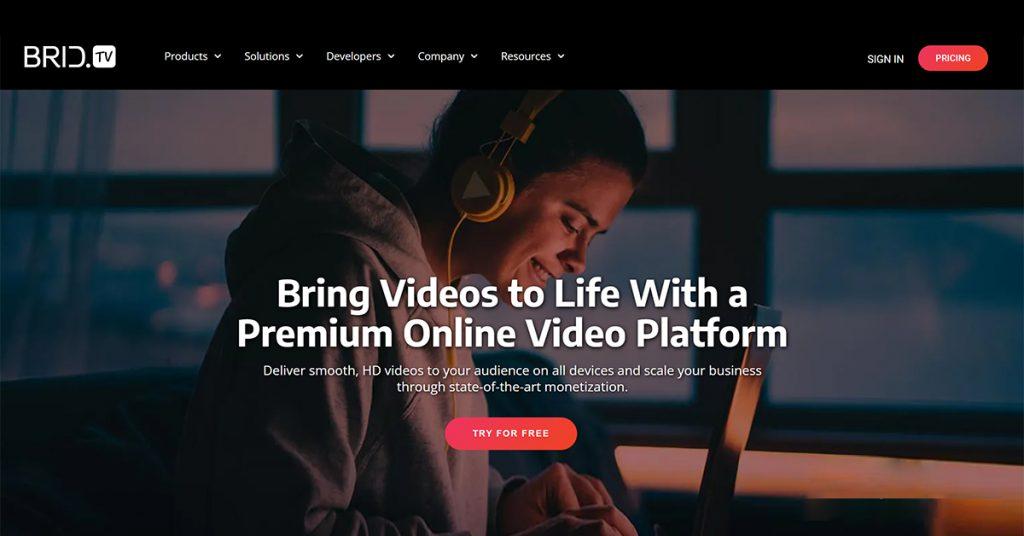 Brid.TV is a white-label vod platform enterprise-level video player that can act as an alternative for JW video player. The monetization options of Brid.TV provides publishers with an easy and reliable approach to monetize their online video content. The platform works fine with computers, mobile devices, and tablets. The BridTV Analytics section provides access to device analytics, user location, demographics, and video interaction. Furthermore, you may view Ad performance in a matter of a few clicks.
Brid.TV offers publishers with a useful video CMS that includes an easy to use UI, convenient search functions, and powerful filtering options, as well as enormous video archives. In addition to that, the platform provides enterprise video hosting and video encoding services. Although Brid.TV may not have as many video monetization options as YouTube, still it thrives itself at ad-based monetization. Publishers will gain access to a plethora of complex monetization capabilities, making it a viable JW Player alternative.
Key Features Of Brid.TV Video Streaming Platform Includes:
Several monetization options are available.

DVR and live streaming.

Easy tracking of individual videos or entire playlists.

The

HTML5 player

and video platform support the most recent video ad technology.

Individual user analytics.

Support for pre, mid, and post roll, as well as the most recent VAST and VPAID ad tags, ad waterfalling, and intelligent banner.
Conclusion:
OTT is not going anywhere, and the growth of its wave is certain to explode in the near future. As a result, it becomes critical to make a decision amongst the top OTT platforms that provide the best online video streaming solutions. Though Jwplayer is a good platform with industry standard features, still it may not be the right choice for most of the enterprises. That's the reason a perfect JW Player alternative can provide you with a good value proposition.
We recommend narrowing the selections based on functionality, feature offerings, and affordability, and then utilizing free trials of the best contender. Also, we are pretty much confident that the list of JW Player alternatives provided in this blog could have greatly helped you in making an informed decision.
As mentioned above, when you look for the perfect Jwplayer alternative, as per the list, CONTUS VPlayed OTT platform tops the list as it provides a far superior platform for company owners, marketers, and content creators, thereby increasing the chance of organically reaching a wider audience.
That's it for the best JW Player alternatives in 2023. Hope you liked the whole article!!!
If You Are Looking For An JW Player Alternative For Your Streaming Business Then Schedule A Free Demo With Us…